Francis Worldwide School of Continuing Studies
Executive Doctor of Education in Organizational Leadership and Innovation
New Executive Doctor of Education (EdD) from Saint Francis University
The new Executive Doctor of Education in Organizational Leadership and Innovation is an entrepreneurial and transformative 32-month program for confident leaders who are inspired to drive future innovation, using servant leadership as a framework for doing so. In this program, you will be intellectually challenged, gaining the leadership skills to excel in your current career or to pivot in a new field.
The next cohort begins in August 2023.
Application Opens: September 15, 2022
Early Consideration: May 1, 2023
research-based, doctoral-level program designed for working professionals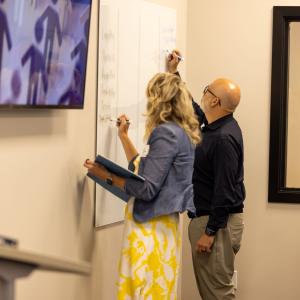 online courses coupled with in-person residencies for optimal impact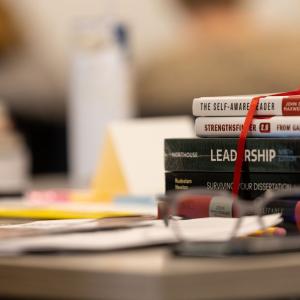 concurrent dissertation and coursework can be completed within 32 months
The SFU Executive LEARNING EXPERIENCE
Leadership Education the Saint Francis Way
The Doctor in Organizational Leadership and Innovation is the first research-based doctoral-level program offered by Saint Francis University.
Structured for working professionals who want to study online yet enjoy the synergy of in-person collaboration.

Ideal program for individuals looking to serve in leadership roles in business, education, healthcare, non-profit, and public service fields.

Integrated dissertation work throughout the curriculum provides a better schedule fit for professionals.

Online courses and collaborative cohort sessions, coupled with 8 in-person extended weekend residencies in Altoona, Pennsylvania.
Ethical Leadership is a Powerful Change Agent
While typical organizational leadership programs focus on the core skills needed to lead an organization, this unique program goes far beyond the basic leadership curriculum.
Our doctoral-level executive leadership program:

accelerates, educates, and guides the development of leaders who actively encourage creative and value-based thinking in their institutions.

builds upon strategic planning, environmental evaluation, change management, and leadership methodologies.

fosters abilities to create an environment of innovation through cultural change, outside-the-box thinking, strategic and disruptive innovation, and leadership agility.
CURRICULUM & COURSES
What You'll Learn in this Doctorate Program
The Executive Doctor of Education (EdD) in Organizational Leadership and Innovation is a unique degree program that provides leaders with the capabilities to lead an organization with strategic innovation and sustainability in a competitive global economy. Students walk away with an enhanced ability to lead complex organizations in business, education, healthcare, non-profit, and public service fields with the aim of improving efficiency, effectiveness, and/or competitive advantage.
Structure/Delivery

Degree Path

Learning Objectives

Application Process

Accreditation
Program Snapshot

Fully online courses with an extended weekend residency requirement each semester (8 total residencies in Altoona, Pennsylvania)

51 total credits

32-months anticipated completion time

Cohort enrollment

Integrated dissertation work

Program Cost $51,000 (plus related-residency costs)

---

The Student Experience

Participants progress as part of a cohort. Courses are online and highly collaborative. Support is offered for those who are not familiar with online learning platforms. Each cohort will be assigned a coach/mentor to work with them throughout the program. For a few days each semester, cohorts will gather in person for a residency experience in Altoona, Pennsylvania. A practicum experience, an integrated dissertation process, and a reflective progress journal allow participants to apply knowledge gains within their organizations in real-time.

Degree Awarded

Successful graduates in our Organizational Leadership and Innovation program earn an Executive Doctor of Education (EdD).

---

Curriculum Overview

Building on the strength of our current leadership portfolio, this program is connected to a clear tradition of research and theory woven throughout a leadership practicum.

The program begins with an introduction to leadership theory, spends time focusing on organizational development, change theory, ethics, and leadership in a global world.

Course Catalog | Plan of Study

Program Core Competencies

Apply the theories and principles of organizational leadership and innovation to advance your field of study through research.

Demonstrate how leadership theory and practices are linked to practical applications in your field of study.

From an executive leadership perspective, apply the principles of global policy and ethics to a practical organizational dilemma.

Demonstrate proficiency in ethical executive leadership decision-making.

Create an organizational strategy and/or innovation that advances the organization in a global market.

Articulate to internal and external stakeholders, an organizational strategy that addresses organizational development, financial stability and growth, and executive leadership decision-making in a globally diverse and inclusive organization.

EdD Program Admission Timeline

Admission Process

---

Application Materials

Online application -- complete and submit the free online application for consideration of admission.

Two Letters of Recommendation from professional contacts. One letter must be from the applicant's immediate supervisor expressing support for the applicant to enroll in the program and to make a full commitment upon acceptance.

Essay -- no more than 1000 words on why achieving this degree is important to you from a leadership perspective and the competencies and experiences you bring to and hope to gain from this program.

Professional Resume/Curriculum Vitae (CV) indicating no less than five years of post-baccalaureate work experience.

Official baccalaureate and graduate-level transcripts; minimum master's level GPA equivalent of at least 3.0 on a traditional 4.0 scale.

---

Application Deadline

Priority will be given to those applications submitted by May 1st. Applications will be reviewed on a rolling basis until the cohort is deemed fully enrolled. Maximum enrollment for the cohort is 25 students.


Waitlist: A program waitlist will be inclusive of qualified applicants in the event the application pool far exceeds the cohort maximum.

---

Application Review Process

The Admissions Review Committee (ARC) consists of five voting members:

Doctoral Program Director

Representative from the School of Health Sciences and Education

Representative from the Shields School of Business

Representative from the School of STEAM

Representative from the Franciscan Community

Five members of the Admissions Review Committee will review all submitted and completed applications. Accepted, denied and waitlist letters will be processed and mailed out promptly following the decisions of the committee along with additional information and instructions on how to make a tuition deposit to confirm a seat in the cohort.

---

Acceptance Process

Official acceptance letters will be processed and mailed out promptly following the decisions of the Admissions Review Committee along with additional program information and instructions on how to make your tuition deposit.

---

Tuition Deposit Due

-

30 days from date of acceptance letter

Upon receipt of acceptance letter, a non-refundable tuition deposit of $500 must be paid to secure a seat and confirm commitment to the cohort. Full deposit will be applied to the first semester tuition. Failure to submit the required deposit is a risk of losing a seat in the current cohort.

Students accepted after May 1st will be required to submit a non-refundable tuition deposit within 14 days of acceptance letter.

Once the deposit is received, additional information will be communicated by the Program Director, including detailed information regarding registration.

---

Registration for Courses Process

The Program Director will assign an advisor to each student. The advisor will assist students with accessing SFU login information for completing the Registration Agreement Form. This form must be completed every semester. Every student is responsible for this form and paying tuition balance before the Registrar's Office will add students to the roster of upcoming courses. This will keep the cohort progressing together through the program.

An introductory Canvas course will be offered to introduce the cohort to research standards, online resources, information about academic accommodations, etc.

Saint Francis University, including the EdD program, is accredited by the Middle States Commission on Higher Education, 3624 Market Street, Philadelphia, PA 19104; (267-284-5000). The MSCHE is an institutional accrediting agency recognized by the U.S. Secretary of Education and the Council for Higher Education Accreditation (CHEA). www.msche.org
Benefit from our Experienced Faculty
Faculty in our doctoral-level executive leadership program will be comprised of a blend of talented full-time academicians and experienced practitioners with a proven track record in applying organizational leadership theory. Our faculty are experienced in teaching executive-level professionals within an online environment.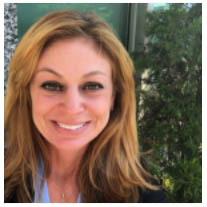 Program Contact: Dr. Tricia McFadden, Director of the Executive Doctor of Education program and Dean of Francis Worldwide School of Continuing Studies, 814.471.1163, TMcfadden@francis.edu.
Meet Our Faculty
Offered through Francis Worldwide School of Continuing Studies
Francis Worldwide's mission is to prepare adult and returning learners to prosper in a challenging global environment focusing on respect for the uniqueness of individual persons grounded in the values of Franciscan Higher Education, providing an equitable and high-quality educational experience regardless of socioeconomic status, race, ethnicity, or gender.
FAQs
Frequently Asked Questions About the Executive Doctor of Education Program at Saint Francis University
Where are the residencies held and how often?

There will be 8 in-person extended weekend residencies in Altoona, Pennsylvania throughout the program with one each semester.   The goal of the residencies is to prepare you for and accompany you on your doctoral journey.   Each residency will also allow you to connect with other students and develop a network of like-minded professionals. 

 

Key goals of the residency program include:
 

refine the skills necessary to be a doctoral student and scholarly practitioner
receive a variety of support services including technical, administrative, and academic support
foster and build a sense of camaraderie with your doctoral cohort
acquire the skills necessary to conceptualize, design, and carry out applied research
provide real-time support and assignments relevant to the simultaneous completion of coursework and the dissertation

Specifics on the location and dates will be released shortly for the first cohort.  Fees for your travel to/from your residency requirement, a majority of the meals, and lodging are at your own expense.  Block room rates will be available to students.  Students will be required to be in Altoona, Pennsylvania for the extended weekend residency.    

What if I need to take off a semester?

If you are not able to continue with the cohort in which you started, you may request an approved one-time step out.  Students can then join the next cohort group at the point in which they stepped out of the previous cohort.  There is a fee associated with program step-out.

What if I am not able to complete the dissertation in the 2.5 years?

If you are not able to complete the dissertation in the time frame of the cohort, you will register for DISS905 Dissertation Continuation for zero credit. There will be a fee of $1,000 to continue each semester.  The maximum time for program start to dissertation is 5 years.   

Will I be able to continue working full-time while completing this program?

Yes.  The program is carefully designed for working adults.  Coursework is mostly completed online along with dissertation work throughout the curriculum.  We recommend you discuss with your employer the need for time off related to residency requirements.  Residency dates will be published approximately 5 months in advance for your planning purposes.  

Can I take this program if I am on a F-1 Student Visa?

Unfortunately, no. This program is classified as fully online and does not meet the criteria for F1 Visa holders.
FAQ About Program Costs
What is the cost of the Doctor in Organizational Leadership and Innovation?

The program costs $51,000 in total and tuition charges are semester-based ($6,375 per semester - Fall, Spring, Summer).  Loans are available to students.  The Office of Financial Aid is available to answer questions about student loans.  Call 814-472-3010.

Is there financial aid available for this program?

Only loans are available to students. Our professional Financial Aid staff will be happy to assist you in understanding how to apply for loans. Staff is available by email at financialaid@francis.edu, phone 814-472-3010, and for an online meeting.

Is there a deposit required upon application?

A $500 non-refundable tuition deposit is required to secure a seat no later than sixty days prior to the start of the semester. This deposit will be applied towards your first-semester tuition. 

Are there additional costs above and beyond the tuition?

Students should prepare to pay the costs associated with the 8 in-person extended weekend residencies and practicum requirements each semester (inclusive of transportation, some meals, lodging from Thursday at 4 pm to Sunday at 12pm in Altoona, Pennsylvania).  There are no fees for books or materials.  Students will pay a one-time $125 graduation fee.  
Scenes from our First Residency