The Honors Program
designed to challenge highly motivated students with an emphasis on research, leadership and community engagement
Enhance your educational experience
With an emphasis on research, leadership, and community engagement, motivated and intellectually curious students participate in classes and self-designed mentored projects that encourage intellectual risk-taking, personal growth, and transformation.
The Honors Program aims to graduate confident, compassionate, and globally-minded leaders that are able to offer creative solutions to the world's challenges.
Click here for more information!
Honors Program Highlights
Honors Class 2023
Honors Designated Courses
Priority Registration
Community Service Projects
Discussion-Based Classes
Honors Housing
The Bach Family Honors House
Interior of Bach Family Honors House
The Bach Family Honors House opened in January 2006. The 6,000+ square-foot facility includes a conference room—with state-of-the-art audio-visual equipment—for seminars and Honors core courses; a residence for eight Honors students per year; a 24-hour study space for all Honors students; and meeting, lecture and movie space.
"The Honors Program has allowed me to grow in my leadership skills and field by pursuing projects both in my major and outside of it through my thesis and directed readings."
—Alex Kiepert, Honors Program Graduate '22 Finance & Business Analytics Double Major
What Courses Will I Take?

HNRS101
Introducing Honors: Leadership, Research, and Community Engagement (3 credits)

 

MUS310H
Music, Wellness, and Conscious Life Design (3 credits)

 

WRIT102H

Research Writing (3 credits)

 

RLST105H
Franciscan Goals for Today (3 credits)

 

HNRS250
Sophomore Leadership Seminar (2 credits)*

 

HNRS331

Directed Readings (2 credits)*

 

HNRS335

Thesis Prep (1 credit)*

 

HNRS444

Thesis Project

 

* Only five extra credits outside of the student's major.

The Honors Program seeks motivated and intellectually curious students.

 

Accepted seniors wishing to be part of the Honors Program are required to complete the honors program application

 

Please note, SAT or ACT are not required for entrance into the program. The Honors Program looks beyond test scores and seeks individuals with grit and character who have a drive to do more.

An honors thesis is required of all students within the Honors Program. It can be a traditional research-based project, creative endeavor, or community service project. Here are some examples of past thesis projects:  

 

Kelsey Donoughe, Honors Program Graduate '21 Biology, attending West Virginia School of Osteopathic Medicine

 

 

 

 

 

 

 

 

 

 

 

 

 

 

 

 

 

 

Kelsey Donoughe

"The Synergistic Effect of Metformin and Dexamethasone on HeLa and SiHa Cells: A Comparison of Cervical Cancer Cell Lines from Different Races"

 

Madison Wright

"Genetic Frequency of the MDR1 gene in Dogs in Central Pennsylvania"

 

Alana Recktenwald

"Review of Treatment-Resistant Depression and How Neurometabolic Deficiencies May Be Involved"

 

Hayler Mesmer

"Body Composition and Resting Metabolic Rate: Comparing the Accuracy of Various Predictive Methods"

 

Nathan Moore

"Effects of Technology in the Classroom"

 

Trisha Keller

"Comparing Business Models of Western Boy Bands to Korean Idol Groups"

 

Megan Wood

"Human Health and the Climate Crisis"

 

Sarah Zakrzwski

"Beyond the Bonnet: Understanding the Appeal of Amish Fiction"

 

---

Featured Thesis

Honors Student Kei-shon Graham presents his thesis titled "Uniquely Generic"

 

Contact the Honors Program Director Irene M. Wolf, PhD at honors@francis.edu

 

Be sure to follow us on social media!
Irene Wolf, Honors Program Director
Phone: 814-471-1173
Email: iwolf@francis.edu
Location: Science Center 111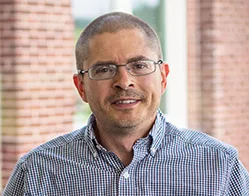 Arthur Remillard, Associate Honors Program Director
Phone: 814-472-3339
Email: aremillard@francis.edu
Location: Scotus Hall 225B