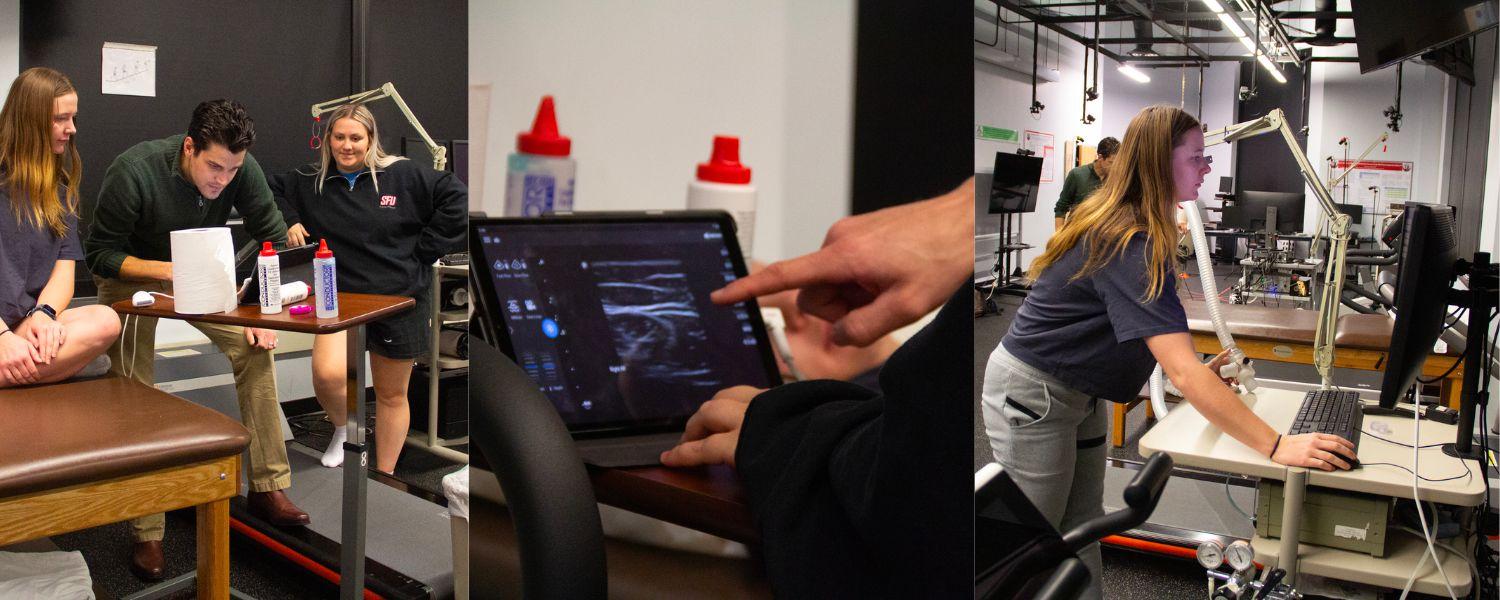 School of Health Science & Education
Master of Science in Exercise Oncology
OVERVIEW
Master of Science in Exercise Oncology Degree
The Master of Science in Exercise Oncology (Exercise Oncology, MS) at Saint Francis University is the first master's program in the nation with a multi-disciplinary approach to clinical exercise physiology specializing in exercise oncology. This specialization offers a deep dive into the role of exercise in the prevention, treatment and rehabilitation of cancer. Students will engage in hands-on learning through a clinical experience on campus.
Offered: On-Campus with Clinical Components
Some courses can be taken online

CURRICULUM & COURSES
Changing Lives through Enhanced Health & Performance
The need for health professionals in cancer care is expected to grow well into the 21st century, which makes the study of clinical exercise physiology an excellent choice for those seeking employment directly after graduation. The body of knowledge on the efficacy of exercise in disease prevention, treatment, and rehabilitation is firm. Exercise is becoming an accepted and expected standard of care, with significant advances in the area of cancer. The American College of Sports Medicine (ACSM) task force is seeking clinical exercise physiologists as qualified health professionals. The need for more efficient and effective means of preventing disease and maintaining the health of populations and our planet will continue to increase the demand for graduates with a focus on patient-centered care.
Program Snapshot

Admissions Requirements

Learning Outcomes
Program Snapshot

MS Exercise Oncology Degree

Priority enrollment deadline: May 1

39 total credits

$775 per credit 23/24 tuition details

16-months anticipated completion time

Offered on campus with the option to take lecture portion remotely.

Residential components must be completed in Loretto.

Curriculum includes 600 hours of clinical experience required to sit for the ACSM clinical exercise physiology exam.

Summer semester (May) start time

---

Admissions Requirements

Completed bachelor's degree prior to beginning the program.

Completed graduate admission application.

The completion of the following prerequisites or their equivalent with at least a cumulative 3.000 QPA:
- General Biology with Lab
- Human Anatomy and Physiology I with Lab
- Human Anatomy and Physiology II with Lab
- Exercise Physiology with Lab*
- Clinical Exercise Physiology*
- Exercise Testing and Prescription*
- One Psychology course at or above the 200 level
- A Statistics and/or Research Methods course

Coursework in Chemistry, Cell Biology, Genetics and Immunology are suggested but not required.

EP-C or similar BS level Certification is recommended but not required

*No grades in the conferring degree or prerequisites less than a "C"
**Students not possessing the above requirements may enroll in Saint Francis University courses to meet the requirement.

Learning Outcomes

As a graduate of our MS Exercise Oncology program, you will be able to:

Develop safe and effective exercise programs for individuals with chronic diseases, specifically cancer;

Manage clinical exercise physiology programs;

Assist those who have struggled or are struggling with cancer via rehabilitation and counseling;

The outcomes of the program will be to graduate students who either want to be practitioners with an ability to fit into a variety of clinical or research environments or pursue a Doctoral Degree (PhD).

A Survivor's Perspective
"I'm grateful that an organization like this cares enough to create a cancer care team, and sees the importance of helping build the foundation of getting well and staying well." ~Linda Gilroy Palmer, breast and ovarian cancer survivor.
FACULTY
Integrated Expertise
Exercise Oncology faculty members are passionate about improving post-acute treatment for cancer survivors. While each professor approaches healing from his or her own area of specialization, they see the power in combining forces. The interdisciplinary curriculum is taught by faculty specializing in Biology, Exercise Physiology, Medicine, Nutrition, Philosophy, Physical Therapy, Psychology, and Social Work.
---
Program Chair: Dr. Kristofer S. Wisniewski
Email: kwisniewski@francis.edu
Phone: 814.471.1132