CAMPUS LIFE
Center for Student Engagement
Center for Student Engagement
---
Your Involvement Begins Here
The Center for Student Engagement at Saint Francis University is your gateway to campus involvement. Becoming involved on campus will help your personal development, allow you to meet like-minded students, bring you networking opportunities, and allow you to contribute positively to your campus community.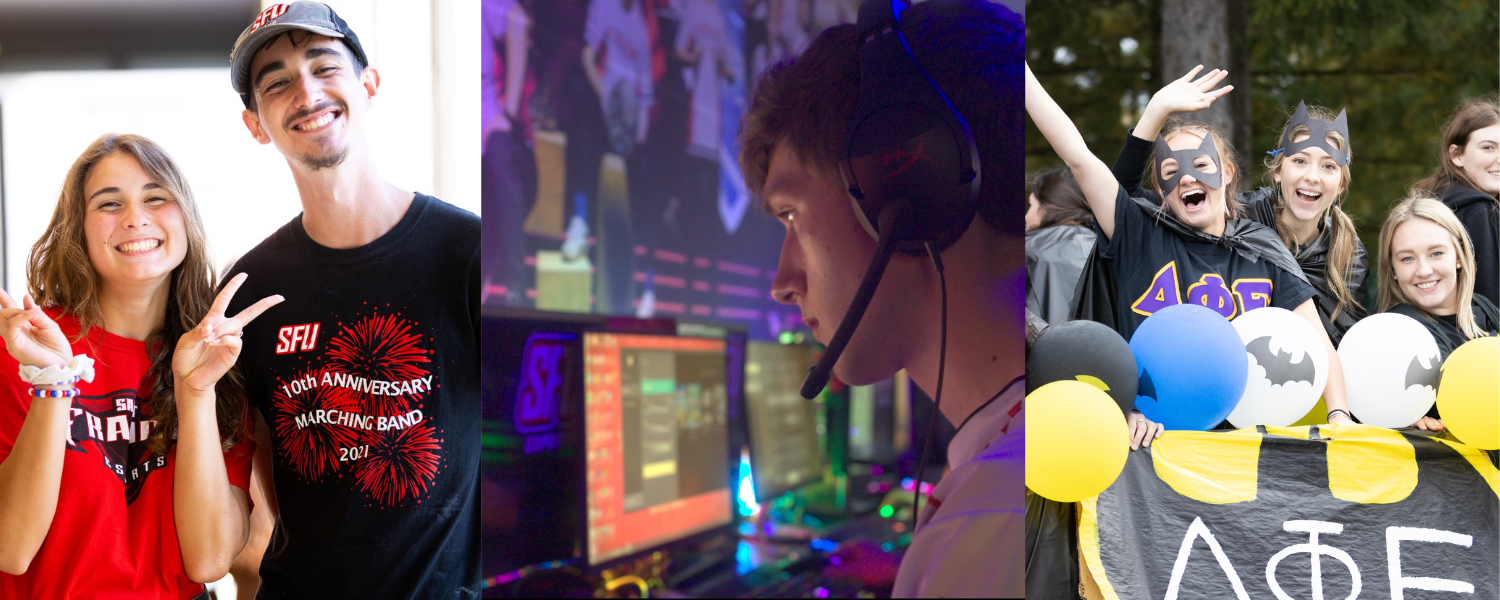 If you can think of a way to be involved, we guarantee you'll find it here! Explore the opportunities below or stop by our office located in the JFK Student Center.
---
Chart Your Course for Involvement
Ready to engage? We've got you covered. Whether you're looking to organize an event, support a cause, or foster a sense of belonging, Saint Francis University has an outlet for you.
Additional Resources
As a student (or if your loved one is a student) we are here to support you! As always, if you need additional information, contact our office at 814-472-3005 or email us at studentlife@francis.edu.
Getting You To and From Loretto
Transportation Services is housed in the JFK Student Center. We will help get you connected to transportation services in our local community. Please be sure to review the information and policies in advance so we can best serve your needs.
We offer shuttle services to local airports, bus and train stations. We also provide opportunities for shopping at several locations.
Meet Our Staff
Kristen Radovanic Corcoran
Director, Student Engagement & Leadership Development
Email: kcorcoran@francis.edu
Contact me for information about Student Government / Leadership Development / Clubs & Organizations / Club Sports / Esports / Orientation / Commencement / Campus Events / JFK Student Center
---
Ms. Meghan DeFrancesco
Assistant Director, Student Engagement
Email: mdefrancesco@francis.edu
Contact me for information about Greek Life / Esports / Student Activities / Intramurals / Orientation / Leadership Development
---
Mr. Ethan Wingard
Esports Coordinator
Email: ewingard@francis.edu
Contact me for information about Esports / Intramurals / Leadership Development / Club Sports
---
Mr. Kerry Galloway
Sports and Recreation Assistant
Email: ksg106@francis.edu
Contact me for information about Club sports / Intramurals / Esports
---
Mr. Nicholas Pozzuto
Activities Assistant
Email: nap109@francis.edu
Contact me for information about Student Activities / Event Marketing & Promotions
---
Ms. Ashlee Masurek
Transportation Assistant
Email: aam113@francis.edu
Contact me for information about Shuttles / Transportation Services
---
Ms. Laina Mastovich
Greek Life Assistant
Email: lpm105@francis.edu
Contact me for information about Greek Life (Fraternities and Sororities)