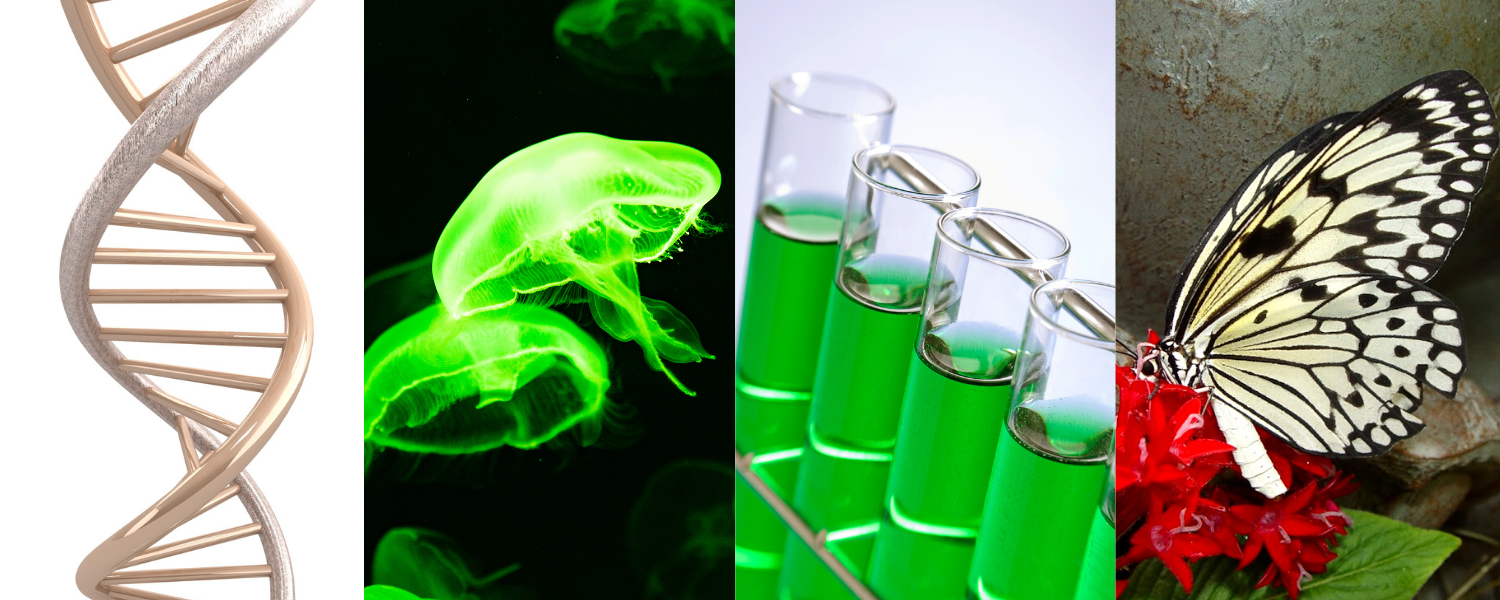 SCHOOL OF STEAM
Biology, B.S. or B.A.
Introduction
The Biology Major is a Gateway to Careers in the Sciences and Healthcare
Biologists are inquisitive professionals who seek to learn about the nature of life. We use tools from physics, chemistry, psychology, and even economics when trying to explain and understand the structure and function of living things. Earning a biology degree at Saint Francis University can lead to exciting opportunities in the sciences, biotechnology, or health-related fields.
Offered: On-Campus

Diversity in Biology Careers
Biologists approach the study of life at levels ranging from
molecular biology and physiology to ecology and evolution.
---
Do you:
love all of the sciences?
want to use hi-tech laboratory equipment to learn how molecules and cells affect human health?
enjoy learning about animals or plants?
wonder how organisms in the field interact with their neighbors and their surroundings?
have a passion for exploring oceanic biodiversity?
No matter where your interest lies in the area of biology, you can find your path at SFU. Our in-depth portfolio of concentrations and specializations within the biology program will help you identify your niche within this amazingly diverse field.
students have the opportunity to operate our own 1,500 gallon diveable saltwater training tank
extensive laboratory and field work are pillars of the program
undergraduate research opportunities starting freshman year
The SFU LEARNING EXPERIENCE
Biology the Saint Francis Way

You can pursue one of our flexible general biology degrees, or choose from a variety of concentrations within the biology major. Biology faculty members serve as academic advisors for all of our majors and provide one-on-one attention to help you achieve your career goals.
Research & Fieldwork
---
Undergraduate Research in the Lab and Field: Students are encouraged to explore a significant research question in their area of interest as early as their freshman year. They work under the close guidance of our faculty who offer expertise in a full range of disciplines within biology, including molecular biology, genetics, physiology, ecology, and evolutionary biology.
The Office of Student Research offers grants to SFU students to support undergraduate research in the summer. Students write these grants with their faculty research mentor and receive research supply money, campus housing support, and a stipend.
Raystown Immersion Experience: "Live by the lake" at the beautiful Raystown Field Station, which is nestled at the edge of Raystown Lake near Huntingdon, Pennsylvania. In a cooperative agreement with Juniata College, SFU and Juniata students engage in hands-on science courses and related activities, all while living at the field station for the entire semester.
Lake Saint Francis Water Shed Trail: Located on the edge of campus, the recreational trail provides access to the University's quieter, more natural areas and increases knowledge of our local ecology. The trail and surrounding ecosystem are used by the Biology Department and others to conduct scientific research and promote environmental education.
Study Abroad
---
Field Biology Course: The BIOL 322 Field Biology course has allowed students to study biological systems around the world, including Australia, the Galapagos, and Belize. Students prepare with readings and assignments throughout the semester, and then travel to destinations either during spring break or immediately following spring semester.
Marine Science in Caribbean: Students can take SCUBA courses while abroad. There, they can gain SCUBA certifications, or take advanced research courses such as Coral Reef Ecology of Research Diver Methods. SCUBA courses are open to all majors, not just those in biology or aquarium programs.
Learn more about Study Abroad opportunities.
Club & Honor Society Involvement
---
SCUBA: Students learn to scuba dive or continue to build diving skills while exploring the fascinating underwater world. Activities are sponsored by the Scuba Club throughout the year to keep divers actively involved in the sport. Courses in SCUBA are offered in both fall and spring semesters. Students taking SCUBA courses can earn a Biological Diving Minor.
Environmental Action Society: This organization promotes environmental education and outreach to the students, faculty, and staff of Saint Francis University as well as to the community at large. Members also have fun in the environment while preserving it!
Biology Club: This club welcomes students who major in Biology or other majors with an interest in biology. Activities, trips and guest speaker invites are designed to help students prepare for their future in the sciences as well as to offer opportunities to participate in fellowship and networking activities.
TriBeta Biological Honor Society: Saint Francis is home to the Upsilon Beta Chapter of Beta Beta Beta, the National Biological Honor Society. Numerous student members have received research scholarship grants from the TriBeta national office and presented their research at the District Convention.

The best way to explore what the student experience really looks like is to schedule a visit!
CURRICULUM & COURSES
What You'll Learn in the Undergraduate Biology Program
Every student pursuing biology has unique interests and goals. The Biology Department at Saint Francis University offers a diverse array of programs that provide students with individualized career training paths.
---
General Biology Majors
Our general biology programs (B.A. or B.S.) offer flexibility in course selections to serve students who have broad interests or want to specialize in a way that doesn't fit out other programs. These programs encourage undergraduate research and provide all of the courses and study abroad options available in all of our other programs.
Biology, B.A. Plan of Study \ Course Catalog - 23/24
Biology, B.S. Plan of Study \ Course Catalog - 23/24
---
Joseph Erevelles Biology Pre-Medicine Program
(Pre-Physician, Pre-Dentistry, Pre-Optometry, Pre-Podiatry, & Pre-Veterinary)
This program is recommended for students who plan to attend medical, dental, optometry, podiatry, veterinary, or similar professional schools. Built around personal attention and faculty advising in a rigorous curriculum that gives students the tools to apply and excel in the professional school of their choice.
Associated with the program is an annual award. Students enrolled in this program can apply for support from the Joseph Erevelles Biology Pre-Medicine Annual Award, which can offset costs associated with medical school entrance exams, application fees for medical schools, and travel for interviews. Learn more about Joseph Erevelles and this award.
Biology, B.S. with a concentration in Pre-Medicine
Plan of Study / Course Catalog - 23/24
---
Marine Biology Program
This concentration within the Biology B.S. degree focuses on biodiversity and marine ecosystems with a global perspective not tied to one particular geography. Our students gain SCUBA certifications and dive at coral reefs in the Caribbean, and home their skills at Chincoteague Bay Field Station.
---
Ecology & Environmental Biology Program
This concentration within the Biology B.S. degree places an emphasis on ecology (how organisms interact with one another and their environment). Students in this program also have the opportunity to do ecological research with faculty and to participate in our Immersion Semester program at the Raystown Field Station.
Biology, B.S. with a concentration in Ecology and Environmental Biology
Plan of Study / Course Catalog - 23/24
---
Molecular Biology Program
This concentration within the Biology B.S. degree places an emphasis on the function of molecules and cells, along with modern analytical methods and technology. Learn cell culture techniques to study cell biology, cancer biology, and virology.
Biology, B.S. with a concentration in Molecular Biology
Plan of Study / Course Catalog - 23/24
---
Secondary Education Program
Students in this program earn a B.S. in Biology, complete with all of the rigors and opportunities, along with an educational framework that prepares them to teach science in secondary education in Pennsylvania's public or private schools.
Biology, B.S. with a concentration in Secondary Education
Plan of Study / Course Catalog- 23/24
---
Aquarium and Zoo Science Major
Training for students who want to work as zookeepers, educators, or naturalists in zoos or aquaria get hands-on experience operating our 1,500-gallon professional scale aquarium and gain real-world experience through animal care practicum and internships.
Aquarium and Zoo Science Program Page
---
Biochemistry Major
This B.S. program is offered jointly through the Biology and Chemistry departments. Biochemists study the chemical processes that occur in living cells as well as the structure and function of proteins, lipids, carbohydrates, and nucleic acids.
---
Neuroscience Concentration
The program will appeal to students who enjoy making connections across fields of science and social science, and who are curious about the structure and function of our brain, sensory systems, and neuromuscular systems. This program requires a double major in Psychological Science and Biology.
Plan of Study / Course Catalog - 23/24
---
Biological Diving Minor
The Biological Diving minor requires that students complete SCUBA certification as well as a selection of upper-level biology courses. Many of these courses provide opportunities for travel to sites like St. Lucia and Belize for diving experience.
---
Medical Laboratory Science Major (A.K.A. Medical Technology)
This B.S. program prepares students to work in clinical and hospital laboratories on the front lines of disease diagnosis or in forensics labs. This is a 3+1 program with the fourth year at an affiliated hospital training facility.
Medical Laboratory Science Program Page
---
Neuroscience Minor
Students with an interest in medicine, physiology, or molecular biology often pursue our interdisciplinary neuroscience minor, which pairs well with a biology major. Most biology students need only three additional courses and a seminar to complete the minor.
Degree Paths

Learning Objectives
Degree Paths

---

Successful graduates of this degree program are awarded either a B.A. or B.S. in Biology.

---

Related Majors

Upon successful completion of the undergraduate Biology program, you will be able to:

Describe how evolution by natural selection explains the unity and diversity of life on earth, and articulate how organisms interact at the population, community, and ecosystem levels.
Employ the scientific method, including the use of discipline-specific techniques, to discover and validate biological knowledge.
Demonstrate scientific literacy through reading, writing, presenting, and discussing research.
Demonstrate knowledge of how atoms and molecules interact to permit the function of living systems, and how cells sense, control, and respond to stimuli in their environments.
Demonstrate knowledge of molecular genetics and how this leads to the expression and inheritance of traits.
Explain how organisms reproduce and develop, how their anatomical structure permits function, how they maintain internal conditions, and how they sense and respond to external stimuli, across the full range of biological diversity.

Dedicated Researchers; Passionate Teachers
Our highly qualified faculty members hold doctorates in diverse fields within biology including anatomy, animal behavior, cell biology, ecology, endocrinology, entomology, evolution, microbiology, and molecular biology.
Dr. Justin Merry
Department Chair, Biology
814-471-1105
Email: jmerry@francis.edu
Research Interest: Dr. Merry's research is in the field of sensory ecology, which explores how sensory systems interact with animal behavior. He is particularly interested in how limits to visual abilities impact communication, mating behavior, and foraging.
Career Outlook in Biology
According to the U.S. Bureau of Labor Statistics, the outlook for jobs in Biology is strong https://www.bls.gov/ooh/home.htm. "Employment of life, physical, and social science occupations is projected to grow 7 percent from 2018 to 2028, faster than the average for all occupations, which will result in about 97,400 new jobs. Increasing demand for expertise in the sciences, particularly in occupations involved in biomedical research, psychology, energy management, and environmental protection, is projected to result in employment growth." Similarly, employment in healthcare occupations is expected to grow 14 percent through 2028. Salaries can vary significantly, depending on one's field, location, and education level.
---
Biological Sciences is a diverse field of study, with a wide range of career opportunities. Below are the major career paths our graduates follow.
---
Research: Basic and Applied
Researchers work for universities, government agencies, and private research institutes. Entry-level positions require a bachelor's degree, while graduate school is required for greater control and management of research projects.
---
Health care
Biologists pursue careers as dentists, medical laboratory scientists, optometrists, pharmacists, physicians, podiatrists, and veterinarians.
---
Environmental Science
Biologists who focus on environmental issues find jobs in the Department of Conservation & Natural Resources, Environmental Assessment & Monitoring, Fisheries, Forestry, Natural Resource Management, Wildlife Management, and the U.S. Park Service.
---
Education
Educators with a biology background teach classes in schools from elementary through post-secondary levels. Environmental educations work at zoos, aquariums, museums, aviators, theme parks and resorts, and in the ecotourism industry.
---
Animal Care & Training
Biology majors can work as animal trainers, aquarists, zookeepers, and wildlife rehabilitation and care specialists.
---
Law, Business & Writing
Biology majors find careers in environmental law, patent law, science policy advising, business management, marketing, pharmaceutical sales, technical instrument sales, science writing, and science journalism.
FAQs
Frequently Asked Questions About Biology at Saint Francis University
What is the career outlook for specific fields in biology

| | | |
| --- | --- | --- |
| Clinical Laboratory Technologists | 11% projected growth  | $ 52,330 |
| Dentist | 7 | $156,240 |
| Dietitians and Nutritionists | 11 | $ 60,370 |
| Genetic Counselors | 27 | $ 80,370 |
| Optometrists | 10 | $111,790 |
| Pharmacists | 0 | $126,120 |
| Physicians and Surgeons | 7 | $208,000 |
| Podiatrists | 6 | $129,550 |
| Veterinarians | 18 | $ 93,830 |
| Agricultural and Food Scientists | 7 | $ 64,020 |
| Biochemists and Biophysicists | 6 | $ 93,280 |
| Biological Technicians | 7 | $ 44,500 |
| Conservation Scientists and Foresters | 3 | $ 61,340 |
| Environmental Science and Protection Techs | 9 | $ 46,170 |
| Environmental Scientists and Specialists | 8 | $ 71,130 |
| Epidemiologists | 5 | $ 69,660 |
| Forensic Science Technicians | 14 | $ 58,230 |
| Medical Scientists | 8 | $ 84,810 |
| Microbiologists | 5 | $ 71,650 |
| Zoologists and Wildlife Biologists | 5 | $ 63,420 |
| High School Teachers | 4 | $ 60,320 |

What are some graduate schools SFU alumni have attended?

Some of the graduate schools our alumni have attended include;

Drexel University
Bowling Green State University
Hawaii Pacific University
Indiana University of Pennsylvania
Mississippi State University
Nova Southeastern University
Ohio State University
Penn State University
Rochester Institute of Technology
Slippery Rock
University of California, Davis
University of Maine
University of Pittsburgh
Western Virginia University
William & Mary Institute of Marine Science

What professional schools have SFU students attended?

In recent years, SFU students have attended the following professional schools;

 

Medicine

Geisinger Medical College
Edward Via College of Osteopathic Medicine
Griffith University School of Medicine, Australia
Kentucky College of Osteopathic Medicine
Lake Erie College of Osteopathic Medicine
Liberty University
Nova Southeastern College of Osteopathic Medicine
Penn State College of Medicine, Hershey
Philadelphia College of Osteopathic Medicine
University of Queensland School of Medicine, Australia
West Virginia School of Osteopathic Medicine
Wright State University

Dentistry

Temple University Dental School
University of Pittsburgh

Optometry

Nova Southeastern School of Optometry
Salus University, Pennsylvania College of Optometry

Pharmacy

Lake Erie College of Osteopathic Medicine
Mylan School of Pharmacy, Duquesne University
School of Pharmacy, University of Charleston

Podiatry

Kent State University College of Podiatric Medicine

Veterinary Medicine

Ohio State University
Iowa State University

Medical Laboratory Science

Conemaugh School of Medical Technology
UPMC Altoona School of Medical Technology/Medial Laboratory Science

What are the major areas of biological research?

Anatomy                                                    
Animal Behavior
Biochemistry
Bioinformatics
Biological Engineering
Biophysics
Cell Biology
Conservation Biology
Ecology
Evolutionary Biology
Genetics
Genomics & Proteomics
Immunology
Marine Biology
Microbiology
Molecular Biology
Neuroscience
Physiology
Plant Biology
Systematics & Taxonomy
Virology
Zoology

What educational qualifications are required for research positions

Qualifications

Students with a B.S. in Biology are qualified to work as laboratory technicians, assistants, or technologists.  These jobs can pay well and offer excellent stability, particularly in industry.
A Master's degree will allow more oversight and control, greater competitiveness for positions, and an increased range of career options.
A Ph.D., as well as post-doctoral training, is typically required for high-level research positions in industry or academics.