CAMPUS AMENITIES
JFK Student Center
OVERVIEW
Make Yourself at Home at JFK
Looking for a place to just hang out, meet up with friends, enjoy some live entertainment, grab a bite to eat, or just a quiet place to study? The John F. Kennedy Student Center is the central hub for all these and much more. The JFK Center is truly the "living room" of the campus plus a whole lot more…come make yourselves at home!
Discover JFK
What's inside:
Frankie's Campus Club
SFU Bookstore
SGA Headquarters
Luke Trotz Esports Arena
DIY Craft Room
Lounge & Study Space
Performance Stage
Center for Student Engagement offices & MORE
Multipurpose Lounge
The Center features a multi-purpose lounge for small or large group meetings, studying, speakers and presentations, dances, and so much more.
Auditorium
Additionally, the JFK Center also features a large auditorium for live music, comedy, and theatrical performances.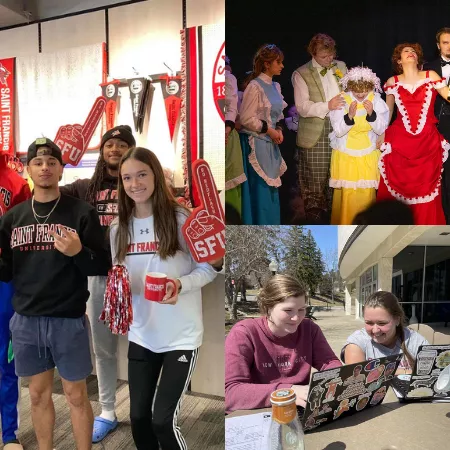 Lower Level
In the lower level of the building, you can find the Barnes and Noble campus bookstore, a DIY craft room filled with supplies, an esports arena, "Frankies" eatery, and conference rooms for student clubs and organizations to meet.
DIY Craft Room
Need to make a sign to cheer on your friend at a game? Find paint, paper, pom poms and more to get your craft on.
Esports Arena
The SFU Luke Trotz Esports Arena features top notch gear for competitive and casual gamers.
Frankie's Campus Club
Freshly made on-the-go items, a Hot Grill, Deli, Pizza, Soups, a Mongolian Grill, and Mexican Cinco Cantina plus Convenience Store.
Additional Services
The JFK Center also serves as the home of the Center for Student Engagement. So, if you're looking to get involved in student clubs and organizations, join a fraternity or sorority, get active as a campus leader, or just catch a ride to the local transportation depot, we're the people to see.