Students Participate in Domestic Dental Mission Trip
06/09/2019
Dr. Justin Merry, Associate Professor of Biology, Ms. Jen Merry, Assistant Director of Marketing Strategy, and Dr. Tim Bintrim, Professor of English and Environmental Studies, led a delegation of ten student volunteers to MOM-n-PA, the Pennsylvania Dental Mission of Mercy, held at Mohegan Sun Arena in Wilkes-Barre June 7-8, 2019. Now in its eighth year, MOM-n-PA is a huge event that serves roughly 1,800 people over two days, each year delivering a million dollars in free dental services to the under-served. Almost all patients either lack dental insurance or are under-insured, and many have been living with severe dental pain for months or years before coming to the clinic, affecting their ability to eat, work, and care for themselves and their families. Our students improve hundreds of lives as they work alongside nearly a thousand other dental professionals, support personnel, and lay volunteers.
Three student volunteers were veterans of last year's MOM-n-PA in Reading: Joe Theiss (rising junior, Public Health/Pre-Med), Loren Schweiger (B.S. in Public Health, Class of 2019), and Laura Replogle (senior, Biology/Pre-Dentistry). This year, Joe worked as a patient ambassador, Loren as an EMT in medical triage, and Laura as an Enhanced Function Dental Assistant.  
Mackenzie Gates (first-year Nursing) was tapped to organize a waiting area for patients awaiting panoramic x-rays and earned praise from her section leader in that role. Hannah Folk, Kourtney Gates, Emily Rose Vangura, and Megan Wood, all first year PA majors recruited from Dr. Marge Morales's Medical Spanish class, served as translators and patient ambassadors. Their section leader, herself a foreign language teacher, was impressed by their command of medical and particularly dental Spanish. Sophomore Public Health major Carrigan Koontz worked as a patient ambassador on Friday and conducted exit interviews on Saturday.     
David Sullivan III, first-year Nursing, worked in patient routing alongside his father, Dr. Dave Sullivan II of Pittsburgh. David's father saw patients in his office on Friday, picked up his son in Loretto, and, reaching Wilkes-Barre around midnight, the two were ready to go when the clinic doors opened at 6 a.m. Having served at these clinics from age sixteen, David also assisted oral surgery chair-side.  He and his father will again serve at Mission of Mercy Pittsburgh in a few weeks, July 26-27, 2019, at PPG Paint Arena.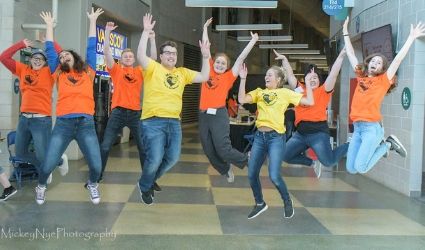 This being the fifth MOM-n-PA for the Merrys, their dependability and resourcefulness were acknowledged as Jen was promoted to Co-Lead in the dental restoration area, and Justin was put in charge of managing patients waiting to receive fillings. Tim Bintrim, attending his third MOM-in PA, served as a patient ambassador and distributed bottled water to volunteers on the floor and patients in the stands, earning the nickname "Culligan Man."
During the two long days of service, the SFU delegation listened to patients' stories and bonded with them, other volunteers, and each other, seeing the best of the dental profession. They wish to thank Lisa Georgiana and Marcus Mihelcic of the Center for Community Engagement for much help organizing the trip and Mr. Frank Embon, Class of 1959, whose generous support has made our service at these domestic missions possible.