Saint Margaret Hall Blessing and Dedication
University Marketing & Communications | 10/24/2023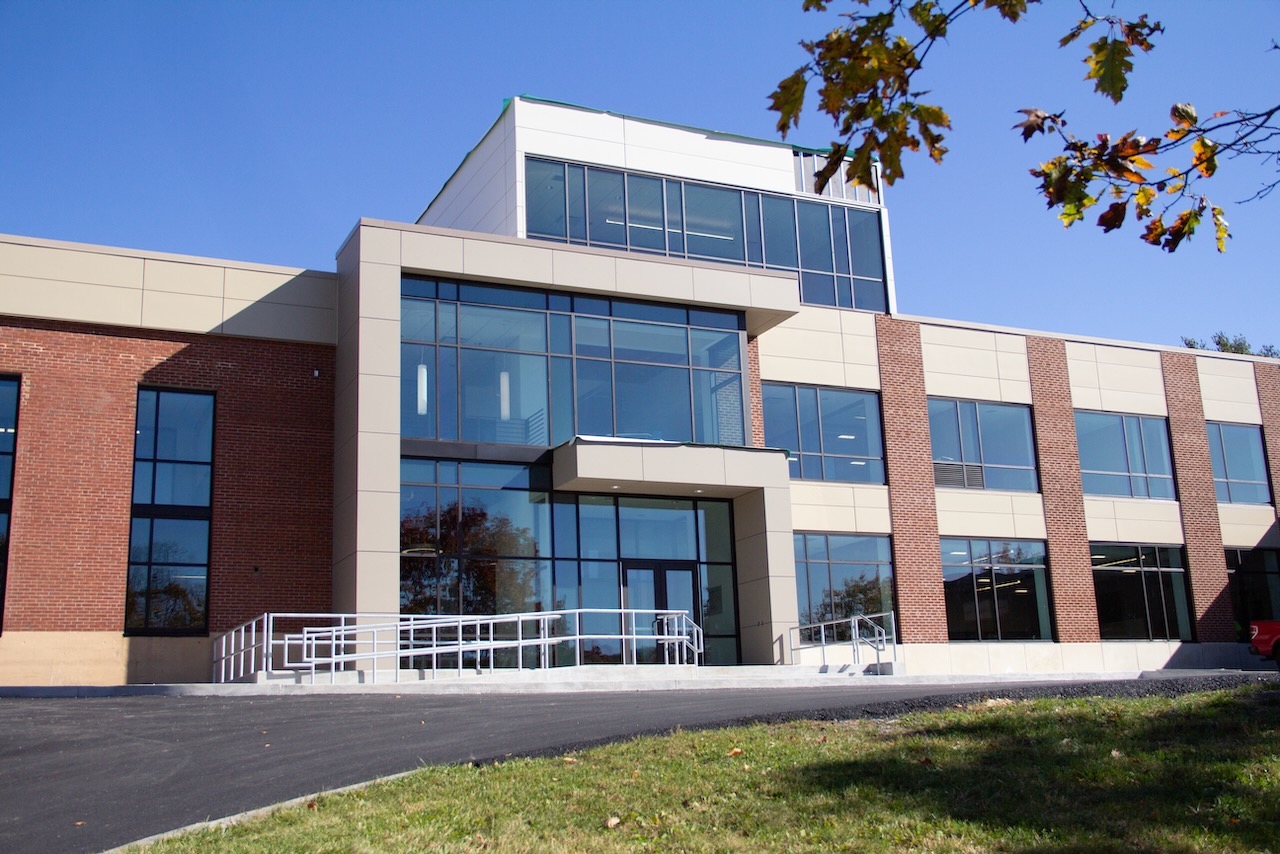 ---
On Friday, October 20, 2023, Saint Francis University celebrated the Blessing and Dedication of Saint Margaret Hall, the newest academic building on campus. The $9.2 million construction project, bearing the name of St. Margaret of Cortona, will primarily serve Occupational Therapy  and Physician Assistant Science majors and is scheduled to open in January 2024.  
University President Fr. Malachi Van Tassell, T.O.R., Ph.D. shared these thoughts at the ceremony, "The name of our new building serves as a testament to the values of service, compassion, and excellence that are at the core of our School of Health Sciences and Education. As Catholic institution of higher education, we are committed to responding to the deep societal need for healthcare professional who demonstrate equal measure of compassion and skill to care for those in need.  This space will be a catalyst for students on that journey."  
Dr. Kerri Golden, Interim Dean of the School of Health Sciences and Education noted that "the mission of our Occupational Therapy and Physician Assistant programs has always been to educate our students to the highest standard of ethics and practice but with an emphasis on addressing the needs of the poorest and most underserved. St. Margaret of Cortona will serve as a most relevant role model, as she spent her life helping those that society deemed less than worthy of love and care and perhaps, therefore, most in need of it." 
She continued, "This space is a testament to our commitment to educate and empower students to use their hands as instruments of healing and rehabilitation, extending care to the sick, supporting the poor, and uplifting the underserved." 
Saint Margaret of Cortona (1247-1297), a Third Order Franciscan penitent, devoted her life to following in the footsteps of Saint Francis of Assisi. Following a profound conversion experience, she dedicated herself to a simple existence, focusing on caring for the poor and needy. Margaret's compassion knew no bounds, as she established and ran a hospital where she tirelessly attended to the sick and dying. Her mission attracted like-minded individuals, known as the Poor Ones, who joined her in this noble ministry.   
The construction of Saint Margaret Hall involved renovating the University's former Boiler House and Fine Arts Center/Arts Garage. The new structure contains 15,356 sq. ft. of space physically connected to the University's main health sciences facilities via an enclosed elevated walkway.  By combining these two buildings into one reimagined OT & PA learning zone, the University can repurpose the prime space vacated by the Fine Arts department as it prepares to move to its new facility on St. Catherine's Street in 2024. 
Once completed, Saint Margaret Hall will boast: 
 an Innovative Research Lab with a driving simulator and laptop stations with data analytics software 

a physical OT Lab where students will benefit from high-impact teaching practices 

ample classroom space for growing the Occupational Therapy and Physician Assistant programs 

 conference space and student study spaces that invite collaboration among all the health science disciplines.  
Fr. Van Tassell credited State Senator Wayne Langerholc with "most of the heavy lift for this project," which occurred during the uncertainty of the pandemic. "Since his election in 2016, the Senator has proven himself a tireless advocate for Cambria County and a staunch supporter of Saint Francis University. Throughout the Covid shutdown and beyond, Senator Langerholc and his staff stood by us and worked to make this project a reality. On a Zoom call in April 2020, we discussed with him the critical need to reopen and resume the education of our health sciences students to maintain the healthcare industry's workforce. At the same time, we also explained the need to continue modernizing and expanding our health sciences' infrastructure to ensure that our students train in the best possible learning environment. Senator Langerholc answered the call, helping us work with then-Governor Wolf to enable us to reopen and, in December of that same year, announcing another $2 million in construction and equipment grant awards in addition to the $500,000 he had already secured for the OT project," Fr. Van Tassell shared. 
Congressman GT Thompson also assisted the project at the federal level. In May 2021, he requested $500,000 in Community Project Funds for the OT project under the Labor, Health and Human Services, Education, and Related Agencies appropriations legislation. Under his close supervision, the request survived the appropriations process. It was included as part of the $1.5 trillion Consolidated Appropriations Act of 2022, signed into law by President Joe Biden on March 15, 2022.   
---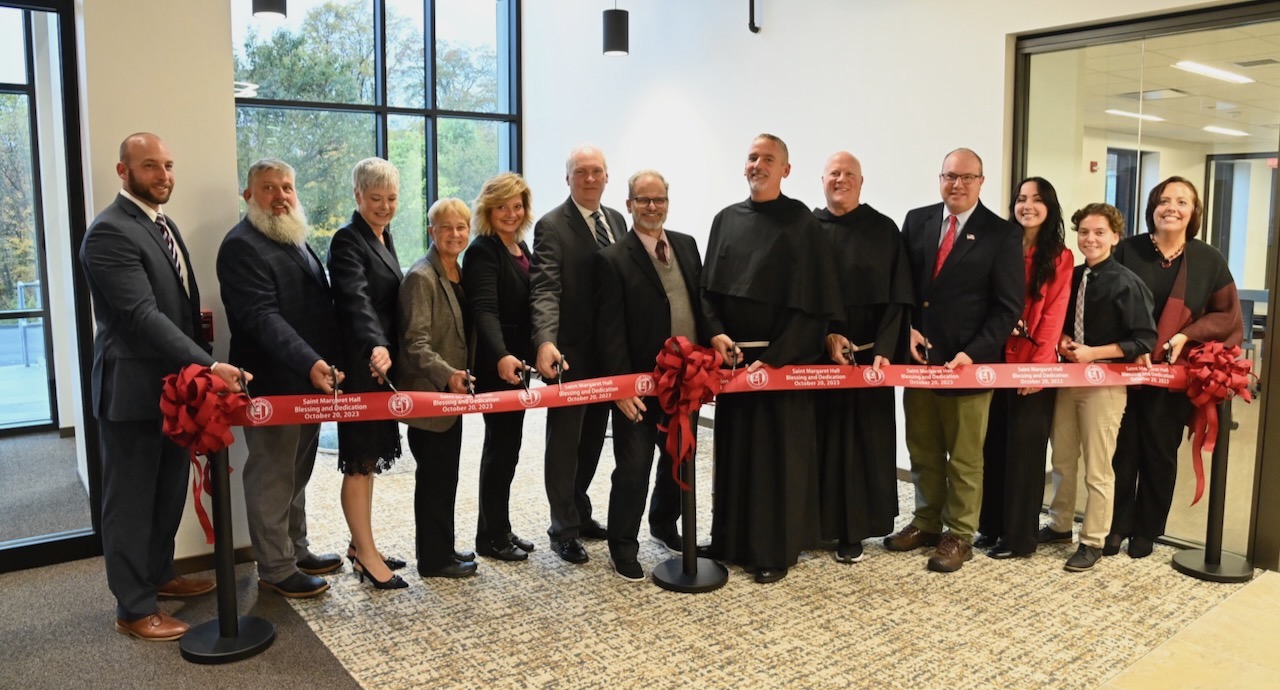 Ribbon Cutting From Left: 
Jason Sheffield, Poole Anderson; James Gorham, Poole Anderson; The Honorable Judy Olson, SFU Trustee; Dr. Carrie Beebout, Chair of Physician Assistant Sciences; Dr. Lorie Rowles, Chair of Occupational Therapy; Dr. Donald Walkovich, Special Assistant to the Vice President; Bill Szymczak, MCF Architecture; Fr. Malachi Van Tassell, T.O.R., Ph.D., University President; Fr. Joseph Lehman T.O.R., Ph.D. Minister Provincial; Dr. Michael McGinnis, Vice President for Academic Affairs; Mackenzie Johnson, Clinical Year Physician Assistant Student; Faythe Miller, Senior Occupational Therapy Student; Dr. Kerri Golden, Interim Dean, School of Health Sciences and Education