Saint Francis University unveils new high-tech anatomy lab
Marie Young, University Communications & Marketing | 11/18/2022
Saint Francis University students have immersed themselves in 1000s of simulated learning sessions to prepare for their future careers since the School of Health Sciences & Education's Experiential Learning Commons opened in 2019. Yet the facility was missing one crucial disciplinary piece: a high-tech anatomy lab. That missing piece is now solidly in place.
When the ELC was constructed four years ago, the university left 3,400 square feet of unfinished shell space for the future anatomy lab. That space is now fully outfitted thanks to donations and a $1,500,000 PDE Job Training and Education Program Grant secured by State Senator Wayne Langerholc.
A Blessed Facility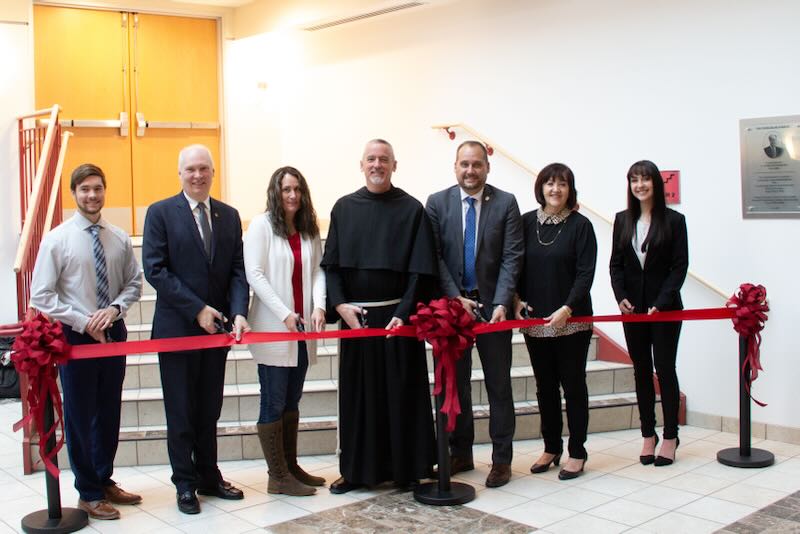 The university held a blessing and dedication ceremony for its new anatomy lab to celebrate on Thursday, November 17, 2022. The event included tours of the spacious, modern facility that combines the university's traditional cadaver lab with a high-tech simulation space within the ELC. The new anatomy lab is already benefiting students in physical therapy, exercise physiology, occupational therapy, physician assistant science, and nursing majors.
Inside the Anatomy Lab
The new "wet" laboratory space allows students to use human cadavers and static anatomical models to supplement lecture discussions. The use of human cadavers has been a long-standing practice in the health sciences at Saint Francis University, and cadaveric dissection remains the essential gold standard for teaching and learning anatomy. Cadavers provide students with a tactile experience to help them sharpen their skills and maneuver through the intricacies of the human body. 
Adjacent to this space is the "virtual" cadaver laboratory, which strongly complements traditional cadaver education. Using fully interactive state-of-the-art simulation and display equipment such as digital Anatomage tables and HoloAnatomy virtual reality goggles, students and faculty can review specific human body structures rendered in 3D.  
Anatomage tables provide students with a life-sized touchscreen interface to discover and learn human anatomy and physiology beyond what a physical cadaver can offer. Students can explore not just the structures through a natural dissection process by progressing from superficial-to-deep views as anatomical structures are dissected and removed, but certain physiological processes as well.  
The HoloAnatomy system goggles are similar but provide for a different interactive experience, allowing users to manipulate and peer through a life-size (or larger) 3D hologram. With every student in a class wearing an auto-stereoscopic headset, instructors can lay out anatomical content as they wish to present it. According to the university president, Fr. Malachi Van Tassell, SFU is the only school in Pennsylvania using HoloAnatomy tech at this time.  
About the ELC 
Saint Francis University's School of Health Sciences and Education (SHSE) enrolls more than half of the undergraduate students and more than 75% of graduate students. There is an intense desire, both within the school and in the professional world, to produce clinicians who are well-versed in interdisciplinary work. Critical to this effort has been the construction of a 10,000-square-foot addition to Sullivan Hall. Named the Experiential Learning Commons (ELC), this facility primarily serves as a simulation facility with hospital bays, debriefing rooms, a nursing/PA skills lab, the wet/dry anatomy lab, and a simulated apartment. It provides an ideal environment for interdisciplinary simulation training, immersing students in settings that mimic actual clinical scenarios typically involving multidisciplinary healthcare professionals working together.  
Workforce Impact 
This project directly supports workforce development in one of the region's bright spots – healthcare. The Pennsylvania Department of Labor and Industry's Center for Workforce Information and Analysis (CWIA) and the Southern Alleghenies Workforce Investment Board (SAWIB)classify healthcare, which employs more than 32,000 residents (approximately 21.2% of the local workforce), as one of the largest and fastest growing sectors in the region. Their forecasts indicate that the demand for a ready-skilled healthcare workforce will grow 9% by 2028, but, at the same time, experience significant employee retirements because of age and COVID-related impacts. The educational programs supported by this project will help ensuring that there are enough skilled professionals in the pipeline to fill these job openings by training more nurses, nurse practitioners, advanced practice nurses, physical therapists, physician assistants, occupational therapists, exercise physiologists, and public health and social workers.