Engineering Internships Help Secure Employment After Graduation 
Engineering Department | 05/02/2023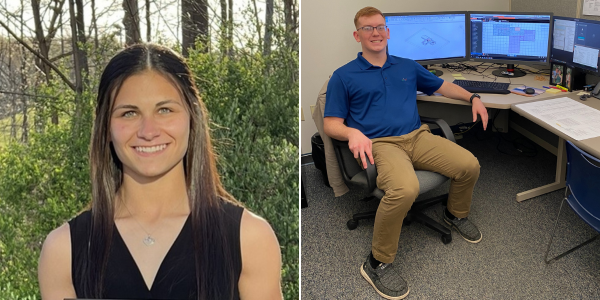 Completing an engineering internship can open the door to many career opportunities and help you take the first steps toward your dream job. This year, we are proud to announce a class of interns and graduates from Saint Francis University's General Engineering program that includes several students participating in a stratospheric ballooning project, students working for companies ranging from Leonardo DRS to Lighthouse Electric, and two students that we are proud to highlight below.  These two students have secured job offers in their desired engineering field, which stemmed from their experience as engineering interns.
Jenna Beitel, Future Product Engineer at Curry Supply
Jenna Beitel (Senior, General Engineering) started as an intern with Curry Supply during the summer of her senior year before landing a position as an employee with the job title of product engineer. Curry Supply is a commercial service vehicle manufacturer focusing on agriculture, oil and gas, construction, mining, the railroad industry, and much more.

As a product engineer, Jenna will be designing new projects as customers request them, updating pre-existing projects to fulfill customer needs and manufacturing needs, overseeing projects through the manufacturing process, and going into the field to obtain measurements of broken parts to be modeled and sent to the shop. "I'm looking forward to designing new things and gaining more knowledge and experience in my career field," shared Beitel.
Nathan Lamb, Future Mechanical Engineer I at H.F. Lenz Company
Nathan Lamb (Senior, General Engineering) started his final spring semester as a Mechanical Engineering Intern in the higher education/government services department of H.F. Lenz Company before securing a Mechanical Engineer I position upon graduation.

H.F. Lenz Company is a full-service engineering firm. The company has many services, including mechanical engineering, civil engineering, electrical engineering, surveying, and GIS mapping. The department Nathan interned with worked with universities and government organizations on remodeling/new construction of buildings. Through his internship, he worked with ductwork and piping layouts in Autodesk AutoCAD, Autodesk Revit, and Trane Trace 3D Plus.

Nathan shared that he obtained his internship through the engineering networking event that Saint Francis University provided for students. He met with the human resources representative for H.F. Lenz, introduced himself, and kept in touch with him throughout his semester. As a result, H.F. Lenz offered him a semester-long internship instead for his final semester, which led to Nathan completing most of his classes online and hybrid.

Nathan's duties as a full-time employee will be similar to what they were as an intern but will gradually increase in difficulty as he continues to learn and grow throughout his career. "I am looking forward to learning more about HVAC and everything that makes a successful engineer in the consulting industry," said Lamb.
 
On the Road to Success in Engineering
Completing an internship is a valuable experience for any engineering student or recent graduate. Whether you receive a job offer like Jenna and Nathan or use your internship as a networking opportunity, the experience, and skills you gain will be invaluable as you navigate your career path in engineering!
---
Read more about recent internships our General Engineering majors landed here.