Engineering Majors Land Notable Internship Positions
Engineering Department | 05/01/2023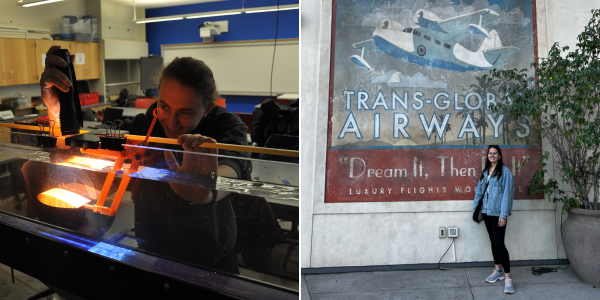 ---
Engineering internships allow students, like junior Kaitlyn Maxwell and senior Skye Eicher, to gain practical experience in various engineering fields. Kaitlyn & Skye will learn from experienced professionals, work on exciting projects, and develop the skills and knowledge needed to succeed in their chosen fields. 
---
Engineering is a highly recognized, dynamic, and innovative field of study at Saint Francis University. The engineering department at SFU offers a rigorous, hands-on, fundamentals-focused curriculum that prepares students for entrance into the engineering profession and helps them determine what field of engineering they would like to pursue. 
Flexible paths of specialized coursework are offered within the degree, but they are augmented by a strong emphasis on looking out into the real world.  While events such as weekly seminars from practicing engineers and on-campus engineering networking events give valuable insight, students receive active support and encouragement from their faculty in pursuing both summer and in-semester internships.

Historically, students from Saint Francis University's General Engineering program have been quite successful in securing summer internships or research opportunities at the University.  This year, we are proud to announce a class of interns and graduates that includes several students participating in a stratospheric ballooning project, students working for companies ranging from Curry Rail to Lockheed Martin Aeroparts, and two students that we are proud to highlight below.
---
Kaitlyn Maxwell, Senior Technical Intern at Leonardo DRS Naval Electronics
Kaitlyn Maxwell (Junior, General Engineering) is one of two SFU students who will fill a Senior Technical Intern position at Leonardo DRS Naval Electronics, a defense contractor in Johnstown, PA. Kaitlyn notes that she will gain experience in design, testing, and production processes but will focus on the testing sector during her time with the company. "I am excited about this internship because I will be able to figure out what aspects of the engineering process I enjoy and thrive in while also gaining valuable hands-on experience with a company for the first time," shared Kaitlyn.
---
Skye Eicher, Virtual Design Construction Intern at Lighthouse Electric
Skye Eicher (Senior, General Engineering) will fill the Virtual Design Construction Intern position at Lighthouse Electric. This electrical contractor incorporates innovation into electrical and technology design and construction. Skye has previously interned at a demolition company, where she shared her desire to get involved in Aerospace Engineering. The contacts she made within the company during her first internship as well as her love for aircraft, led to a second internship with the US Air Force as a Mechanical Engineer for the Reverse Engineering and Critical Tooling team at Tinker Air Force Base in Oklahoma City, Oklahoma. Here, she received the opportunity to reverse engineer aircraft systems for the KC-135 and KC-46. While the work was exciting and eye-opening, she wanted her next step to take her closer to home. With limited options for aerospace work in the area, she began looking for design work that she could get her hands on.

After choosing to pursue a career path in design and architecture, Skye landed her internship with Lighthouse Electric. Skye will work with a team on tasks such as reading floor plans, 3D design, 2D design, learning different computer applications, and learning about virtual design construction. "I am looking forward to getting my hands in the construction world and being able to learn as much as possible before continuing into a full-time job after graduation," states Skye.
 
---
Explore Your Engineering Internship Opportunities
When looking for your internships, be sure to explore different opportunities and choose one that aligns with your interests and career goals. With the right internship, you can set yourself up for a successful career in engineering!