Research at Saint Francis University
Office of Student Research/Student Projects/Pre-College Academy
Saint Francis University
At Saint Francis University, almost every discipline incorporates research into the student experience. It isn't uncommon to see students as early as their freshman year working alongside a Ph.D. faculty mentor on projects that matter.
Office of Student Research
The goal of the Office of Student Research is to foster the culture of student research at Saint Francis University at both the graduate and undergraduate levels. Student research has become an important part of the academic experience in all four of the university's academic schools. The office aims to celebrate research efforts on our campus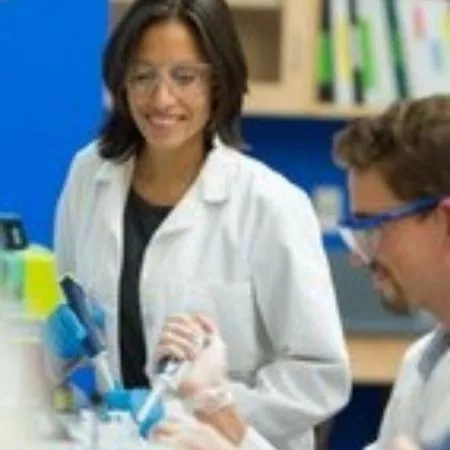 Student research provides the opportunity for our students to learn outside the classroom, and to use their skills during the summer months when they can concentrate on conducting research and working together with a faculty mentor and with other students. Student research can be a transformational experience for students when working on an independent project, where they can explore topics close to their interests.
Student research aids with the post-graduation placement of our graduates. It has helped them with securing interviews with potential employers as research can compensate for required years of experience in industry. It makes them stand out from the large pool of applicants for various professional schools and makes them desired candidates for graduate school. In addition, research and presentation of their research at conferences helps students build a network of professional correspondences that will benefit them in their professional life.
Student Research Projects
The Office of Student Research funds over 50 research projects each year. Students from all disciplines can apply for research funding. The research grants can be used for support in the following manner:
summer housing on campus
research supplies, equipment, conference participation
travel / lodging
summer wages
Current Research Projects
Below are a list of current research projects along with the faculty mentor

etes Versus Non-Student Athletes (Psychology, M. Moist)
Flow Visualization Utilizing Airborne Thermography (Environmental Engineering, M. Strom)
The Effects Moon Jellyfish Have on the Biodegradation of Oil Spills (Biology, M. Meadows)
Relationship between segmental LBM and various measures of muscular strength in healthy young adults (Master of Cancer Care, S. LoRusso)
The Practicality of Shark Repellents (Biology, M. Meadows)
The Effects of Kinesio Tex Taping on Knee Stability (Physical Therapy, C. Kindel)
The Clery Act (Social Work, M. Lynch)
Synthesis of Chiral Cation Selective Crown Ethers (Chemistry, B. Hargittai)
Comparison of Methods Assessing Body Composition in Young Adults (Master of Cancer Care, K. Wisniewski)
Elemental and Surface Analysis of Klondike Coal Mine KL-2 Site (Chemistry, E. Zovinka)
Genetic Distribution of PPARGC1A and ACTN3 in College Students (Biology, S. Reimer)
Biological Mechanisms of Mood Regulation Disorders in CD-1 and C57BL6J Mice Strains (Psychology, S. Flaisher-Grinberg)
A Closer Examination of the Mortgage Crisis of 2008 (Economics, E. Timmons)
Effect of Predictable Prenatal Stress on Mice Behavior (Psychology, S. Flaisher-Grinberg)
Effects of static magnetic fields on wastewater treatment and electricity production in microbial fuel cells (Environmental Engineering, R. Wagner)
Renewable Energy Development Feasibility Assessment of Past USDA REDA Recipients (Institute for Energy, A. Rohrs)
How social media effects memorization skills (Psychology, M. Moist)
The Effect of Stability Ball Seating on Attention, Arousal, and On-task Behaviors in Kindergarten Students (Occupational Therapy, J. Nagle)
Working Cued Recall with Semantic and Sensory Word Association (Psychology, M. Moist)
Hydroponic Rhizoremediation of Acid Mine Drainage Sites Utilizing Fallopia japonica and Typha angustifolia (Biology, G. Drus)
Metabolic Rates as Applied to Cold Tolerance Ability of the Autumn Meadowhawk, Sympetrum vicinum (Biology, L. Loya)
The Role of Indian Railwaymen in WWII (History, A. Bose)
The Effect of the ILS Dreampad on Children with Sensory Disorders (Occupational Therapy, A. Hudkins)
Analysis of Peptide Self-Assembled Monolayer Packing Density Using Potassium Ferricyanide (Chemistry, R. Clark)
Lifestyle Behaviors and Muscular Strength in Young Adults (Master of Cancer Care, S. LoRusso)
The Uses of Paper Microfluidics Devices (Chemistry, E. Varner)
Continuous Instream Monitoring: The Study of the Frankstown and Little Juniata Branch of the Juniata River (Environmental Engineering, W. Strosnider)
Property Study and Reservoir Modeling of Marcellus Shale, PA (Petroleum and Natural Gas Engineering, Q. He)
Association between PPARGC1A and Markers of Health and Physical Fitness (Exercise Physiology, K. Wisniewski)
Purification of Mitochondrial Transcription Factor A (TFAM) (Chemistry, M. Hargittai)
Validating a filtration model for Moringa- modified sand used for water purification (Environmental Engineering, R. Wagner)
Social Support: How it Affects Academic Stress in College Students (Psychology, M. Moist)
Optimizing Compost for Use as an Agricultural Fertilizer in Totogalpa, Nicaragua (Environmental Engineering, R. Wagner)
Mine Drainage and Sewage Co-Treatment Trials for Central City, Pennsylvania (Environmental Engineering, W. Strosnider)
Multistep Green Synthesis of LS-2616, a Clinical Drug Used to Treat Ocular Cancer (Chemistry, B. Hargittai)
The Role of Indian Railwaymen in India's Struggle for Freedom (History, A. Bose)
Inducing and Neutralizing Algal Blooms with Kava Kava and Graviola Extracts (Biology, A. Scanlan)
Isolating a bacteriophage that is able to kill Oral bacteria that causes intestinal inflammations (Biology, J. Trimble)
Pre-College Research Academy
The Pre-College Research Academy helps high school students better their understanding of research and learning in a college environment. By working closely with Saint Francis University undergraduates and faculty members on research projects for twelve months, the high school students explore areas of interest and gain experiences and skills that will benefit them academically and professionally. The research projects act as a catalyst introducing students to potential academic career paths.
The opportunities for student research are not limited to a particular school or discipline. All four academic schools of the university including Arts & Letters, Business, Health Sciences, and Sciences engage in student research. Students from a wide variety of disciplines take advantage of these opportunities. The 2018 Research Topics are:
Visualization of the Surface of Acid Mine Drainage. Faculty advisor: Dr. Edward Zovinka
Writing Empathy, Learning Compassion: The Emotional Life of a Hospice Health Care Professional. Faculty Advisor: Dr. Roxana Caza
The Neuroscience of Stress. Faculty Advisor: Dr. Shlomit Flaisher-Grinberg
Flow Visualization Utilizing Airborne Thermography. Faculty Advisor: Br. Marius Strom
Effects of a sensory friendly classroom on Kindergarten children's attention skills during classroom tasks (fine motor, visual motor). Faculty Advisors: Dr. Julie Nagle and Dr. Jennifer Misiura
Comparing the Microwave Assisted Synthesis of Tripeptides to Traditional Peptide Synthesis Methods. Faculty Advisor: Dr. Balazs Hargittai