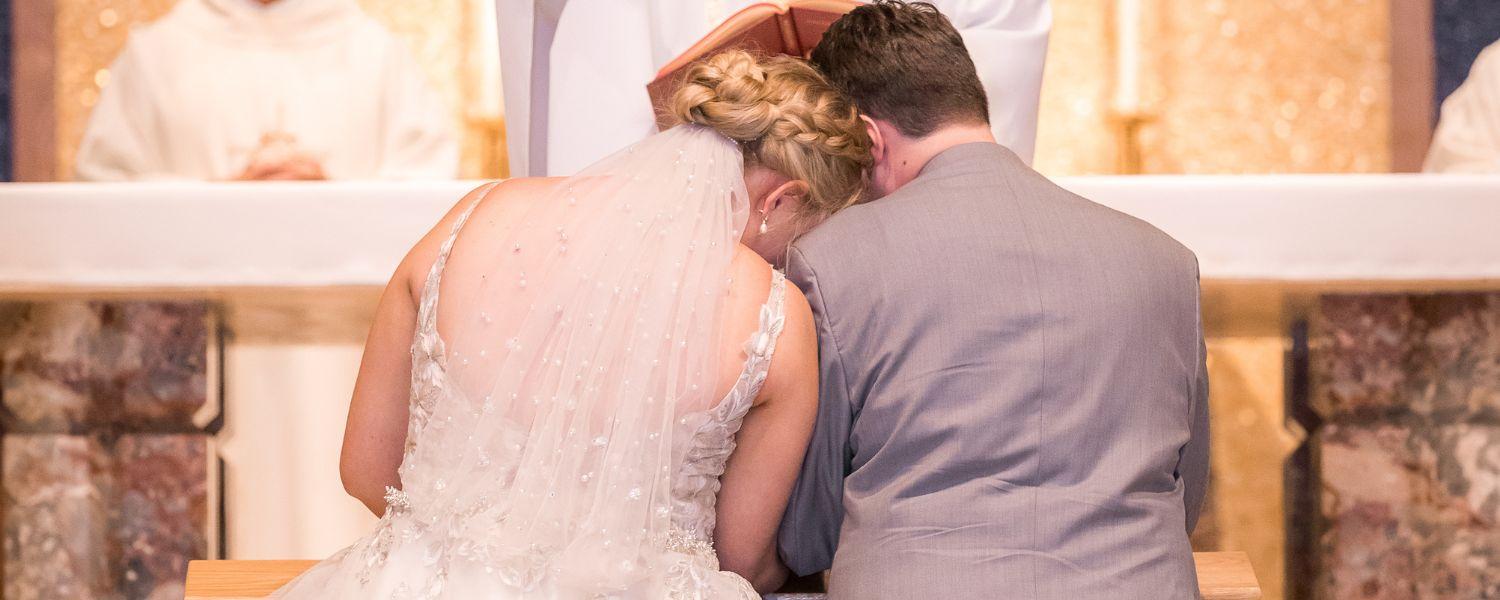 IMMACULATE CONCEPTION CHAPEL
Weddings
WEDDINGS AT THE IMMACULATE CONCEPTION CHAPEL
You're one step closer to tying the knot!
Thank you for your interest in celebrating your wedding in the Immaculate Conception Chapel at Saint Francis University.
While the requirements for marriage preparation are fairly standardized, they can differ slightly from one diocese to another.
Your wedding ceremony must be celebrated in accord with the norms of the Diocese of Altoona-Johnstown and the policies of the Immaculate Conception Chapel.
Wedding Chapel Contact:
Denise Farabaugh
p. 814.472.3172
DFarabaugh@francis.edu
Chapel Availability
Weddings will be permitted to the following:
present students at Saint Francis University;
alumni of Saint Francis University;
children of an alumnus of Saint Francis University;
employees of the University;
University employees' immediate family member (sons and daughters)
The only exception to this rule would be at the request of the pastor of the Basilica of St. Michael, Loretto.
---
View reserved dates below to see if your desired date is available!
---
Frequently Asked Questions:
What do I need to do to get married at the Chapel?
Since Saint Francis University is not a parish, it is important to understand that we are unable to offer various services that parishes normally do, such as:
Assigning a priest to preside at your wedding
Providing any marriage preparation
Providing any musicians, cantors or altar servers
For this reason, if you wish to celebrate your wedding at Saint Francis University, you will need to secure a priest who will be responsible for the marriage preparation, rehearsal and wedding ceremony.
If this is agreeable with you, please fill out the enclosed paper work and return it to Campus Ministry. The date you request may be reserved for you once the enclosed paperwork and $100 deposit has been received and once you have secured a priest to perform the wedding. Dates are on a first come first serve basis so it is necessary that you return the information as soon as possible.
---
How much does it cost to get married at the Chapel?
The cost of using the Chapel is $550--$100 deposit when you reserve your date and the remainder $450 one month prior to your wedding. This allows you the use of the Chapel for a rehearsal and a wedding. Time in the Chapel may be limited due to other events also scheduled in the Chapel. This fee will also provide a Sacristan who will be available for both the rehearsal and the wedding and also pay for the fees that are paid to the Basilica of Saint Michael.
---
Questions and Additional Instructions
Should your presiding priest have any questions, they may contact the Basilica of St. Michaels in Loretto by phone at 814.472.8551. The Basilica of St. Michael is where the marriage paperwork for any wedding taking place in the Immaculate Conception Chapel will be filed.

Instructions for wedding photographers, Garden rental (through the Franciscan Friars) and wedding florists can be found by contact Denise Farabaugh by phone at 814.472.3172. However, you will need to check with the priest performing the wedding for any additional instructions.

You are responsible for making sure the Chapel is in the same condition as when you arrived. All trash, programs and decorations must be removed; anything left will be disposed of. You may leave flowers that decorate the altar if you wish.
Marriage License Information
Marriage licenses must be from Pennsylvania and must not be older than 60 days. The following is the contact information for the Cambria County Courthouse:

Cambria County Courthouse
Register & Clerk of Orphans' Court
200 South Center Street
Ebensburg, PA 15931
814.472.5440, ext. 243
9:00 a.m. - 4:00 p.m. / M - F
Closed for holidays.