Visit Saint Francis
We invite you to experience Saint Francis for yourself.
Tour our 600-acre campus and meet faculty, students, and staff who can give you an inside look at the incredible SFU experience. Whether you are a first-year, transfer, or graduate student, we can arrange a visit perfect for you. Our visit days fill up fast, so register today and find out why over 20,000 successful alumni call Saint Francis University home.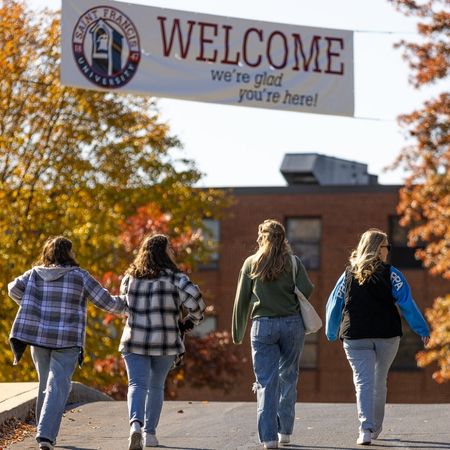 Choose Your Visit Experience
Weekday Visits: On-Campus or Virtual
Join us for this half-day campus visit experience where you'll learn more about our academic programs, tour campus, enjoy a delicious, complimentary lunch, and meet with your designated admissions counselor.
You can choose from morning or afternoon visits Monday through Friday.
---
Open House
Check back soon: Future Dates to be announced.



This full-day experience will introduce you to the mission, character, and values of Saint Francis University and provide opportunities to meet faculty from your academic programs of interest, experience unique curricular and co-curricular settings, learn more about campus life and student support services, take in the panoramic view along a guided walking tour of campus, and enjoy a delicious lunch in our dining facilities!
The day begins around 9:00 AM and will conclude around 2:00 PM.
---
Saturday Visits
Check back soon: Future Dates to be announced.
Saturday Visit Days are half-day, in-person visits, perfect for busy families who can't visit during the work/school week or cant attend one of our open house events. Your day will go from 9:30 AM to 1:00 PM. While you're here, you will tour campus with a current student, meet with admissions professionals, and enjoy lunch in our dining hall.
---
Weekday ACT Options
You can register to take the Residual ACTs Monday through Friday in our very accommodating Testing Center. Contact Sandy Rea, Academic Support Specialist, to schedule the exam. You can call her at 814.472.3287 or email her at srea@francis.edu


Virtual Tour
Are you ready to explore our campus from the comfort of your home?
---
8 Things To Do During Your Visit
Sip a latte at Adamucci's Cafe

Hang out at Degol Field and try to spot Frankie
Order a Bravisimo original

Swing by DiSepio to see our commitment to health and wellness
Tour a renovated res hall to plan your decor

Take a peaceful walk around the Our Lady of Lourdes Grotto
Stop by the Selfie Station in JFK (and tag us on social media!)

And since you're here to learn--find your academic building

Cresson, PA
Ebensburg, PA
Johnstown, PA
Altoona, PA
Frequently Asked Questions About Your Visit & Tour
Is someone available to help me with my campus visit registration?

Absolutely! If you're stuck or have any questions about the visit registration form or need to make a special request, please feel free to call our Campus Visit Coordinator at 1-814-472-3100 to assist you in completing your registration.

How do I get to campus? Where do I park?

Use 117 Evergreen Drive Loretto, PA on your GPS device.

Upon your arrival to campus, look for the Admissions Welcome Center at St. Francis Hall which is conveniently located directly between Torvian Dining Hall and the Immaculate Conception Chapel.  

 

There is ample parking adjacent to the center and our warm and friendly admissions staff will greet you and your family and provide you with your personalized visit itinerary, helpful information, and some pretty sweet SFU swag, too!

 

I have financial aid questions. Will you cover this during my visit?

Our knowledgeable Admissions Counselors provide financial aid information during all of our visit opportunities. In addition, the Financial Aid Office is open Monday through Friday from 8:30 a.m. to 4 p.m for appointments, and we're happy to arrange an individual meeting with the office upon your request. 

What will I get to see on my tour?

Campus tours are led by our student ambassadors and include various stops in academic buildings, campus dining locations, the library, and the student center. Along the tour, our ambassadors will provide you with facts about Saint Francis University's history and traditions.

 

Residence hall rooms are included as part of the campus tour. The residential experience of college life is a significant learning opportunity for students. We want you to see your home away from home!

 

Please wear comfortable walking shoes. If anyone in your party needs special transportation or other accommodations, we're happy to help, but please let us know ahead of time.