STUDENT SUCCESS SERVICES
Diversity & Inclusion
OVERVIEW
Joining a Global Community
Multicultural diversity at Saint Francis is an important part of campus life. Each year the University welcomes students and faculty from across the United States and more than 23 countries.
Many of our students also travel abroad as part of their educational experience. We believe that life is made rich by exploring the diversity of individuals, groups, and cultures. Respect, tolerance, and goodwill are the keystones to enjoying the diversity of our world, and we help our students refine these values through curriculum offerings, opportunities to study abroad, on-campus social activities, and other programs.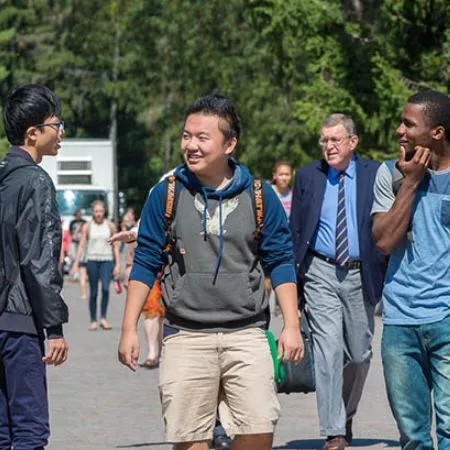 The Benefits of a Diverse Campus
A diverse student body has a positive effect on academic achievement and overall college satisfaction.
Diversity in higher education helps students to successfully compete in an increasingly global marketplace.
Diversity education helps develop important skills, such as flexibility, critical thinking and the ability to work in teams.
Students who interact in the classroom with students different from themselves are more aware of racial issues and more likely to promote racial understanding.
Programs and Services
The Office of Diversity and Inclusion serves to support the needs of all students as they transition to University life. We offer programming and activities that promote the development of students to take their place as world citizens. While respect for diversity is weaved throughout the university community there are student groups who in addition to the Office of Diversity and Inclusion, promote diversity, and inclusion on many levels:
The American Sign Language Club
Fusing, Empowering, and Embracing Diversity - FEED Club
Invisible Children
International Student Union
The Office of Diversity and Inclusion
Saint Francis University desires to create a campus community characterized by equal access and respectful participation for all groups and individuals; a campus community that not only prepares students for life at the University, but prepares students to be participants in a global community. The Office of Diversity and Inclusion is committed to assisting students in their educational and cultural growth through development and awareness that translates into students overall success. The Office works to coordinate the campus community's dialogue on diversity, and to give voice to diverse students in their adjustment socially, academically, and psychologically to life at Saint Francis University. In turn they will become a positive influence upon life at Saint Francis University.
Contact Us
Lynne Banks
Associate Dean of Students
Division of Student Development
230 Padua Hall
814-472-3002
lbanks@francis.edu