SFU Receives PA Cyber Polytechnic Academy, Partner of the Year Award for Higher Education
University Communications & Marketing | 05/22/2023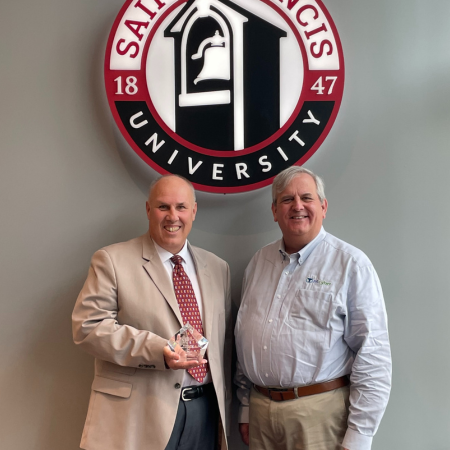 On May 5, 2023, Dr. Peter Skoner accepted the PA Cyber Polytechnic Academy, Partner of the Year Award for Higher Education, at the Curry Innovation Center. 
2023 marks the first year that PA Cyber is presenting the Polytechnic Academy Awards through which they are seeking to recognize individuals (students, staff, and partners) that have shown a passion for polytechnic education and an enthusiasm for participating in PA Cyber's polytechnic initiatives.
The award ceremonies, which will take place in five cities, celebrate students who have demonstrated excellent participation as well as staff, universities, and education partners who have grown the school's STEM programming in the past year. The Poly Award serves as a symbol of the recipient's impact and a reminder of the importance of continued innovation and progress.
The nomination process was open to staff members throughout PA Cyber of which several nominated Dr. Skoner and his colleagues from Saint Francis University.  Saint Francis has been a tremendous partner for PA Cyber throughout a whole host of activities, whether those have been at SFU, at the Curry Innovation Center, or through virtual or other means. 
Click here to read the full press release. Congratulations, Dr. Skoner!