Saint Francis University ranks among 10 Best Online Colleges in Pennsylvania
University Communications & Marketing | 09/15/2023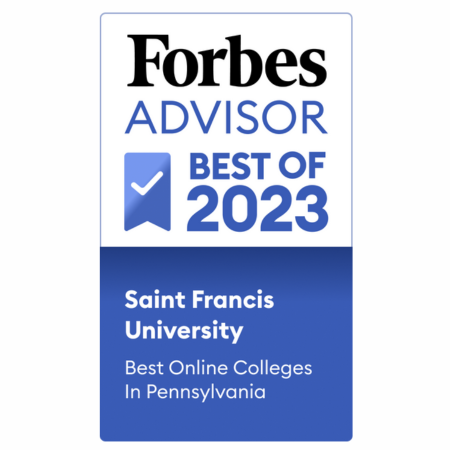 ---
Forbes Advisor's Education Team selected its picks of the 2023 top schools in Pennsylvania to pursue an online degree. Saint Francis University was honored to round out the list of the 10 Best Online Colleges in Pennsylvania.
SFU is one of the most affordable online options on the list at $485 per credit hour for an undergraduate degree program (including out-of-state students). The colleges included in the Forbes Advisor guide charge between $460 and $1,396 per credit.
Forbes Advisor Education team published the list as part of its guide to help prospective students discover the best online colleges in the U.S. based on credibility, affordability, and other essential factors.
To compile the top 10 list, the team scored 74 accredited, nonprofit colleges offering online bachelor's degree programs in Pennsylvania using 16 data points in the categories of credibility, affordability, student outcomes, student experience, and application process. The 10 best schools received a curved final score of 87.2% or higher. Find the complete list of methodologies here.
About online programs at SFU
Saint Francis University has a broad selection of career-focused, flexible online undergraduate degree programs in accounting, behavioral sciences, computer systems management, early childhood education, healthcare management, organizational leadership, and more through the Division of Professional Studies.
Online master's degrees in business administration, human resources, education, family nurse practitioner, and public health are offered through the Shields School of Business and the School of Health Sciences and Education.
The university also offers an online Ed.D, the Executive Doctor of Education in Organizational Leadership, through the Division of Professional Studies.