Saint Francis Announces Inaugural Uplift Scholarship Recipients
University Communications & Marketing | 03/10/2023
Uplift Annual Scholarship created to honor diversity and meet financial needs of online adult learners in Francis Worldwide School of Continuing Studies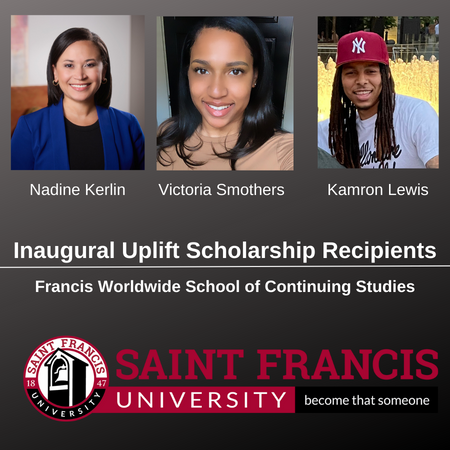 Saint Francis University is pleased to announce a new scholarship for students enrolled in an online associate or bachelor's degree program through the Francis Worldwide School of Continuing Studies. The Uplift Annual Scholarship honors the celebration of diversity and will provide $15,000 each year divided evenly among three deserving online adult learners who demonstrate financial need.
Joy Thoma, a 1980 graduate of Saint Francis and member of the University's Board of Trustees, established the new scholarship. When asked why she created the Uplift Scholarship Annual Scholarship, Thoma said, "I have always rooted for the underdog. There is no greater gift than education, yet some have a harder time achieving their educational goals, either due to some immutable characteristic, like race or ethnicity, or because they have made a mistake for which they have made restitution."
She added, "Saint Francis provides a singularly unique launching pad for its students to achieve personal and professional success. Academic excellence coupled with the development of important attributes like critical thinking, resilience, and compassion enable our graduates to live fulfilling lives and meaningfully contribute to society."
According to Dr. Tricia McFadden, Dean of Francis Worldwide School of Continuing Studies, the inaugural Uplift Annual Scholarship recipients are Kamron Lewis, a Criminal Justice major from Fresno County, CA; Nadine Kerlin, a Management major from Boalsburg, PA; and Victoria Smothers, an Organizational Leadership major from Johnstown, PA.
"We are truly grateful for the Uplift Annual Scholarship, which is the first established scholarship for Division of Professional Studies students," shared Dr. McFadden. "This path of opportunity further voices SFU's mission and supportive journey to become that someone."