Qualities of an Effective Leader
University Communications & Marketing | 04/06/2023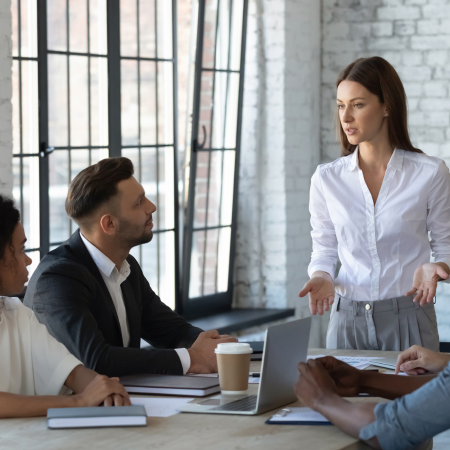 8 Qualities of an Effective Leader 
Leadership positions exist in every industry, but business strategies are constantly evolving. What makes someone a good leader today might look different than it did a decade ago.  
A recent report from Burning Glass Technologies analyzed millions of online job postings from 2016 and 2021. One of the most prominent findings was that the in-demand skills for leadership positions have changed significantly since 2016. The impact of this is profound, as it presents a growing need to either seek new talent with new skills or upskill the current workforce. 
Within this evolving marketplace, we need leaders who not only are able to define and support an organization's strategic direction, but also possess the soft skills that even the most technical of industries demands. Consider the following information on the qualities of an effective leader.  
Skilled leaders are in demand 
Those in management and leadership positions play an invaluable role for their organizations, which is why they are continually in high demand. According to the Bureau of Labor Statistics, overall employment in management occupations is projected to grow eight percent by 2031, with more than 880,000 new jobs being created between 2021 and 2031.  
But when you factor in vacancies created by current workers leaving their jobs due to retirement or other reasons, that number grows to closer to 1.1 million openings each year. These occupations experience a median annual wage of $102,450, which is the highest of all the major occupational groups nationwide. 
In a separate report, Burning Glass Technologies took a closer look at the actual clusters of skills employers are seeking. Overwhelming evidence suggests that employers are having an increasingly hard time finding leaders who possess the soft skills needed to be effective, identifying a sizable skill gap. 
8 Soft skills all managers need 
While in high demand, soft skills can be notoriously difficult to define. But through analyzing actual job postings, it becomes clear that the most sought-after soft skills fall into two categories:  
Interpersonal skills 
Communication skills are scarce across industries—and across positions. The ability to communicate effectively—both verbally and in writing—is essential for today's managerial workforce. In leadership positions, it's particularly important to stay in open communication with employees and stakeholders, sharing information artfully and engaging in dialogue.  

Relationship building is key to effective management, which makes interpersonal skills essential. Building rapport with employees requires the ability to make emotional connections with others. Team leaders who are empathetic, supportive, approachable and patient are often able to foster authentic working relationships.  

Values and ethics are critical elements of responsible leadership. Those in managerial positions are expected to uphold high ethical standards, acting with integrity, self-awareness and humility.  

Positive thinking can impact everything from a leader's interpersonal interactions to their strategic outlook for the business. Research shows that leaders who maintain a positive disposition are more effective in motivating their team members to excel in their work.  
Strategic skills 
Organization is a fundamental soft skill for managers. In fact, it's among the most requested skills across all job families and skill levels in general. Strategic planning, staffing, policy development, business forecasting—nearly all managerial duties require strong organizational skills to be executed effectively.  

Organizational development is essential for professionals who are tasked with developing and maintaining a business's direction and strategy. Employers are looking for visionary leaders who set goals that are both competitive and attainable, while offering the support and resources to manifest them.  

Adaptability is a core skill when it comes to leading and managing change. Most organizations exist in a perpetual state of transformation, shifting to meet evolving customer needs or to keep up with advancements in technology and other tools. As the market continues to change, leaders must maintain flexibility amidst their strategic endeavors.  

Critical Thinking abilities are highly important across industries. The ability to analyze challenges and resourcefully solve problems has become a baseline skill needed in all managerial positions. Any type of effective thought leadership comes from skilled critical analysis.  
Take your leadership skills to the next level 
As you seek to develop your managerial skill set, you now have a clearer understanding of the most sought-after qualities of an effective leader. Perhaps you already possess some of these skills, making you a natural fit for leadership roles. By tapping into those innate abilities and building additional competencies, you can advance your career—and be a positive influence for those around you.  
The Master of Arts in Strategic Leadership (MASL) from Saint Francis University operates with a mission to develop transformational leaders who are capable of establishing respectful and productive organizational cultures, while guiding sustainable, long-term organizational strategies.  
If you share this same passion, learn more about the program's focus on soft management skills and new leadership perspectives by visiting the Master of Arts in Strategic Leadership program page.