SkyWest Airlines donates CRJ200  airframe  to SFU's future Aviation Technician program
Marie Young, University Communications & Marketing | 01/20/2023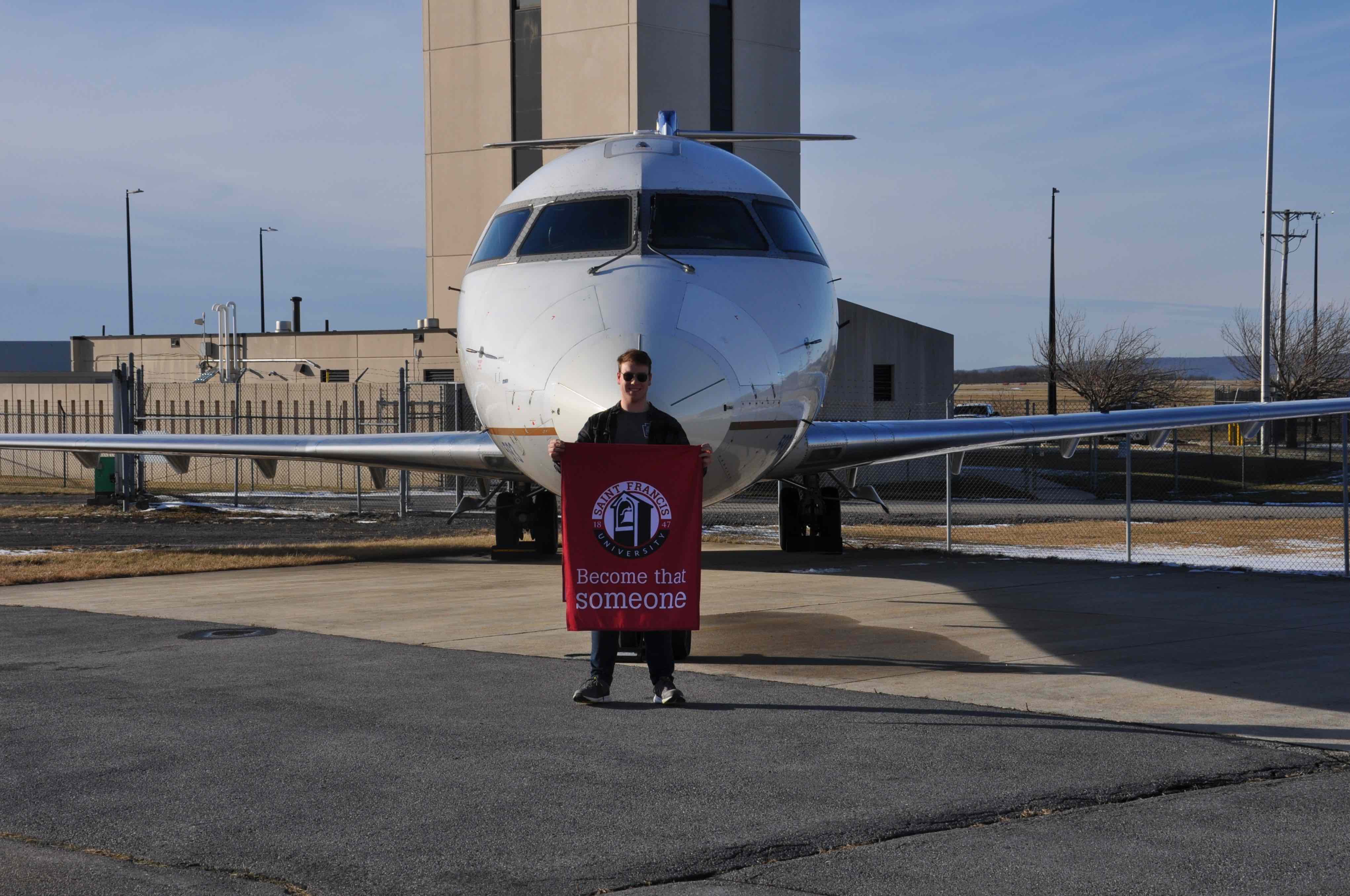 University Prepares to Launch Aviation Technician Program
Saint Francis University recently received a CRJ200 airframe from SkyWest Airlines that will be used as part of the university's future Aviation Technician program. Having this aircraft available for hands-on work will give aviation maintenance technician students the invaluable opportunity to train on a regional jet airframe as a regular part of the proposed curriculum.
"Nothing is better than repeatable, hands-on experiences to nail down theoretical knowledge and master a new skill. The addition of a CRJ200 to our inventory at Saint Francis University's newly created Center for Aviation Maintenance and Education represents a wonderful investment in the training of our future students. We are incredibly grateful to SkyWest Airlines for their continued partnership in this venture and for the opportunity to include this aircraft in our new Aviation Maintenance Technician training curriculum," shares program lead, Br. Marius Strom, T.O.R.
According to Br. Strom, the aircraft's complexity allows students to troubleshoot, repair, and test anything from its environmental systems to its avionics, APU [Auxiliary Power Unit], hydraulically boosted control surfaces, anti-ice systems, and more. "Only some of these systems are present on smaller general aviation aircraft and the scale of the CRJ200 presents students with an opportunity to interact with even more common systems on a whole new scale," he explains. The plane will be housed at the John Murtha Johnstown-Cambria County Airport under the care of Nulton Aviation Services, the university's project partner, until the facilities for the new AMT program are prepared.
The donation stems from the university's relationship as an Elite Partner with SkyWest. The partnership, announced in August 2022, allows SFU students to access SkyWest's Pilot Pathway Program and the Aviation Maintenance Technician (AMT) Pathway Program. These programs allow students access to a variety of benefits while they are completing their training, including mentoring by experienced pilots and mechanics, enhanced company seniority, and a guaranteed job interview.
"We're glad to partner with St. Francis University, and for students to get real-world, hands-on experience with a commercial airframe and components," said Joe Sigg, VP SkyWest Maintenance. "This investment of resources is one of the ways SkyWest is working to support students as they advance toward becoming aviation technicians."
Aviation Opportunities at Saint Francis University
Recognizing the global shortage of pilots, SFU entered the aviation education space in 2017 after receiving startup funds from the Commonwealth of Pennsylvania to develop a pilot training program in partnership with Nulton Aviation Services. The curriculum allows traditional undergraduate students and working professionals to earn a pilot license while on various college degree paths. Through the Aviation Specialization, students can obtain a Private Pilot License and a Commercial License within 3.5 years. Learn more at francis.edu/aviation. 
Beyond the need for pilots, the university also recognizes a critical demand in the aviation maintenance field with an estimated 626,000 new technicians needed by 2040. In response, the University is adding an Aviation Maintenance Technician training program to its workforce training portfolio. In October, the university was awarded a $1 Million grant by the Appalachian Regional Commission (ARC) to launch an Aviation Maintenance Technician School through a collaboration with the Johnstown-Cambria County Airport Authority, Nulton Aviation Services, Cambria County, SkyWest Airlines,  Lockheed Martin Aeroparts, Inc., and Martin-Baker America.
The new Aviation Maintenance Technician School will be sited at the John Murtha Johnstown Cambria County Airport and will offer a 14 CFR 147-certified training curriculum for Aviation Maintenance Technicians. It will enable students to gain in-demand skills in a program that is under 18 months long and will help create pathways into secure, well-paying, family-sustaining jobs in the growing aviation industry and related sectors. The University anticipates launching programming in 2024 through Francis Worldwide School of Continuing Studies (francis.edu/worldwide)
---
About SkyWest Airlines
SkyWest Airlines, a wholly-owned subsidiary of SkyWest, Inc. (NASDAQ: SKYW), operates through partnerships with United Airlines, Delta Air Lines, American Airlines and Alaska Airlines carrying more than 36 million passengers in 2021. Headquartered in St. George, Utah, our fleet of over 520 aircraft connects passengers to over 240 destinations throughout North America.
About Nulton Aviation
Founded in 2006 by Corbin C. Nulton and Larry Nulton, PhD., Nulton Aviation Services (nultonaviation.com) is a Federal Aviation Administration (FAA) certified Pilot School that meets the strict guidelines approved by the FAA in curriculum, standardization, instructors, equipment, maintenance and facilities. Nulton Aviation is one of SkyWest Airlines' Elite Partners and also offers a complete FAA Testing Center.  
About Saint Francis University 
Saint Francis University (francis.edu) in Loretto, PA, is the oldest Catholic-Franciscan college in the United States. Its mission is to help students grow into compassionate, successful professionals through a culture of faith, generosity, respect, discovery, and joy. Saint Francis University offers traditional campus-based learning and competitive online and graduate degree offerings.