Danielle MacMurtrie Profile
University Communications & Marketing | 04/26/2017
PT major Danielle MacMurtrie blended her love of anatomy and art during her time at Saint Francis University.
Danielle MacMurtrie PT, DPT
Doctor of Physical Therapy
Class of 2016
Employed by HeathSouth Rehab Hospital in Lancaster  
Physical Therapy at SFU
Presidential Inauguration
Anatomy Painting Project
Q&A with Danielle
What sparked your interest in Physical Therapy? How old were you?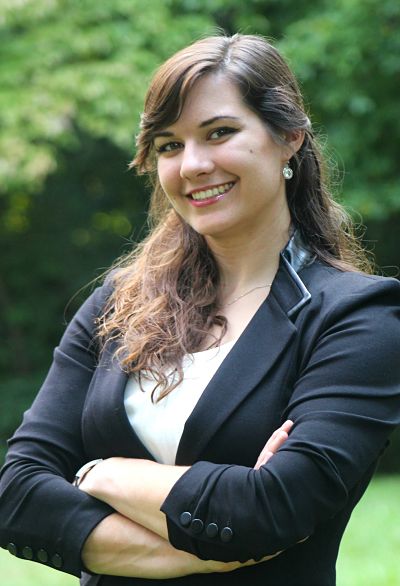 I was first exposed to physical therapy when I was 13. I sustained a back injury caused by years of gymnastics. I wore a back brace for 2 years and received frequent physical therapy. It was the first career in which I could picture myself working. I was never interested in being a doctor or a nurse, but after growing up doing gymnastics, being in the PT gym just felt like home. 
What have you been up to since graduation? 
HealthSouth Rehab Hospital has been an excellent environment for me to begin my career as a physical therapist. There is a supportive, collaborative, caring atmosphere which makes coming to work enriching. Our patient population allows me to build my skills as a new PT, while exposing me to more complex cases. Working in an in-patient rehab setting also gives me daily opportunities to love people in a tangible way. I truly feel I am living out a ministry through my profession as a PT. While I hope to expand my horizons as a therapist, I don't believe I could have found a better place to begin my professional journey.
Living in Lancaster has also been an exciting adventure. It's a cool, artistic city which pulls off an urban vibe while being in the heart of rural central PA. I have made some wonderful friends through my church and through Swing dancing. Best of all, I have an art studio in my apartment which I have transformed into my own little Boiler House. Now that I have finally settled into my new life and job, I am beginning to return to my artwork. While it has its share of challenges and valleys, my new life here is beautiful and I can't wait to see what else God has in store for me.
How did the painting project you did as a student for the School of Health Sciences evolve?
When Dr. Stephen LoRusso came to me and asked if I would be willing to do a few paintings about my experience during summer anatomy, it was like a dream come true. I expected that my growth as an artist would be put on hold for the duration of grad school. This project not only allowed me to delve deeper into painting on a larger scale, it allowed me to combine two of my passions in a very real way. My Honors Thesis was entitled The Blending of Passions: Integrating Art into a World of Science. This new series is the realization of that dream. With a colorful pallet on one side and an anatomy book on the other, I was finally able to paint as both a physical therapist and an artist. The series wouldn't be possible if I were not both.
This project started as an effort to portray one aspect of the PT program: the cadaver lab summer. However, as the series matured and evolved, the paintings took on a heart of their own. The series is about portraying a deeper side of the learning process, honoring those from whose bodies we learned, and revealing a wonder in the study of the human body. It is the blending of methodical study and empathy. Certainly, artists are no strangers to the human body, but what I hope to bring to the table is the beauty and intimacy even in the scientific study of the body. For my fellow therapists and scientists, I want to take the bodies that we study and heal and infuse them with a vibrant soul of color and life. 
How does your knowledge of anatomy factor into your creative choices?
I love people. I find portraits and the human figure to be the most compelling. I am captivated by the human form and all the emotions, experiences, struggles, pain, and hope of individual persons that can be revealed by art. Now that I have learned the anatomy, I am even more fascinated. There is something so beautiful and awe-inspiring not only in our anatomical make-up, but how perfectly we are designed for life. Certainly, art is not bound to anatomical correctness, or else it would cease to be art. However, I feel privileged to understand the inner workings and mechanics of the muscles, bones, nerves and vessels. I get a sort of thrill from knowing that I have seen what lies beneath the skin. In this current series I completely embrace the anatomy, but I have yet to see if my knowledge will continue to pervade my artwork. 
How do art, science, and religion play together in your world? 
My Catholic faith is the core of who I am. I'd like to believe that it has shaped the person I am and the way I interact with the world. In my opinion, art and science are resolutely intertwined, because God is the author of all beauty and the creator of all things. The more I learned about the intricacy of the body, the more admiration I have for the Creator. 
Never having studied art formally, I look at my ability to paint as a complete gift from God. Because it is a gift, free and unearned, I return credit for anything I create back to Him. As a result, painting becomes a kind of prayer and taking up my brush is an act of surrender. I have learned a lot about myself and my faith through painting. The more I learn and the more I paint the deeper my faith becomes.
How do you think your faith will factor into your professional life?
I look at becoming a physical therapist as a way to become God's hands in the world. My goal is to reveal His love in some small way to each of my patients. Heath care is a ministry of compassion and service. It may be messy, stressful and frustrating at times, but that's because it requires getting right in there with people who are broken and hurting. I consider it a privilege to be able to use my skills and knowledge to help someone heal. 
Do you feel that you will be a better PT because of your artistic talents?
I don't think I'll be a better PT just because I can paint. However, I think that art can teach people to have greater empathy for other people. I think because I am creative, I look for depth and the story in what appear to be very sterile situations. I hope that this mindset will always allow me to provide truly compassionate patient care. 
Do you ever feel like an outsider in the health sciences as someone who loves the arts?
I never felt like an outsider in the health sciences. Although people sometimes wonder about me being an "artsy science person," they accept that I am a PT and I can hold my own in the field. The science courses may not come as easily to me as those of Arts and Letters, but I enjoy the challenge. I loved all of my PT courses, although I wish there was more scope for the imagination and room for creativity.  But then I remember sitting in class being fascinated by the study of the body and its movement. I was genuinely excited by the science, but even more by the prospect of making a difference in the lives of my patients.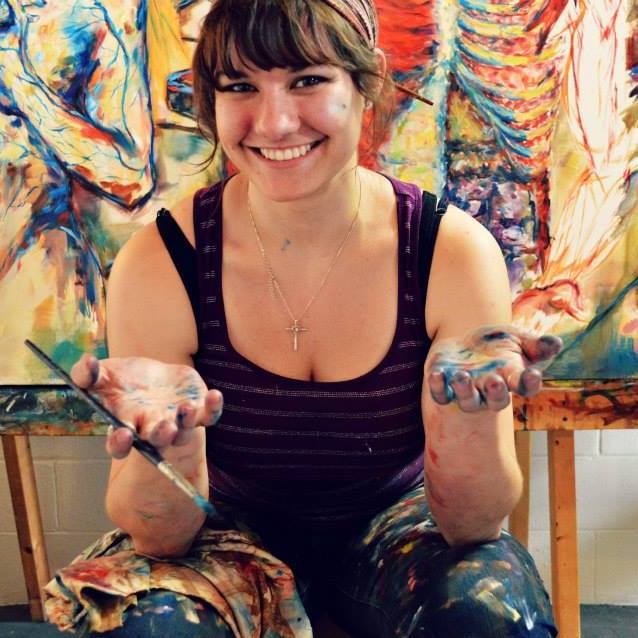 However, I do occasionally struggle with insecurity around other artists, especially those who attended art school. I feel like a health science student masquerading as an artist. Because I am self-taught with oil paints, I am painfully aware of all the things I've never tried or learned. I simply bought some paint, brushes, and turpenoid and jumped in. It took a long time and many completed paintings before I had the courage to call myself an artist.
There are times I imagine what it would have been like to have made Art my full time pursuit, but it just isn't for me. I am so passionate about physical therapy and am looking forward to beginning my career. I am blessed to also have painting as an outlet.  In the end, I don't have to compromise. 
What are your fears as you leave college?
My fears after graduation do not lie within my chosen career. Rather, I'm afraid that in "the real world", I will not be able to make the time to nurture the beautiful gifts I have discovered. I am afraid that the pressures within the ominous and mysterious land of adulthood will overshadow my growth as an artist and undermine my faith. I have already begun to realize the challenges of living out my faith without my Campus Ministry community. I can only imagine how difficult it will be to find the time (and space) for painting once separated from my beloved Boiler House work space. 
However, I know that I had been well prepared for the Physical Therapy profession by my professors.  I am also confident that my art and honors professors and mentors have given me the tools to adapt into life beyond college. In fact, I practiced for this transition all throughout school.  This is why I was so determined to paint outside of class time. I knew that I was preparing for the day when I wouldn't have designated art courses.  In a similar way, campus ministry was meant to create a firm foundation from which I could continue to grow in my faith. I am determined that wherever I end up, I will create my own Boiler house and find an Immaculate Conception Chapel in which I can continue to grow.
Why did you choose SFU? 
I chose SFU for the accelerated Doctor of Physical Therapy program, the Honors program, and the strength of the  Campus Ministry program. I have absolutely no regrets. I not only reached new levels in my Catholic faith, developed as a well-rounded scholar, and received excellent training as a physical therapist, I discovered a part of myself I did not realize existed. I became an artist. With the support of those in my own department, as well as relentless encouragement from members of Arts and Letters like Dr. Weixel and Chuck Olson, I was given the opportunity to spread my wings and fly. The decision I made six years ago to choose St Francis has undeniably shaped who I am today as a Catholic young woman: a physical therapist with the heart and soul of an artist.