Addressing the Teacher Shortage: SFU and TEACH
Dr. Melissa Peppetti | 05/09/2023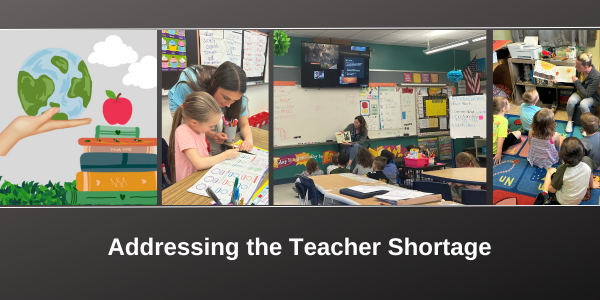 A Global Need for Teachers
Teacher shortages are a growing problem that impacts communities across the globe. The United Nations Educational, Scientific and Cultural Organization (UNESCO) estimates that 69 million new teachers are needed globally to provide basic universal education by 2030. "Lack of training, unattractive working conditions, and inadequate funding all undermine the teaching profession and aggravate the global learning crisis," states Audrey Azoulay, Director of UNESCO. Recent educational literature reveals that teacher staffing and shortages are due primarily to increasing student enrollments and increasing teacher retirements (American Federation of Teachers, 2022; Ingersoll & Tran, 2022; Garcia & Weiss, 2019; Government Accountability Office, 2022; National Research Council, 2002; U.S. Department of Education, 2009).
Pennsylvania Teacher Shortages
While the teaching crisis impacts all locales, rural schools are having issues finding teachers for specific classes and grade spans, especially the disciplines of math and science (Ingersoll & Tran, 2022). This struggle continues and has many rural educators and administrators concerned. For example, many rural teachers in Pennsylvania do not have access to sufficient preparation, induction, and subsequent support (Fuller, 2022). Pennsylvania teachers often experience stressful and isolating workplace conditions without opportunities for career progression or input into school-wide decision-making (Fuller, 2022). Within the last few months, there have been suggestions from legislation to address the teacher shortages; possibly raise the minimum salary for education professionals, support high-need schools in geographic areas that have hard-to-staff teaching positions, create programs for colleges to create or expand programs for teaching professionals, and create a mentor program for first-year teachers in districts with high turnover. Researchers also suggest that policies cannot be one size fits all (Fuller, 2022). The policies should address the cost of attending a teacher preparation program in some way.
Factors influencing teacher recruitment need to be addressed as root problems with proposed solutions. Three common solutions to recruitment and retention for maintaining high teacher quality have been proposed in the literature. Those that emerge in research studies include growing-your-own or homegrown, using targeted incentives, and building partnerships with institutions of higher education (Gagnon & Mattingly, 2015; McClure & Reeves, 2004; Monk, 2007; Oyen & Schweinle, 2021). Through deliberate approaches, states can address recruitment needs and ultimately increase teacher quality. 
T.E.A.C.H. (Teacher Education And Compensation Helps) Early Childhood® Pennsylvania Scholarship Program
Saint Francis University, through the Graduate Education Department, is committed to improving teacher quality by offering research-based solutions that may serve as viable solutions to the teacher shortage. As a university, we are committed to recruiting new potential candidates into the teaching profession in an effort to close the gap. T.E.A.C.H. (Teacher Education And Compensation Helps) Early Childhood® Pennsylvania Scholarship Program offers early learning professionals a debt-free higher education, supporting them while they work to become stronger teachers and earn thriving wages. By building a more educated and fairly compensated workforce, T.E.A.C.H. raises the quality of care and education that Pennsylvania's youngest children receive—setting them on a path to future learning and success.
T.E.A.C.H. is a shared investment between the scholarship recipient, their employer, and T.E.A.C.H. funders. Employers pay a portion of tuition, provide paid release time for classes and coursework and issue a stipend or raise at the end of each scholarship year. In return, T.E.A.C.H. scholars commit to working for their employer for at least one year after graduation, creating a more stable workforce.
T.E.A.C.H. Early Childhood® Pennsylvania is administered by the Pennsylvania Child Care Association (PACCA) and is a licensed program of the Child Care Services Association (CCSA).T.E.A.C.H. Early Childhood® Pennsylvania is supported by the Office of Child Development and Early Learning (OCDEL) of Pennsylvania's Department of Human Services (DHS) and Pennsylvania's Department of Education (PDE).
Saint Francis University partners with T.E.A.C.H. at both the undergraduate and the graduate level, which allows candidates to apply in various programs including undergraduate, post baccalaureate, and graduate. For more information visit T.E.A.C.H. T.E.A.C.H. Scholarship - Pennsylvania Child Care Association (pacca.org).
About Graduate Education at Saint Francis University: Visit our Graduate Education Department home page to learn more about "Becoming That Someone" in the field of education. 
About the Author: Dr. Melissa Peppetti is the Director of Graduate Education and Assistant Professor of Education at Saint Francis University. Dr. Peppetti supervises student teachers in over 20 local school districts, many of which are rural. In addition, Dr. Peppetti is the Executive Director of the Rural Education Alliance for Leadership (REAL) Institute at Saint Francis University. The mission of the REAL Institute is to assist local communities and educational agencies to come together to support the needs of rural schools. The Institute provides working knowledge about the issues rural communities are facing and the resources necessary to take action. The REAL Institute is a voice of change for rural school districts. A primary goal of the Institute is to engage with the right stakeholders in discussions to better inform policy and education for rural places.