Dr. Timothy Bintrim
Profile Image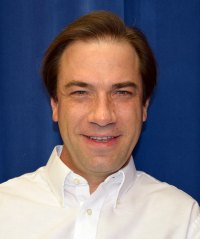 Position: Professor of English
Department: English
Office: Scotus Hall 309
814-472-3116
About Dr. Timothy Bintrim
Education
B.A. and M.A., Slippery Rock University (1988 and 1990)
Ph.D. in American Literature, Duquesne University (2004)
Biography
My scholarship centers on the Pittsburgh life and writings of Willa Cather, a novelist best known for her prairie trilogy set in Nebraska, but who also set several of her best stories, such as "Paul's Case" (1904) and "Double Birthday" (1929), in Pittsburgh.  
Whenever possible, I like to involve students in research and conferencing. 
I have published a dozen articles on topics such as homicidal wolves, office heists, bicycling ministers, newspaper- and clubwomen, Chinese missionaries, and dandies in Cather's fiction, all with connections back to Pittsburgh. I have been known to dig for clues around gravestones in cemeteries as well as in regional archives and special collections. collections. I helped edit a collection of essays from the International Cather Seminar in Pittsburgh, published in 2021 as volume 13 in the series Cather Studies: https://www.nebraskapress.unl.edu/nebraska/9781496224613/.
Meeting philanthropist Stan Brock (the founder of Remote Area Medical) got me interested in America's critical need for universal health care, especially dental care.  Each year I accompany SFU's team of volunteers to a free clinic such as MOM-n-PA, Pennsylvania's dental mission of mercy.  With Dr. Rachel Wagner, I co-advise the Environmental Action Society, SFU's eco-club.  I coordinate the Environmental Studies minor and in that capacity supervise the campus high-hoop greenhouse and a therapeutic garden at Cambria Care Center.
Each semester, I teach several sections of WRIT 102, Research Writing, usually themed Writing in the Sciences, and a popular LIT 104 course themed Medicine in Literature.  Though the reading list for the latter varies, we usually read bestsellers by Atul Gawande and Paul Kalanithi, a selection of plays including Margaret Edson's W;t, poems and essays by nurses such as Cortney Davis, and sample the "new poetry of disability" with a collection titled Beauty is a Verb. Occasionally I teach first year seminars on the politics of food and environmental utopias and dystopias.
Academic & Professional Specializations
Willa Cather's Pittsburgh writings
American literature
Environmental literature
Archival studies
Teaching Interests
Medicine in literature
Disability in literature
The politics of food
Western Pennsylvania women writers