SCHOOL OF STEAM
English, Bachelor of Arts
Introduction
Earn a Versatile Degree in English from Saint Francis University
Over the course of their studies, English majors develop skills in reading, writing, and critical thinking—skills that are essential and highly sought after in any career. In Saint Francis University's English program, students will benefit from expert professors and small class sizes that facilitate individualized study in a variety of concentrations.
Offered: On-Campus
small class sizes perfect for focused discussion and individualized study
flexible curriculum and experienced faculty who will help you to reach your goals
opportunities for publishing, editing, and tutoring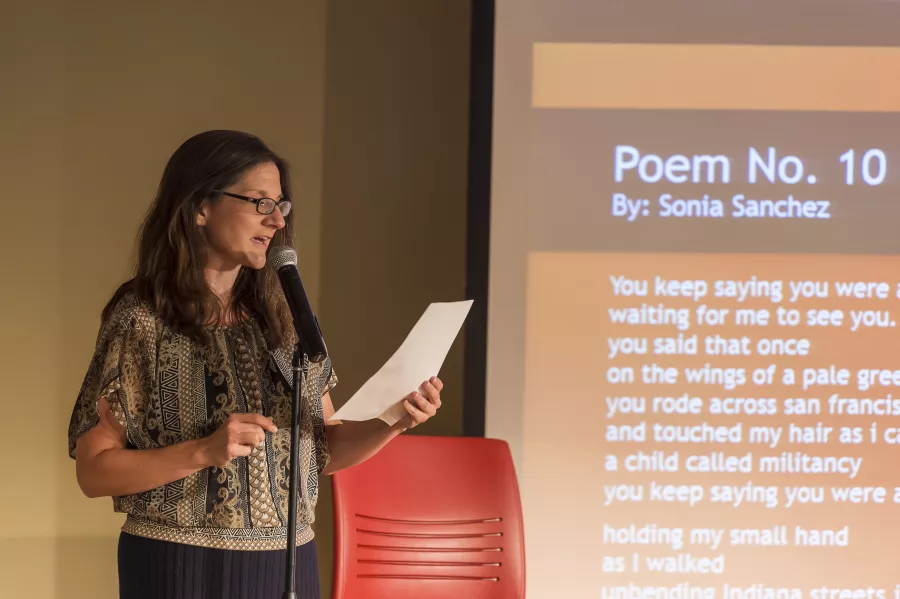 The SFU LEARNING EXPERIENCE
English the Saint Francis Way
We believe that focused discussions in small groups about good books and good writing provide the best kind of education for English majors. We also work individually with students on their own interpretations of literary texts and writing endeavors. Majors have published scholarship in journals, served as editors of online publications and presented scholarly and creative works at literary conferences.
Explore career paths built on the written word.
Your interests will determine whether you follow the path of a professional or creative writer, teacher, lawyer, journalist, artist, editor, etc; it's all up to you.
Research: In our program, opportunities for research can lead you to publication in scholarly journals and presentations at conferences.
Creativity: If creative writing is your interest, joining the Literary Club's writing workshops will refine your work for publication or for our writing contest, and working with the program's own literary magazines—Tapestries and New Constellations— will offer you experience in editing and publishing.
Teaching: Working as a tutor in the Writing Center will refine your own editing and revising skills and help to prepare you for a career in teaching.
CURRICULUM & COURSES
What You'll Learn in the Undergraduate English Program
An undergraduate English major will provide you with both practical skills and theoretical knowledge of literature and writing. Our program helps you to build a solid foundation in literary theory and analysis, composition and creative writing, and a variety of American and British literatures. From there, you have the freedom to choose electives that most closely align with your interests and goals. For instance, you can take a course in women's literature or Shakespeare and write your own poetry, short stories, or novels for credit. You can also add a minor or second major. In addition to our minors and concentrations, the curriculum leaves you free to pursue a double major in fields like history, Spanish, or psychology. In Saint Francis University's English program, the possibilities are endless.
Degree Paths

Learning Objectives
On-Campus:

| Degree Path | Description | Course Catalog | Plan of Study |
| --- | --- | --- | --- |
| English, B. A. | in-person bachelor of arts degree | | |
| Secondary Education Concentration | focus within English, B.A. | Course Catalog - 23/24 | |
| Writing Concentration | focus within English, B.A. | Course Catalog - 23/24 | |

Minors:

As a graduate of our English program, you will be able to

Identify important literary themes, theories, and works and authors of literature in English;

Analyze and recognize reflections of the human condition—our ideas, fears, and desires—as presented in literary works;

Express ideas in clear, persuasive language both orally and in writing, including developing strong arguments and disseminating information accurately and concisely;

Demonstrate excellent critical thinking and analytical skills;

Perform research on a variety of literary topics, including identifying appropriate sources.

Experienced English faculty who love to teach
At Saint Francis, you will learn from professors who love the written word and want to share that love with their students. They are all prolific writers and active scholars in their respective fields. The English faculty are members of the Department of Literature and Languages.
Program Chair: Dr. Brennan Thomas, bthomas@francis.edu, 814.471.1111
Career Outlook in English
Now more than ever, English majors are in high demand for their reading, writing, analytical, and editing skills. Being able to communicate effectively, solve problems, and think outside the box make English majors a great fit for a multitude of career paths. Our graduates are well prepared for careers in journalism, marketing, law, publishing, teaching, technical writing, and more.
FAQs
Frequently Asked Questions About English and Saint Francis University
What can I do with my English major?

English majors graduate with reading, writing, and analytical skills that can be applied broadly to a variety of careers. Many English majors go on to work in teaching, writing, marketing, and journalism. They also can pursue advanced degrees in literature, creative writing, law, linguistics, library sciences, and more.

What are the publications associated with the English program?

The university produces two creative arts publications: Tapestries publishes the winners of the school's annual Gunard B. Carlson Writing Contest; New Constellations is an online literary magazine that publishes works by high school students and is edited by students in the English program.

I have an interest in a field of literature or writing that isn't in the course offerings. Can I pursue it?

Yes! If you have a particular interest in, let's say, studying science fiction or writing a memoir, our faculty will nurture your passion through an independent study or special topics course. By joining the Literary Club and connecting with other English majors, you can develop a supportive community who share your interests.