DEPARTMENT OF NURSING
Nursing, Bachelor of Science
Introduction
Earn a Prestigious BSN Degree from Saint Francis University
To succeed in nursing, you need to be ready for an innovative, high-touch profession where learning never stops, and patient care is the top priority. The Saint Francis University Department of Nursing utilizes exceptional learning opportunities to prepare future registered nurses to provide safe quality care in various patient-centered health care environments.
Offered: On-Campus with Clinical Components
our graduates achieved a 100% pass rate on NCLEX-RN exam 6 years in a row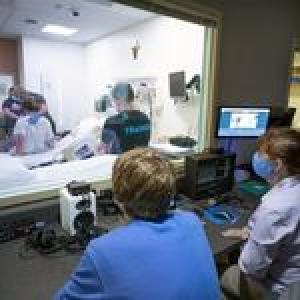 work hands-on with simulated patients in our ELC and with real patients through clinical rotations in hospital settings
Franciscan values are embedded in the coursework, ensuring we graduate caring, ethical nurses
The SFU LEARNING EXPERIENCE
Undergraduate Nursing the Saint Francis Way
Our nursing students enjoy a unique camaraderie through small clinical groups (1-8 faculty-student ratio). Faculty know students by name in our close-knit department. Each student receives an assigned faculty advisor throughout the program. Planned online and face-to-face meetings ensure students have every opportunity to succeed.
Student Experience Highlights
---
Our Nursing program is ranked #1 in Pennsylvania by rncareers.org and #2 by RegisteredNursing.org.
Access to state-of-the-art technology in our Experimental Learning Commons.
Our Nursing program incorporates Franciscan values into the curriculum to ensure that our graduates are prepared to be ethical, compassionate professionals.
Our faculty dedicate themselves to helping students prepare for the Students and faculty regularly volunteer for University-sponsored clinics for the underserved in the spirit of St. Francis of Assisi.
Members of the Student Nursing Organization regularly attend state and national conventions to gain exposure and build contacts.
Our well-rounded Nursing students often participate in DI athletics, Greek life, and many other collegiate activities.
CURRICULUM & COURSES
What You'll Learn in the BSN Program
Baccalaureate education in nursing provides each student with the knowledge base for practicing professional nursing. The curriculum is based on a liberal arts foundation in the Judeo-Christian tradition and utilizes the AACN Essentials of Baccalaureate Education for Professional Nursing Practice within an integrated caring curriculum. Upon completion of the curriculum, the graduate possesses a foundation for graduate study.
Degree Paths

Key Topics

Learning Objectives

Professional Licensure
Undergraduate Degree Path in Nursing

Bachelor of Science in Nursing (on-campus)

Successful graduates of this program earn a Bachelor of Science in Nursing and possess the foundation for graduate study. A graduate is eligible to sit for the R.N. licensure exam, NCLEX-RN®

---

Additional Degree Paths:

Second Degree/Accelerated BSN (on-campus)

Enables a non-nurse with a baccalaureate degree (BA/BS), the ability to earn a BSN in as little as15-months

2nd degree BSN | Saint Francis University

RN to BSN (online)

An online Bachelor of Science in Nursing program for nurses who already hold the RN licensure

RN-BSN | Saint Francis University

RN to BSN to MSN FNP (online)

An accelerated program that prepares academically qualified undergraduate RN-BSN nursing majors to take a fast-track approach toward their professional future that includes graduate-level courses while enrolled in undergraduate studies

RN-BSN-MSN | Saint Francis University

Graduate Nursing Programs

MSN Family Nurse Practitioner Track

Key Topics Covered

clinical reasoning, cultural competence, patient care technologies, and interprofessional collaborative practice
professional nursing standards aligned with the American Nurses Association Standards of Professional Performance
strong science foundation including human anatomy, chemistry, and biology
the "Art and Science" of nursing through robust humanity/liberal arts core
ethics and values of a caring profession
caring for individuals, families, groups, communities, and populations
hands-on simulated and professional clinical experiences
nursing leadership and management theory

Upon successful completion of the undergraduate nursing program, you will be able to:

Synthesize knowledge from the humanities and sciences, advanced nursing concepts, and applicable evidenced-based practice to enhance the art and science of nursing care;
Espouse a life-giving mode of being derived from The Prayer of Saint Francis for use in interprofessional communication and collaboration to establish therapeutic and human caring relationships with individuals, families, and communities;
Utilize technology and informatics to improve the delivery of nursing care, quality of care, health care outcomes, and the delivery of health education to multiple populations;
Employ the caring-nursing process to maximize wellness in the delivery of culturally competent professional nursing care for individuals, families, groups, communities, and populations across the lifespan and across the continuum of health care environments;
Affirm professionalism in the art and science of nursing care by understanding the ramifications of health care policy, finance, and regulatory environments on nursing care;
Assume the professional nursing roles of caregiver, teacher, advocate, and care manager by utilizing basic organizational and systems leadership skills to promote quality patient-centered care and patient safety.

Certification/Professional Licensure

Upon graduation from the BSN program, all students must pass the NCLEX to receive the RN license.
Department of Nursing Faculty
Benefit from our Experienced Faculty
The nursing undergraduate faculty teach with a philosophy of learning as a self-motivated and voluntary endeavor on the part of nursing students. Using our "curriculum of caring" as a source of inspiration, we have moved away from the traditional role of teacher to that of "facilitator of learning" to help you take on the responsibility of self-direction. We support you as you develop the best ways of learning and becoming the best nurse possible.
Nursing Program Chair: Dr. Rita Trofino, DNP, MNEd, RN, Rtrofino@francis.edu, 814-472-3027
Program Completion Rates

NCLEX-RN Exam Results

Graduate Employment Rates
BSN program completion rates for students entering into the professional phase of the nursing program and graduating within 6 semesters are at a minimum of 70% or higher.

2022

Graduates

2021

Graduates

2020

Graduates

2019 Graduates

2018 Graduates

2017 Graduates

76.5%

72.6%

86.4%

100%

96.4%

81.90%

BSN Program graduates have passed the National Council Licensure Examination (NCLEX-RN) on their first attempt. 2019 was the sixth year in a row that the graduating class received a perfect pass rate.

Year
Number of First Time Takers
Program First Time Taker Pass Rate
National First Time Taker Pass Rate
2021
24
95.83%
86.06%
2020
21
95.24%
90.29%
2019
20
100%
91.22%
2018
26
100%
87.56%
2017
15
100%

86.94%

Five Year First Time Taker Average
98.21%
88.41%

The BSN program graduate employment rate is at a minimum of 70% or higher as evidenced through data collected within 12 months of program completion.

2021

Graduates

2020

Graduates

2019
Graduates
2018 Graduates
2017 Graduates
2016 Graduates

100%

employed

100%

employed

100%
employed
100% employed
100% employed
100% employed
Career Outlook in Nursing
Nurses are in high demand. Job placement is 100% for those seeking employment in the hospital setting and many nurses are receiving substantial sign-on bonuses!
---
Career Opportunities
The field of nursing offers a wide array of career opportunities in areas such as;
hospitals

home health

nursing care facilities

outpatient facilities

military
---
Salary Potential
According to the Bureau of Labor Statistics the median pay for nurses in 2020 was $75,330 per year.
FAQs
Frequently Asked Questions About Nursing and Saint Francis University
How are student achievements celebrated?

We are proud to honor the achievements of our students every chance we get through celebrations such as the White Coat Ceremony where students receive their white lab coats and pins as an official welcome into the clinical phase of the nursing program. 

What are some of the career opportunities I will have upon graduating?

Here are some of the opportunities that our graduates have taken:

Clinical nurse on a medical-surgical unit
Neonatal intensive care unit nurse
Cardio-thoracic intensive care unit nurse
Home health nurse
Nurse practitioner
Nursing professor
Hospital staff development instructor
Nurse administrator
Labor and delivery unit nurse
Army nurse
Nursing home administrator
Nursing home nurse