DEPARTMENT OF NURSING
Second Degree/Accelerated BSN (ABSN)
Introduction
Second Degree/Accelerated BSN (ABSN) Progam
Leverage Your Current Degree to Become a Nurse with the ABSN Program at Saint Francis University
If you were on a career pathway, but now want to pivot and move towards a profession in nursing - the Second Degree/Accelerated BSN (ABSN) Program is a great option. The Saint Francis University Department of Nursing utilizes exceptional learning opportunities to prepare future registered nurses to provide safe quality care in various patient-centered health care environments.
Offered: On-Campus with Clinical Components
When applying to the Second-Degree program, please select "On Campus"
enables a non-nurse with a baccalaureate degree (BA/BS), the ability to earn a BSN in a little as 15-months
work hands-on with simulated patients that bleed, take seizures, and even give birth AND with real patients during clinical rotations
Franciscan values are embedded in the coursework, ensuring we graduate caring, ethical nurses
The SFU LEARNING EXPERIENCE
Second Degree/Accelerated Nursing the Saint Francis Way
At Saint Francis you will not be just a face in a classroom, you will be known by name. Our commitment to small clinical groups (1-8 faculty-student ratio) will enhance your learning experience.
---
Experiential Learning Commons
Five state-of-the-art simulation suites are being incorporated into the design that include a mock Emergency Room, Intensive Care Room, Patient Room, Maternity Room, and Exam Room. The suites have the ability to be utilized simultaneously and feature computer-controlled mannequins and two-way audio-video conferencing.
---
Clinical Rotations
Hands-on learning in hospital settings is a hallmark of our program and a pivotal component for graduating.
Is the Accelerated BSN program at Saint Francis University right for you?
Do you have a bachelor's degree in another field but desire to move into the field of nursing?

Do you thrive on in-person learning environments and in-person simulated experiences?

Do you want to work in a high-intensity environment that requires fast-paced critical thinking skills?

Can you commit at least 15 months to complete the program and graduate with a BSN?
If so, our Accelerated BSN program is a good fit for you.
CURRICULUM & COURSES
What You'll Learn in the ABSN Program
The Second Degree/Accelerated BSN Program prepares students to become generalists in nursing and assist persons, families, and communities towards the goal of health throughout life. A baccalaureate education in nursing provides each student with the knowledge base for practicing professional nursing and excellent preparation for the NCLEX exam. The curriculum is based on a liberal arts foundation in the Judeo-Christian tradition and utilizes the 'AACN Essentials of Baccalaureate Education for Professional Nursing Practice' within an integrated caring curriculum.
Degree Pathway

Key Topics

Learning Objectives

Professional Licensure
Second Degree/Accelerated Degree Path

The Second Degree/Accelerated Bachelor of Science in Nursing (BSN) program enables a non-nurse with a baccalaureate degree (BA/BS), the ability to earn a BSN in as little as 15-months.

Course Catalog - 23/24 | Plan of Study

Key Topics Covered

clinical reasoning, cultural competence, patient care technologies, and interprofessional collaborative practice

professional nursing standards aligned with the American Nurses Association Standards of Professional Performance

strong science foundation including human anatomy, chemistry, and biology

the "Art and Science" of nursing through robust humanity/liberal arts core

ethics and values of a caring profession

caring for individuals, families, groups, communities, and populations

hands-on simulated and professional clinical experiences

nursing leadership and management theory

Upon successful completion of the Second Degree/Accelerated BSN program, you will be able to:

Synthesize knowledge from the humanities and sciences, advanced nursing concepts, and applicable evidenced-based practice to enhance the art and science of nursing care;
Espouse a life-giving mode of being derived from The Prayer of Saint Francis for use in interprofessional communication and collaboration to establish therapeutic and human caring relationships with individuals, families, and communities;
Utilize technology and informatics to improve the delivery of nursing care, quality of care, health care outcomes, and the delivery of health education to multiple populations;
Employ the caring-nursing process to maximize wellness in the delivery of culturally competent professional nursing care for individuals, families, groups, communities, and populations across the lifespan and across the continuum of health care environments;
Affirm professionalism in the art and science of nursing care by understanding the ramifications of health care policy, finance, and regulatory environments on nursing care;
Assume the professional nursing roles of caregiver, teacher, advocate, and care manager by utilizing basic organizational and systems leadership skills to promote quality patient-centered care and patient safety.

Certification/Professional Licensure

Upon graduation from the BSN program, all students must pass the NCLEX to receive the RN license.
Admission Requirements
Second Degree/Accelerated BSN
Admission Requirements

Transfer Credits

Technical Standards

Progression Standards
Admission Requirements

Bachelor's Degree from an accredited College/University in a major other than nursing
3.0 Cumulative Transfer GPA

---

Students must complete 60 credits of nursing courses, which includes 7 prerequisite nursing courses:

NURS 100 Introduction to Professional Nursing - 1 cr
NURS 200 Nursing Assessment - 3 cr
NURS 201 Human Development - 3 cr

---

All non-nursing and nursing prerequisite courses must be completed prior to the professional phase of nursing which begins with NURS 300.

2.6 Cumulative GPA in the Natural Science courses is required.
Nursing courses require at least a B- grade.
BIOL 205, 206, and 214 courses must be taken within the last 7 years.
BIOL 111 and CHEM 113 will be waived if BIOL 214, BIOL 205 and BIOL 206 have been completed and accepted for transfer.

Students who have been dismissed from a previous BSN program will not be admitted to the Second Degree/Accelerated BSN program at Saint Francis University.

---

Admission Deadline

This program has rolling admissions.


A total of 68 credits may be transferred, which includes 32 credits of non-nursing prerequisite courses:

BIOL 111 Biology - 4 cr
CHEM 113 Human Chemistry - 4 cr
BIOL 214 Microbiology - 4 cr
BIOL 205 Anatomy & Physiology I - 4 cr
BIOL 206 Anatomy & Physiology II - 4 cr
PSYC 101 Psychology - 3 cr
SOC 101 Sociology - 3 cr
MATH 107 College Algebra or higher - 3 cr
STATS 205 Statistics - 3 cr

Students are required to satisfactorily achieve program outcomes. Therefore, consideration is given to scholastic aptitude, academic achievement, personal qualities, emotional health and minimum functional requirements/technical standards, necessary to fulfill the objectives of the program.

Progression and continuance in the Nursing Program is based upon academic performance and successful achievement of nursing prerequisites, health maintenance, and adherence to Saint Francis University policies. All policies may be found in the University catalog, Student Handbook and Department of Nursing handbook. The faculty of the Department of Nursing has the right and the responsibility for judging and evaluating the quality of the student's achievement, both in the mastery of the theoretical content and in clinical competence.

Detailed information may be found here: Progression Standards
Accreditation
The baccalaureate nursing program at Saint Francis University is accredited by the Commission on Collegiate Nursing Education.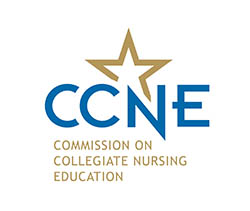 Department of Nursing Faculty
Benefit from our Experienced Faculty
Our faculty teach with a philosophy of learning as a self-motivated and voluntary endeavor on the part of nursing students. Using our "curriculum of caring" as a source of inspiration, we have moved away from the traditional role of teacher to that of "facilitator of learning" to help you take on the responsibility of self-direction. We support you as you develop the best ways of learning and becoming the best nurse possible.
Nursing Program Chair: Dr. Rita Trofino, DNP, MNEd, RN, Rtrofino@francis.edu 814-472-3027
Career Outlook in Nursing
Nurses are in high demand. Job placement is 100% for those seeking employment in the hospital setting and many nurses are receiving substantial sign-on bonuses!
---
Career Opportunities
The field of nursing offers a wide array of career opportunities in areas such as;
hospitals

home health

nursing care facilities

outpatient facilities

government schools

military
---
Salary Potential
According to the Bureau of Labor Statistics the median pay for nurses in 2020 was $75,330 per year.
FAQs
Frequently Asked Questions About the Second Degree/Accelerated BSN at SFU
What type of simulation experiences are integrated in the program?

Simulation is a very important part of the learning dimension of nursing students.  The University continues to invest heavily in advanced simulation experiences.  At Saint Francis, the Health Sciences Experiential Learning Commons (ELC) provides a state-of-the-art, hospital-like setting that allows students to work inter-professionally in a way that simulates the collaborative process of caring for a patient. The ELC is equipped with several new high-functioning mannequins, a clinical skills lab, and a simulated apartment for students to practice providing care to patients in the home environment.  

What career opportunities will I have as a nurse?

Here are some of the opportunities that our graduates have taken:

Clinical nurse on a medical-surgical unit
Neonatal intensive care unit nurse
Cardio-thoracic intensive care unit nurse
Home health nurse
Nurse practitioner
Nursing professor
Hospital staff development instructor
Nurse administrator
Labor and delivery unit nurse
Army nurse
Nursing home administrator
Nursing home nurse