SHIELDS SCHOOL OF BUSINESS
Business Administration
Introduction
Find your Path with Business Administration from Saint Francis University
You may know that business is the career for you, but what discipline should you choose? The Business Administration program at Saint Francis is designed to allow you to explore your options while staying on track to graduate. with a business-related major.
Options:
Online Business Administration, A.S.
100% online Associate of Science in Business Administration through Francis Worldwide School of Continuing Studies.
On-Campus Business Administration (leading to a business-related bachelor's degree)
Finish your Common Business Core courses while you choose your ultimate business major.
Offered: On-Campus and Online
Earn an associate degree while gaining broad exposure to all of the business disciplines.
Benefit from a high-caliber, student-centric, and values-based business education.
A dedicated business academic advisor will be assigned to guide you.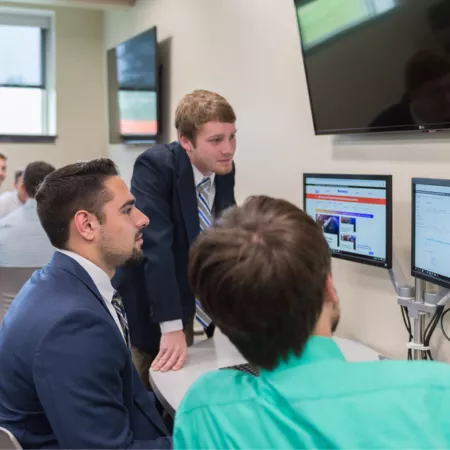 The SFU LEARNING EXPERIENCE
Business Administration the Saint Francis Way
At Saint Francis University you can turn your passion for business into an exciting and rewarding career. Faculty members work closely with the students, whether in the classroom, in student organizations, or as advisors and maintain a constant focus on preparing students for their future careers.
The Business Student Experience
Customizable: Students can tailor their program to meet their career objectives in many ways, either by pairing their degree with one of the many options for minors or concentrations, or selectively choosing their electives in other ways so as to improve their marketability to future employers.

Personal touch: Small class sizes and interactive online tools allow our award-winning faculty to advise each student with care and concern for their success.

Out-of-classroom opportunities: Prestigious internships, Spring Break in London, and our nationally-ranked ENACTUS team are just a few of the real-world experiences available to students.

Top-notch facilities: After a multimillion-dollar renovation, Schwab Hall is poised to be a treasured academic facility for generations to come.
The best way to explore what the student experience really looks like is to schedule a visit!
CURRICULUM & COURSES
What You'll Learn in the Business Administration Program
Associate Degree (online)
The Business Administration, Associate of Science degree program is a fully online career-oriented program designed to give the adult learner practical business knowledge and skills. However, some courses are offered in-person at our four locations for those who prefer the in-class format.
Bachelor's Degree (on-campus)
The Business Administration program leading to a business-related bachelor's degree consists of a more robust offering including the entire Common Business Core that is required for every business-related major in the Shields School of Business.
Degree Paths

Learning Objectives

Accreditation
| Degree Type | Description | Course Catalog | Plan of Study |
| --- | --- | --- | --- |
| (on-campus) Business Administration | Exploratory path: students will need to declare a permanent business major | | |
| (online) Business Administration, A.S. | 100% online though Francis Worldwide | | |

The Shields School of Business will graduate students who have the knowledge, skills, love of learning, confidence, drive, and ethical and moral values needed to be spiritually fulfilled in life and successful in professional careers.

Upon completion of this program, students are able to:

Demonstrate, in the Spirit of Saint Francis in the Marketplace, knowledge of the ethical value choices and responsibilities of businesses and business leaders.

Demonstrate knowledge of the fundamental principles in business in the functional areas of accounting, information systems, finance, management, and marketing.

Demonstrate knowledge of the legal, social, economic environments of business.

Demonstrate knowledge of the global dimension of business.

Integrate the functional areas of business in the process of decision making.

Demonstrate the ability to professionally communicate.

Note: The Business Administration program is not accredited, however the bachelor's degree programs that it can be rolled into are accredited. Saint Francis University has received specialized accreditation for its business programs through the International Accreditation Council for Collegiate Business Education (IACBE), located in Lenexa, Kansas.

Experienced management faculty who love to teach
Our professors have real-world professional experience in their chosen fields and make it a priority to help students understand how various theoretical concepts apply to actual practice. You will have many opportunities to work one-on-one or in small groups with the faculty. Guest speakers and site visits augment the instruction in several courses to enrich the value of the program.
Department Chair: Dr. Angela Seidel, aseidel@francis.edu, 814-472-3076
Career Outlook in Business Administration
Students who graduate with an Associate of Science degree in Business Administration are eligible to enter the workforce at entry-level positions. Those who continue their education at the bachelor's level open up many avenues for increased earning potential and career advancement.
FAQs
Frequently Asked Questions About Management and Saint Francis University
When do I need to declare my major?

As a temporary major declaration,  students in business administration are encouraged to declare a business major by the end of their fourth full-time semester. Students are not able to graduate with the business administration designation. When students declare a business major that matriculates to a degree, they then follow the catalog requirements at the time of formal change, in accordance with the change of major policy

What courses are in the Common Business Core?

Common Business Core Courses in the Plan of Study

 

ACCT 101 - Financial Accounting

ACCT 102 - Managerial Accounting

BUS 101 - Wall Street 101: Business in a Global Society

COMM 208 - Writing and Communicating in Business

ECON 101 - Principles of Economics I

ECON 102 - Principles of Economics II

FIN 202 - Finance

MGMT 101 - Principles of Management

MGMT 102 - Production/Operations Management

MIS 102 - Management Information Systems

MKTG 101 - Marketing

 

Can I pursue a Bachelor's Degree after I earn an online A.S. in Business Administration

Yes!

 

After obtaining the associate degree, many adult learners will continue their studies at Saint Francis University to earn a Bachelor of Science degree.