SAINT FRANCIS UNIVERSITY
Keirn Family World War II Museum
Capturing the Spirit of the American Virtues of Courage and Sacrifice
The Keirn Family World War II Museum at Saint Francis University in Loretto, Pennsylvania, chronicles our nation's decisive role in the greatest armed conflict in human history, World War II, and our unconditional victory in 1945.
---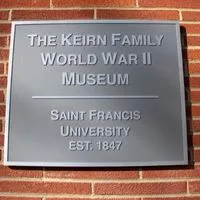 Keirn Family World War II Museum
Library and Learning Commons
Saint Francis University
The museum's exhibitions feature contributions to the war effort made by men and women of Pennsylvania.
About the Museum
The Keirn Family World War II Museum at Saint Francis University houses several special collections of artifacts and oral history projects. The origins of the primary collection lie with Altoona resident Joseph E. Keirn, a retired Command Sergeant Major in the United States Army.
An avid preservationist of WWII memorabilia, CSM Keirn used his collection as an educational tool, welcoming students and community groups to tour it and learn about the war.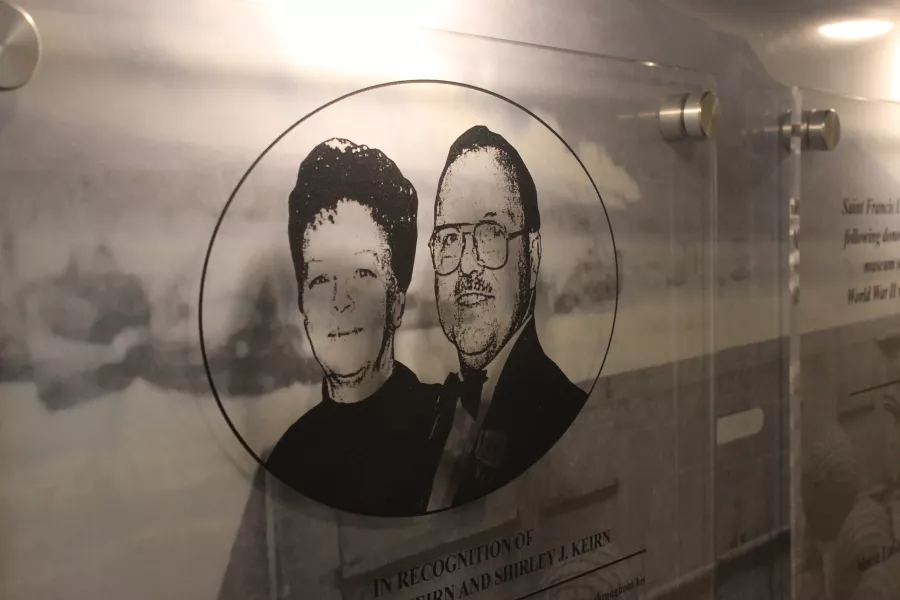 In 2014, he donated his collection to Saint Francis University to ensure that it would continue to be used to educate future generations regarding the legacy of the war. His once private collection, combined with additional donations, is now available for public viewing.

Our Exhibits
Timeline of the War
This display provides an illustrated chronology of major events of World War II, from the attack on Pearl Harbor in 1941 through the surrender of Germany and Japan in 1945.
---
The June 6, 1944 Exhibit
The museum's flagship exhibition commemorates the valor of local soldiers who, while serving as U.S. Army Rangers, participated in the capture of long-range German defensive artillery at Pointe du Hoc in Normandy, France, on D-Day.
---
Army and Navy Uniform Display
Display of U.S. Army and Navy uniforms of World War II from the Keirn collection.
---
Interpretive Exhibition
The interpretive exhibition titled "National Identify and Military Culture, an examination of how a country's history shapes its sense of national identity and the military culture of its armed forces" is housed here.
The exhibit also includes extensive artifacts from the Keirn collection and includes American and German examples. It features a tribute to the United States Marine Corps, and a tribute to three selected American heroes of World War II – "three "among many."
---
Special Collections
Several individuals, including Vincent Hagg '50, and the family of Renato Ferretti '43, have donated artifacts, papers, and personal items Please visit the museum to hear more about these and other collections as well as the donors' wall of honor.
Plan Your Visit
Location
Saint Francis University Library and Learning Commons
106 Franciscan Way
Loretto, Pennsylvania
---
Admission:
Free
---
Hours:
It is suggested that you call in advance of your visit to 814-472-3160
November 12- November 22 Monday - Friday 10:00 a.m. to 4:00 p.m.
November 28-December 22, 2022
January 4- January 13, 2023
Monday - Friday by appointment
Closed during University Holidays
Starting January 16, we will be open Monday-Friday 10:00 a.m. to 6:00 p.m.
---
Request a Tour:

Contact us by email at ww2museum@francis.edu or by phone at
814-472-3160
As a part of Saint Francis University, education and interaction are central to our mission. Local schools, veterans' groups, and community organizations are welcome for personalized tours. Please contact the museum in advance to make arrangements for your group visit.
GIVE & HONOR
Several options for preserving the memory of World War II and our community's history
Legacy Donation
Give a gift in honor of or in memory of a friend or family member. You can also give donations as retirement, graduation, birthday, anniversary, or in recognition of military service gifts. The name of the person honored or memorialized will be displayed on our website.
---
Provide an Oral History Interview
We want to capture the memories of World War II from those who experienced it or from their family members. Please contact us if you are interested in sharing your story or your family members' story. We have oral history interviews from local World War II veterans or their family members and we are very interested in conducting an interview with you!
---
General Donation
You can also make a one-time donation to support the preservation of artifacts and continued student research in our collections.