Women's Tennis alum Steph Miller joins Peace Corps
David Halstead, Assistant Director, Athletic Communications | 08/08/2019
Saint Francis women's tennis alum Steph Miller has had a service-minded attitude for much of her life.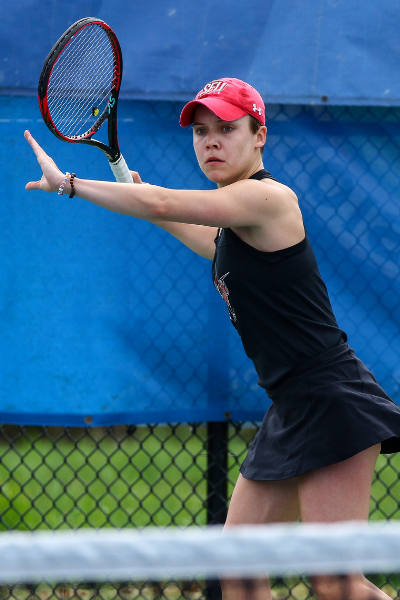 She developed and cultivated that mindset as a team captain for the Red Flash and now has the opportunity to share her gifts with the world.

Miller, who graduated in the Spring of 2019 with a major in International Human Rights (pre-law) and Spanish with a minor in International Business, has accepted a role working in youth development with the Peace Corps and will spend the next two years serving in Costa Rica. She will primarily serve families and youth/children, but also public schools, community groups and other youth-oriented organizations. The main responsibilities of her role are to empower youth to make informed decisions about education, health and lifestyles.

"I was honestly more shocked than excited because I didn't really think I would receive the invitation to serve," Miller said. "I had not really prepared myself for an acceptance. Upon accepting the invitation, I definitely became more excited about the challenge ahead and also realized the honor of being awarded such an opportunity."

Miller credits the educational experience at Saint Francis with helping shape her worldview through courses such as Cultural Diversity and International Law. The University's overarching theme of "Become That Someone" resonates with Miller as she applies what she learned in the classroom to the communities that she serves.


"The subject matter forced me to think on an international level about issues confronting our human race," Miller said. "Now, I am getting the opportunity to use that knowledge and perhaps even create new knowledge as I become that someone who strives to shape a better world for those in it."

Following a long and arduous medical clearance and background check, Miller met her cohort of 36 people, who will be serving in Costa Rica. Of the group, 15 will serve in youth development, while 21 will work with Teaching English as a Foreign Language.

"I will stay with a host family for three months while I complete the mandatory training program," Miller said. "After that time, I will be placed in the community. I will serve for the next two years and will begin my life with my new host family there."


Miller added that the language barrier shouldn't present much of a challenge as she has both classroom knowledge as well as real life Spanish speaking experience.

"Last summer I spent three months in Bogota, Colombia working for a human rights organization," Miller said. "Prior to that, I spent one month in a study-abroad program in Nicaragua. That coupled with many years of classroom Spanish instruction ensures that I will be able to hold my own in a Spanish-speaking culture."

Many of her teammates on the tennis team at Saint Francis were also native Spanish speakers. As a team captain, Miller learned ways to effectively lead others while balancing her own schedule. Those skills should prove helpful as she begins a new journey serving others in Costa Rica.

"Being a team captain at Saint Francis taught me how to deal with adversity and be flexible," Miller said." I learned how to manage my time, as balancing a practice and travel-intensive athletic schedule with an academic schedule is a skill in itself. I also learned how to motivate those around me to work towards the common goal of the group. This entails working with different personalities and attitudes with the goal of creating a consensus."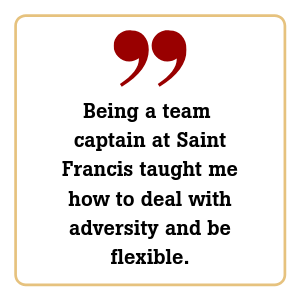 Saint Francis women's tennis head coach Lisa Swope always spoke highly of the type of person and leader Miller was for the Red Flash. She is confident that the skills that Miller utilized at SFU will transition well to the Peace Corps.

"I couldn't be prouder as a coach to have a student-athlete take the path that Steph chose," Swope said. "It's not surprising she joined the Peace Corps as she is a natural leader and always had compassion for others, caring so much about how the other players were doing. Steph is a great example of the ideals of this team, the athletic department and our university. There's no doubt she will go far helping others."

Miller summed it all up by describing how similar both the mission of the Peace Corps and the "Become That Someone" theme are and what they mean to her.

"For me, Become That Someone is a theme that really embodies everything the Peace Corps stands for, specifically their mission to promote world peace and friendship," Miller said. "Someone has to be the one to be the boots on the ground, to be the change that is needed in the world. I think my daily work will enable me to be that someone."