SFU Students Prep for Professional Life With Dining Etiquette Course
04/24/2017
Having good table manners may seem like a simple concept, but in the business world, every misstep can leave a lasting impression on employers and colleagues. To college students preparing for professional life after graduation, learning dining etiquette is essential for a successful career. 
Beth McGregor, Associate Director of Career Services, recently invited SFU alum and independent etiquette consultant Pat Cataldo (Economics '66) to dine with students and educate them on proper restaurant behavior. One session was tailored for student athletes.
"There really is a lot to learn. Good manners while dining are more than using the right fork. You can't do the right thing if you haven't been taught proper dining etiquette," said Mr. Cataldo.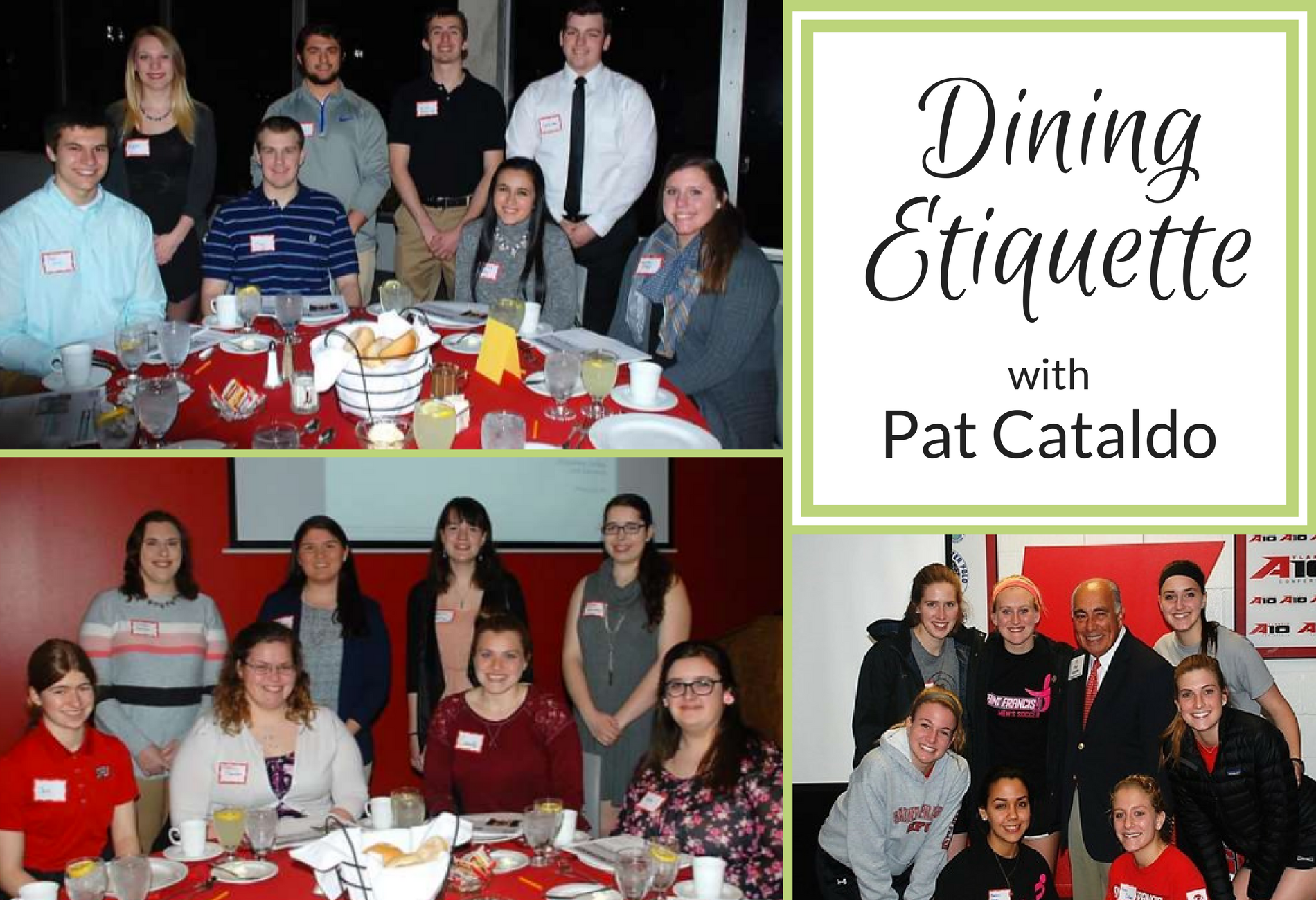 Students learned that even basic dining habits such as napkin placement, meat cutting, and drink ordering provide insight into a person's professionalism, or lack thereof. Something as fundamental as choosing the right menu item contributes to an employee's professional image. 
"People are constantly forming opinions and impressions about you based on your behavior, especially while dining," Mr. Cataldo said. "Leaving a dirty napkin on the table when you excuse yourself shows you don't know good etiquette."
During the educational dinner, Mr. Cataldo gave tips that surprised some, such as to not completely "clean your plate". As children, many are taught that it is polite to finish all of their food. However, leaving a bit of food on your plate is preferred in a business setting. Remaining socially engaged and conversational are more important than your meal.
Because technology has become ingrained in nearly everything, the habit of placing a cell phone or tablet on the table during dinner has become all too common. Regardless what dining companions choose to do with their mobile devices, removing cells phones, eyeglasses, and purses from the table is the most appropriate way to dine. 
Beth McGregor acknowledged the need to prepare students for dining in professional settings. "There is a decline in table manners that has come as a result of the decline in traditional family dinners. How often these days do people sit down for meals with silverware, plates, and napkins with no technology or television? The etiquette dinner provides training for students to practice proper dining with their peers in a non-threatening environment. In the process they acquire skills they will use both today and for the rest for their lives."
In addition to providing dining etiquette examples, Mr. Cataldo facilitated business protocol exercises that students practiced between courses. Introductions, for instance, should always begin with a firm handshake and eye contact. When introducing multiple people, the most important person's name should always mentioned first.
Students finished the dinner with a greater understanding of what it means to be professional, both in and out of the office. 
"This was the most interactive and informative session I've attended after having been to many others over the years," said one student. "The [rules] went along with the flow of the dinner, and Mr. Cataldo walked around as we ate allowing us to ask questions one-on-one."
Mr. Cataldo's other key etiquette tips include:
Pre-Dining:
At receptions, always hold your glass in the left hand so your right is available for shaking.
RSVP invitations in 48 hours of less. Return emails or calls in 24 hours of less.
Put away your cell phone when dining and concentrate on the company.
During Dinner:
Napkin: Fold it in half and put it on your lap. As it is used, fold it to a clean side. The idea is to never show a dirty part of the napkin to the table. When excusing yourself, the napkin goes on your chair and loosely folder to the left of the dinner plate when finished.
Olive pits: Finger or fork, however you put the olive in your mouth is how you remove the pit. Then, set it on the bread plate.  
Passing food: All moves to the right, counter-clockwise.  
Salt and pepper: The salt and pepper are married and should always be passed together.  
Utensils: Once utensils are used, they should never touch the table.  
Sugar packets: Partially tear the packet open, use it, and then place it on the bread plate.