SFU Announces 2021 Mr. And Ms. Frankie Winners
05/06/2021
SFU Announces 2021 Mr. And Ms. Frankie Winners
The Mr. and Ms. Frankie awards honor the top senior male and female students at the University each academic year. 
Dylan Gordon and Lauren Montecalvo were awarded the prestigious honor by Father Malachi at the President's Awards Convocation on April 27, 2021. The award is given to those who "exemplify scholarship, leadership, achievement and service to the University, as well as to the Community."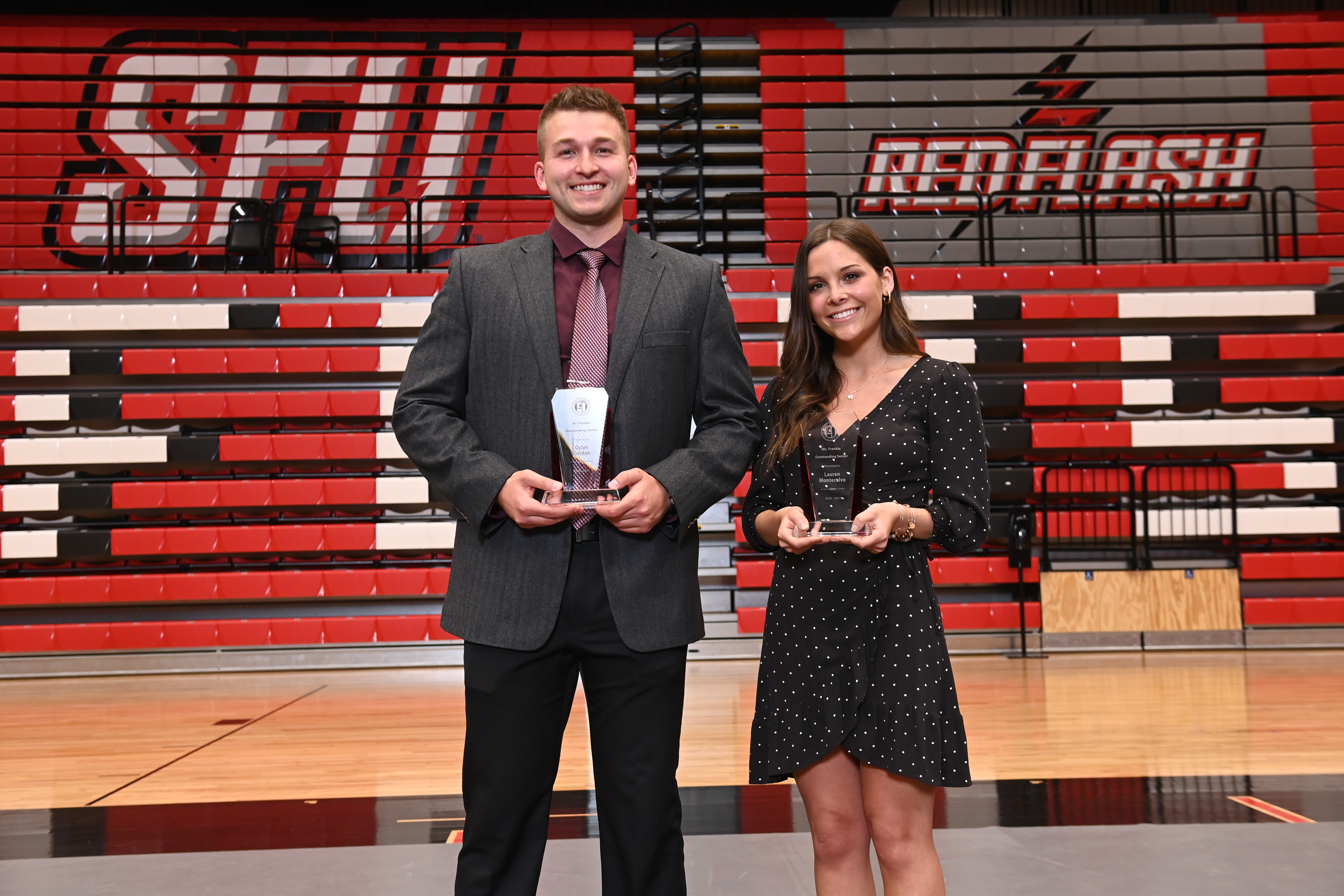 The recipients were selected by popular vote by members of the Senior class, faculty and administration.
This award is given to the senior students that not only show the best grades, sports and extracurricular involvement, but is the best overall student. This is the highest student award we give at the University and criteria for nomination includes:
scholastic achievement;
commitment to Franciscan values;
volunteer service to the University and community personal character and demeanor; and 
diverse membership and leadership in campus activities and programs.
The Mr. Frankie Award has been presented annually since 1936, with the exception of 1944 and 1945 because of World War II. The Ms. Frankie Award has been presented annually since 1961.
Gerald Cessna received the first Mr. Frankie award in 1936. The first female recipient of the Ms. Frankie award was Gail Muir in 1961.
Rob Krimmel, the head men's basketball coach at Saint Francis, won the award in 2000.
"Winning the Frankie Award is a tremendous honor," said Krimmel. "To be selected by your peers, your professors and the leaders of Saint Francis for what you have accomplished during your four years in Loretto is very humbling."
More about "Mr. Frankie"
Dylan Gordon (Big Cove Tannery, PA)
Major: Physician Assistant Sciences
GPA: 3.74
Degree Received: Bachelor of Health Science; Masters of Physician Assistant Sciences
Academic Honors:  Dean's List Fall 3,4; Dean's List Spring 3,4; Presidential List 1,2
Community Service:  ROCK Chemistry Program Volunteer 1,2; Dorothy Day Outreach Center Volunteer 1,2; Freshman Orientation Counselor/Acting Director 2,3; Medical Missions Trip to Dominical Republic fall 2; Elementary Basketball/Head Coach 1,2,3; RED Day Volunteer with PA Society 1,2; COVID-19 Vaccine Clinic Volunteer 4; John Paul Manor Facility Volunteer  
Honors & Clubs: Physician Assistant Society 1,2,3,4; Campus Crusade for Christ/CRU Spokesperson 2,3,4; Resident Assistant 2,3,4; CRU Bible Study/Bible Study Co-Leader 2,3,4; Tutoring for SFU Athletics 2,3
Miscellaneous: 

QPR Certification CPR Certification; ACLS Certification
More about "Ms. Frankie"
Lauren Montecalvo (Duncansville, Pa)
2020-2021 Finalists
The finalists for the 2020-2021 Ms. Frankie award were: Ashley Nicole Astle, Rebekah Finafrock, Kari Lagan, Lauren Montecalvo, and Jessica Clare Woods,
The finalists for the Mr. Frankie award include: Dylan Gordon, Kei-shon Graham, Joseph Theiss, and Jack Weidner
Congratulations to these hard-working and successful students!
Major: Occupational Therapy
GPA: 4.0
Degree Received: Bachelor of Health Science, Master of Occupational Therapy
Academic Honors:  Autism Spectrum Disorder Certification; Occupational Therapy Departmental Honors 2,3,4; Provost List 1; President's List 2,3,4; Psi Chi: Psychology Honors Society 3,4; Nu Rho Psi Honors Society 3,4; Delta Epsilon Sigma Catholic Honors Society 3,4
Community Service: Special Olympics 2,3; Reaching Every Door Volunteer 3; Dorothy Day Outreach Center Volunteer 1; Eucharistic Minister 1,2,3,4; BRIDGE Program Volunteer 1,2; SOAR Student Representative 3,4; Admitted Student's Day Speaker 3,4; PA Occupational Therapy Organization Virtual Conference/People Power Volunteer 4; Community Enrichment Series (CES) Virtual Undergraduate Research Conference/Co-Organizer (3)
Honors & Clubs: Student Occupational Therapy Association/President 1,2,3,4; National Society of Leadership and Success/Vice President 2,3,4; Class Council/Vice President 4; Orientation Counselor 2,3; Psychology Club 2,3; Student Ambassador 1,2; Crusaders for Christ 1,2,3; Emerging Leaders 3; B.R.I.G.H.T. Organization 2,3; Work Study: Psychology Department 3,4; Biology Department 3; DiSepio & School of Health Science and Education 2,3,4; Center for Academic Success/Tutor 3,4
Miscellaneous: PA Occupational Therapy Association Annual Conference/Participant/Presenter 3,4; SFU Undergraduate Conference 3,4; Homecoming Queen Court Nominee 4