Saint Francis University names Mr. and Miss Frankie
University Communications & Marketing | 05/17/2023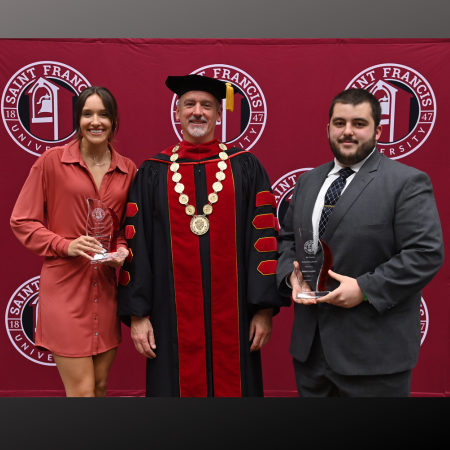 Saint Francis University seniors Antonio Campitell and Rachel Lynne Langsdorf were named Mr. and Miss Frankie during the President's Awards Convocation on May 2.
Chosen by the senior class, faculty and administration, Campitell and Langsdorf received these awards for their academic achievements, commitment to Franciscan values, and leadership in campus activities. Mr. and Miss Frankie are the highest awards two graduating students can receive from Saint Francis University. 
Antonio Campitell
Antonio Campitell, of Windber, Pa., is an exercise physiology major with a minor in movement science. He is a resident assistant, exercise physiology advisory board student representative, member of EXPO, Knight of Columbus, and Saint Francis admissions bell tower ambassador. In his time at Saint Francis, he has also volunteered for RED Day, taught physical education at St. Michael's Elementary School, and worked as a lab assistant. A recipient of the Resident Assistant "Unsung Hero" award and Resident Assistant of the Year award, he has achieved the Dean's List annually and the President's List. He completed a chiropractic internship with Next Level Spine and Sports in Pittsburgh and a strength and conditioning internship with CORE Sports Training, all while maintaining a 3.814 GPA.
Rachel Lynne Langsdorf
Rachel Lynne Langsdorf, of North Huntingdon, Pa., is a physician assistant major with a minor in biology. She has achieved the President's List, Dean's List, and NEC Commissioners Honor Roll. A recipient of the scholarly student-athlete award and member of the women's volleyball team, she tutored other physician assistant students and is a lead student-athlete mentor. She is a member of the Physician Assistant Student Society, Fellowship of Christian Athletes, and Tea Enjoyment Association, as well as an FCA Bible Study lead and Certified One Love facilitator. In addition to maintaining a 3.951 GPA, she volunteered for a medical mission trip to Guatemala, Patched Together, Johnstown Women's Help Center, Westmoreland County Food Bank, Achieving True Self for Disabled of All Ages, Sports for Kids Day, Saint Francis Blood Drive, Humane Society of Cambria County, Monastery Garden in Hollidaysburg, COVID-19 Vaccine Clinics, Campus Cleanup 5K Walk, Cambria Care Center, and Garvey Manor Nursing Home. 
The Mr. Frankie Award has been presented annually since 1936, with the exception of 1944 and 1945 because of World War II, while the Miss Frankie Award has been presented annually since 1962.