Saint Francis University Establishes The Dr. Philip Woo Economics Program in Honor of Respected Scholar
09/18/2020
Saint Francis University has established its first "named" academic program in honor of Dr. Philip Woo. The Dr. Philip Woo Economics Program is part of the Shields School of Business, housed in historic Schwab Hall.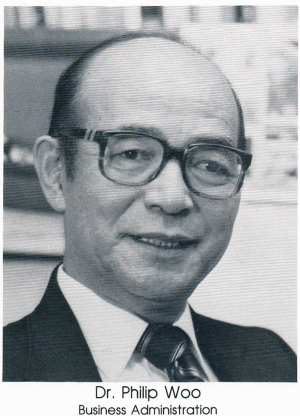 Dr. Woo was a respected scholar, dedicated teacher, and successful businessman with a sharp mind for real estate and banking.  During his 26 year stellar teaching career, Dr. Woo shared his passion for economics with hundreds, if not thousands, of students, and helped launch many of them into their own successful business careers.  
The University held a ceremony in the Kudrick/Oravec Vista Room on Monday evening, August 31 to announce the founding of Dr. Philip Woo Economics Program, made possible by a generous gift from the Woo family. The special restricted endowment will be used to create a scholarship fund in business, with a preference to students majoring in economics, as well as to provide financial support for economics-related student research and travel to conferences. It is the largest endowment fund to be bestowed upon the Shields School of Business since the establishment of Dr. Albert A. Zanzuccki Endowed Chair in Business in December 2005. 
Dr. Randy Frye, Dean of the Shields School of Business, shared "I feel fortunate enough to have been a professor at Saint Francis University long enough to be able to say I had the pleasure of working directly with a few of the great legendary business department faculty such as Dr. Woo. He was always kind to me, and I admired him for his ability to be a family man, a devoted teacher, a respected scholar, and successful entrepreneur.  We are pleased to see him recognized in this manner." 
Dr. Woo was himself a product of a Saint Francis education, graduating with a bachelor's degree in 1952.  A native of what is today North Korea, Dr. Woo came to America seeking a better life for himself.  Upon graduating from Saint Francis, his educational journey led him to the University of Michigan, where he earned a master's degree, and then later to New York University where he gained a doctorate in economics.  Hired by Dr. Albert Zanzuccki in 1961 to teach economics, Dr. Woo quickly became a standard bearer in the study of economics until his retirement in 1987.  His influence within the Economics Program and throughout the business school, along with his long and distinguished tenure at Saint Francis, is matched by only a few.  His passing in 2016 was sadly marked by the University, though all remain heartened by the legacy he left at Saint Francis.
---
The Woo legacy  continued at Saint Francis University when his grandson, Ryan Woo, completed his MBA in 2017 and passed his CPA exam shortly thereafter. Saint Francis University is proud to recognized Dr. Philip Woo in this very special manner.