Saint Francis OT program accepted as AOTA Gold Level member
University Marketing & Communications | 02/01/2023
American Occupational Therapy Association Gold Level Membership
The Occupational Therapy program at Saint Francis University  has recently been accepted by the American Occupational Therapy Association as a Gold Level member of the AOTA's Student Membership Circle. The Gold Level status recognizes a 100% participation rate in AOTA student membership by 71 Saint Francis occupational therapy students.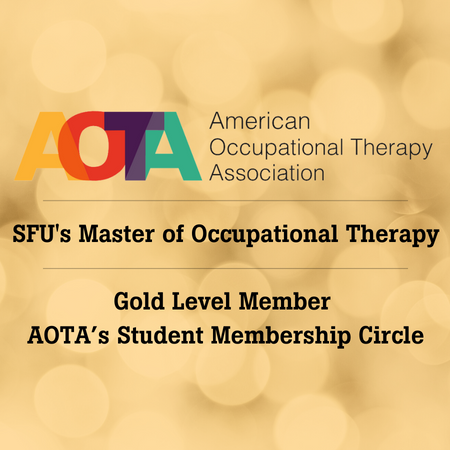 Preparing for Professional Success
"Our SFU MOT students recognize the importance and value of being an AOTA member as they prepare for their careers and ensure their professional success," said Dr. Lorie Rowles, associate professor of occupational therapy and chair of the OT department at Saint Francis.
AOTA's Student Membership Circle is a 3-tier plan that supports student membership initiatives for accredited academic programs. Student Membership Circle recipients are determined based on the percentage of enrolled students who are also current active members of AOTA. Active student memberships reinforce the need and value of tomorrow's occupational therapy profession.
In addition to a certificate of recognition for Gold Level status members, Saint Francis' OT program will also receive one free student registration for AOTA's INSPIRE 2023 Annual Conference and Expo, where all faculty and students will be recognized. It will also be highlighted on AOTA's website and in the association's e-newsletter, as well as in OT Practice, a magazine published by AOTA.
About OT at SFU
The Master of Occupational Therapy program at Saint Francis University is an accelerated 3+2 program that students may enter as freshman. SFU also accepts a limited number of students into its 2-year graduate program as space permits. Visit https://www.francis.edu/occupational-therapy to learn more.