Ribbon Cutting held for St. Catherine Street Improvement Project
Marie Young | 09/05/2022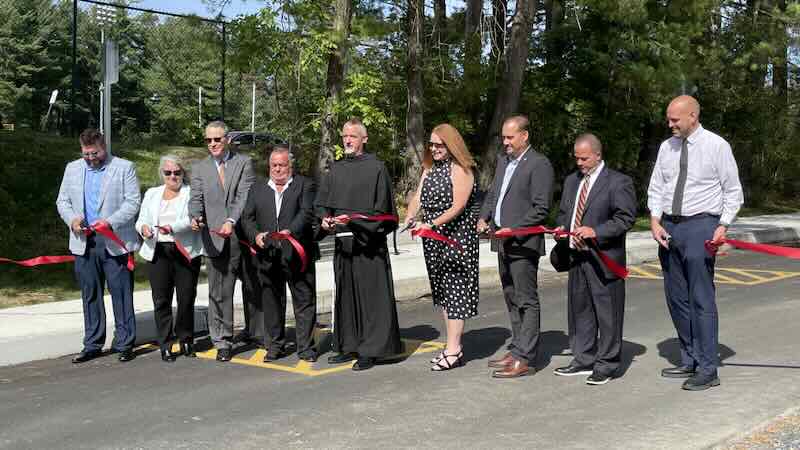 Loretto Borough and Saint Francis University hosted a ribbon-cutting ceremony for the Saint Catherine Street Improvement Project on Friday, September 2, 2022. 
The $828,048 project was partially funded through a Pennsylvania Department of Transportation's Multimodal program grant of $465,557. The work included significant upgrades to improve pedestrian and vehicular travel flow and parking to accommodate existing and impending new development along the thoroughfare. Saint Catherine Street is home to DeGol Football Stadium, and it will also support traffic for the new Connors Family Fine Arts Center (Resinski Blackbox Theatre) slated to open in 2023.
"This project represented a piece of infrastructure that was so greatly needed," shared borough council president Ward Prostejovsky. "St. Catherine Street was beyond disrepair and needed new pavement, drainage and frankly the design bringing great utility and safety to the community with all the events that go on here in Loretto with the university from track and field to the football games, both college and high school."
University President Fr. Malachi Van Tassell agreed on the significance of the improvements which he shared will enhance the neighborhood and improve game day experiences on Football weekends for for both the borough residents and the university community.
The collaborative nature of the project was celebrated by officials in attendance as a shining example of what healthy collaboration can accomplish. 
"Not all projects that are awarded get to the point of completion," stated Jennie Louwerse, deputy secretary for multimodal transportation for PennDOT  in her remarks on Friday. "So I tell you all today, celebrate! Celebrate not only your successful project, but also celebrate the amazing relationships you have with each other because those just can't be measured,"
State Sen. Wayne Langerholc also commended the university's collaborative approach  stating  that he takes notice when approached by university staff with a potential project because  Saint Francis has demonstrated a track record for completing projects that benefit Cambria County and beyond. 
Project specifics
The project offers improved pedestrian and vehicular travel flow to accommodate existing and impending new development along the thoroughfare.
The borough's goals for project included:
providing safe access to facilities along the street by rebuilding the road base and paving it, adding new signage, striping and crosswalks, ADA ramps, and adding a sidewalk to separate pedestrian and vehicular traffic;
making the street one way to provide additional parking, including bus spaces, to accommodate visitors. Designated accessible spaces will also be added to accommodate wheelchair accessibility;
adding removable traffic control gates to restrict access for special events;
 installing a storm water drainage system with inlets to capture and convey flow, eliminating existing issues with ponding and flooding and managing conveyance from future development;
adding a bus shelter in anticipation of future Cambria County Transit Authority (CAMTRAN) bus transportation service; and
 providing streetscape elements such as benches and waste receptacles.
In terms of parking, the project added 20 parallel stalls, 13 perpendicular stalls (for the Fine Arts facility), 1 ADA-accessible stall at top of Fine Arts driveway, 2 bus unload stalls and a bus pickup location.
---
Ribbon-Cutting Photo Caption
From left to right:
Josh Yoder, CamTran
Ward Prostejovsky, President of Loretto Borough Council
Rose Lucey-Noll, CamTran
Dave Eckenrode, Mayor of Loretto Borough Mayor
Fr. Malachi Van Tassell, T.O.R., SFU President
Jennie Louwerse, Deputy Secretary for MultiModal Transportation with PennDOT
State Senator Wayne Langerholc, District 35
Tom Chernisky, Cambia County Commissioner
Scott Hunt, Cambria County Commissioner 
---
Additional Scenes from The Day