Franciscan Friar to Bike in 13th Annual Charity Ride
University Communications & Marketing | 05/12/2023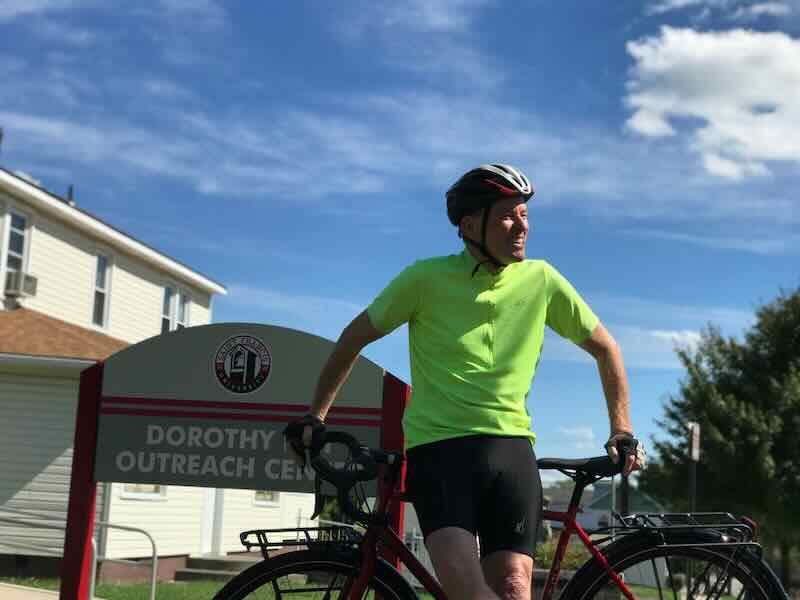 Brother Shamus McGrenra, a 76-year-old stage IV colon cancer survivor and a Franciscan Friar, will embark on his 13th Annual #GoBroShamus Charity Bike Ride on June 3, 2023. Cycling the local Rails to Trails in Pennsylvania and Maryland, Brother Shamus will complete the ride over the course of two back-to-back weekends.
With another $100,000 goal set, the money raised will be used to support the Dorothy Day Outreach Center at Saint Francis University, which serves local residents struggling with rural poverty. The ride has raised over $700,000 since its inception 12 years ago, exceeding the goal annually.
Visit francis.edu/Brother-Shamus-Charity-Ride/ to learn more or to donate.
About Brother Shamus McGrenra
Born in Philadelphia in 1947, Brother Shamus was the youngest of six children. Knowing that he wanted to do something for the Lord, he became a Franciscan Friar at the age of 19. This led Brother Shamus to the Saint Francis Friary in Loretto, PA. After graduating from the University in 1972, he continued helping students, working for several years in different higher education institutions. In 2008, Brother Shamus returned to his roots at Saint Francis University, where his spiritual journey began. While at Saint Francis University, he witnessed an emotional encounter between a young woman and her two children at the Dorothy Day Center. With this and his pastime of cycling in mind, he established the annual Brother Shamus Charity Bike Ride in 2012. After a routine health check in 2013, he was diagnosed with stage IV colon cancer, which later spread to his lungs. Now in remission, Brother Shamus continues his annual bike ride in hopes of spreading the word about rural poverty, the power of prayer, and how life can be lived after a cancer diagnosis.
About the Dorothy Day Outreach Center at Saint Francis University
The Dorothy Day Outreach Center (DDOC), created in 1981, is a volunteer-based agency on the Saint Francis University campus in Loretto, PA, that strives to serve the local community while honoring its Franciscan values and by following in the footsteps of its namesake: Dorothy Day. Through the generosity of the campus community and several local parishes, the center serves local families in need with support, programs, food, clothing and monetary assistance. The DDOC has initiatives for children, the elderly, veterans, people experiencing poverty, and people with special needs. With the assistance of agencies and volunteers, the DDOC has helped more than 1,500 families in need. Brother Shamus' annual charity ride allows the DDOC to expand its ability and help more individuals and families every year.