Faculty Spotlight Dr. Angela Seidel
04/16/2021
Editor's note: Dr. Angela Seidel describes herself as a "student-centered" facilitator who strives to present a balance between the dichotomy of the "sage on the stage'" and the "guide by the side." This profile of Dr. Seidel, was shared by her colleague Dr. Thomas Woods. 
Faculty Spotlight: Dr. Angela Seidel
Associate Professor of Accounting and Chair of Undergraduate Business Programs
Along life's journey people are inclined to ask what you want to be when you grow up. While the specifics of our professional destination might be foggy at times, ultimately we aspire to careers that have a positive impact on others. We want to be professionally impactful and personally fulfilled; we want our career to matter. If Dr. Angela Seidel's students and colleagues are to be believed, Dr. Seidel has most certainly chosen the right career path and the positive repercussions of her efforts are impacting the Saint Francis University community in ways not even she could imagine.  
Adult learning theory is a complex topic but two of its main principles are that "great teachers make a difference in the lives of their students" and that "students know quality when they see it".  As part of the research for this spotlight article, many students eagerly stepped forward to talk about Dr. Seidel. To put it mildly, students were both genuine and effusive in their praise of her efforts as a teacher and as a person.  "Students judge and talk about teachers all the time but no one ever has anything negative to say about Dr. Seidel."  "Dr. Seidel is the teacher whose class you take every chance you get. If she offers a class and another one of your classes conflicts with the time slot she is teaching, it's a no brainer, you drop the other class!"  "Her classes are interesting, challenging, applicable to our futures and well organized. What makes her special, however, is that Dr. Seidel is just a great human being! She is supportive, enthusiastic, caring, nurturing and it is very clear that she loves her job."  
Connecting with students helps teachers maximize their effectiveness. One of the recurring themes amongst the students' comments about Dr. Seidel was that she is easy to relate to and she is empathetic with the challenges that they faced as college students.  Indeed, Dr. Seidel's life journey mirrors that of many of her students. She grew up in a working class family in the city Johnstown and is the first person in her family to ever earn a college degree. She describes herself as having "some gifts and abilities" but she never was among the best or brightest in any of life's categories. Instead, what she lacked in raw talent, she made up for by becoming a very hard worker who was persistent, dependable, outspoken and loyal. Through the purposeful application of a strong work ethic and sheer determination Angela Seidel has become a very successful and distinguished professional. Not only did Angela earn promotion to the rank of Associate Professor and receive academic tenure, in 2020 she was appointed to the role of Chairperson of the Saint Francis University Business Administration Department. Her appointment to Chair was historic in that she became only the fifth person to hold this position in the last 75 years and the first female to be Chair in the department's renowned history.  
A self-proclaimed "moderately minimalistic" person who believes excessive possessions create distractions, Dr. Seidel embraces those things in her life that mean the most to her including her faith and her family.   She also finds great joy at Saint Francis and from working with students; "My job keeps me awake at night. It's a lot like parenting".    
Dr. Seidel overtly cares about her students; she cheers for her students (both as a teacher and as the Faculty Athletic Mentor of the SFU Women's Softball team) and she worries about her students.  She describes her own personal role models as folks who are "committed, selfless and overcomers" and she clearly strives to both model and instill these attributes in her students.  Employing not only a "can do" attitude but a "will do" expectation about meeting life's demands, Dr. Seidel shows her students that dreams can be goals and that goals are achievable with the right amount of nurturing and a truck load of focused effort.  Dr. Seidel takes seriously her responsibility for nurturing her students and she is tireless in the pursuit of her students' best interests.  Her students remark that she is notorious for finding out about her students' activities, internships, interests and hobbies and then purposefully working those items into her questions and conversations both during the time they are in her class and throughout their subsequent college careers.  
As a teacher Angela describes herself as a "student-centered" facilitator.  "I hope that I present a balance between the dichotomy of the 'sage on the stage' and the 'guide by the side'.  There are times when the appropriate goal of classroom instruction is to impart knowledge, but that should also be followed up with implementation and application. My goal, first and foremost, is to make the students feel comfortable in my classroom while providing a structured learning environment. I believe that students should be taught real-world skills and approaches. I try to have a positive attitude and sense of humor every day. I love being in the classroom and want students to sense that. I feel responsible for not only encouraging my students to strive for academic excellence, but to strive for excellence in their everyday lives."  "I hope to inspire them to use their talents and opportunities and to hold themselves accountable for showing up in their lives every day."  Associate Dean of the Shields School of Business Dr. John Miko comments: "While she is a gifted teacher, Angela doesn't rely on her considerable natural talent alone. She works tirelessly to incorporate the best and most innovative learning methods in her classes, continuously updates her courses to match changing industry expectations, and fosters a learning environment where all students can learn and thrive."
Dr. Seidel's academic journey includes graduating from Bishop McCort High School and earning her undergraduate degree in business from Geneva College.  After Geneva, Angela applied to the City of Pittsburgh Police Training Academy but decided to forgo that training and instead pursued her MBA at IUP before receiving her Doctorate of Business Administration degree from Northcentral University.  Dr. Seidel is a Certified Management Accountant and she continues to pursue data analytic professional certifications through the American Institute of Certified Public Accountants. "Data analysis continues to play an increasingly important role in business, so it's critical for accounting professionals to keep up with this high-demand skill."
Professionally, Dr. Seidel worked for 17.5 years at Cambria-Rowe Business College, 13 of which were with Dr. Eric Ecklund before Dr. Ecklund joined the faculty at SFU.  Dr. Seidel stresses that she was extremely happy and fulfilled by her work at Cambria-Rowe but when Dr. Ecklund reached out to her with the news that SFU was conducting a faculty search, she was intrigued.   Dr. Randy Frye persuaded her, "over an informal breakfast meeting of pancakes and eggs at Perkins restaurant during a big snow storm," to apply for the position. During the interview process Dr. Seidel realized that Saint Francis was both rich with professional opportunities for her as well as a philosophical match for her student centered teaching beliefs.   
As a professor who describes her students as members of her work family, Dr. Seidel advocates for fiscal literacy and fiscal responsibility.  She worries about the impact of financial stress on this generation of students.  "I could easily make a case for mandated financial literacy education beginning as early as elementary school and continuing all the way through college.  Ideally, personal financial education should start at home, however, according to a 2017 T. Rowe Price survey, 69% of parents are reluctant to discuss financial matters with their children. Fewer than 40% of college students use a budget, and only 15% of college students who take out loans for college feel that they have the education, information, and resources to pay off their loans in the future".  She worries about the fiscal literacy/proficiency of students and the impact that financial missteps can have on their lives. To that end, Dr. Seidel asserts: "Fiscal responsibility is still very much a grassroots movement, so I would like to see our 'Personal Finance' course become a general education requirement here at SFU."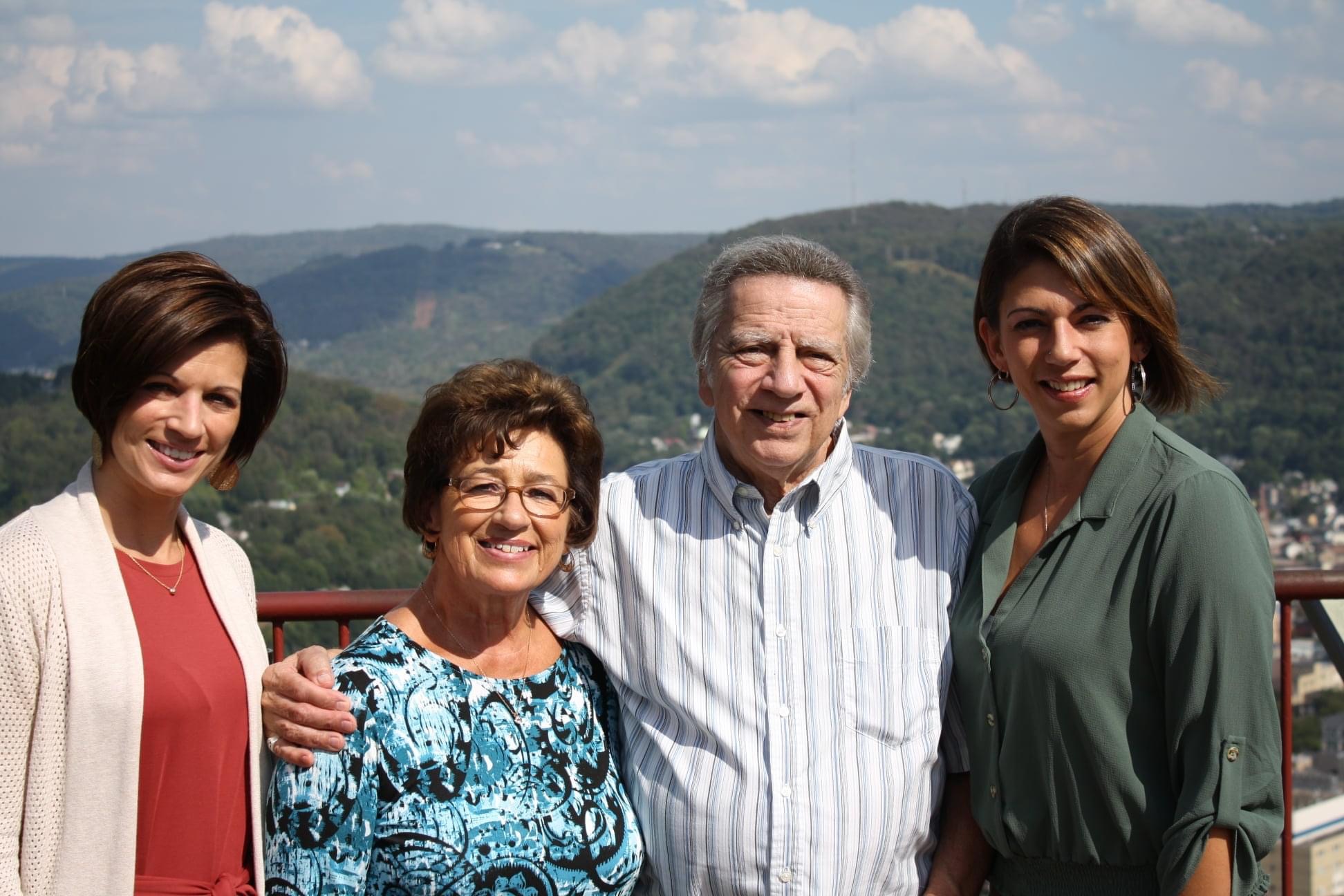 Photo:Angela with her parents and her sister
Angela works hard to help students find both happiness and meaning in their lives and she seems to have found both in her own life as well. She recounts with great joy her days growing up in Johnstown "practically living on the playground", surrounded by parents who instilled in her the importance of education from a very young age. "My mom raised me to be independent and confident.  My dad taught me to be fiscally responsible.  My grandparents were my biggest fans."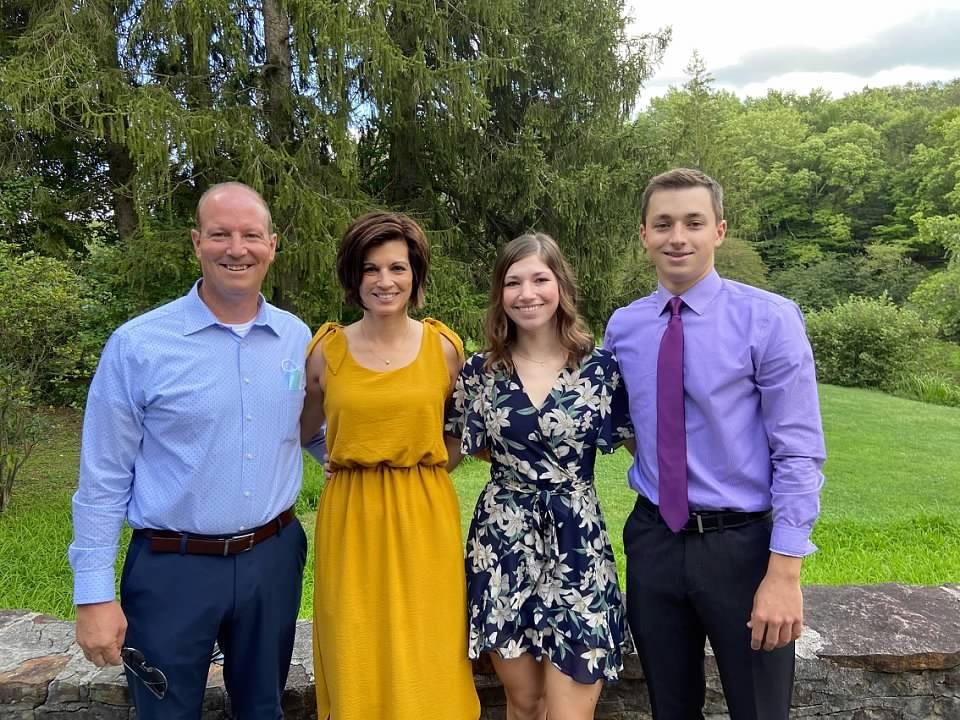 Photo: Angela with her husband and children
As an adult, Angela takes great pride in being a mother and in being part of a loving family.  Angela and Bill, her husband of 26 years, have two children. Ally is a proud SFU graduate who earned a degree in Criminal Justice with minors in Forensic Chemistry and Spanish. Subsequently, Ally has earned an MA in Criminology from IUP and currently works for the PA Department of Labor and Industry. Their son Ben is a sophomore at SFU.  Ben is double majoring in Business Analytics and Accounting, and is a member of the Men's Basketball team.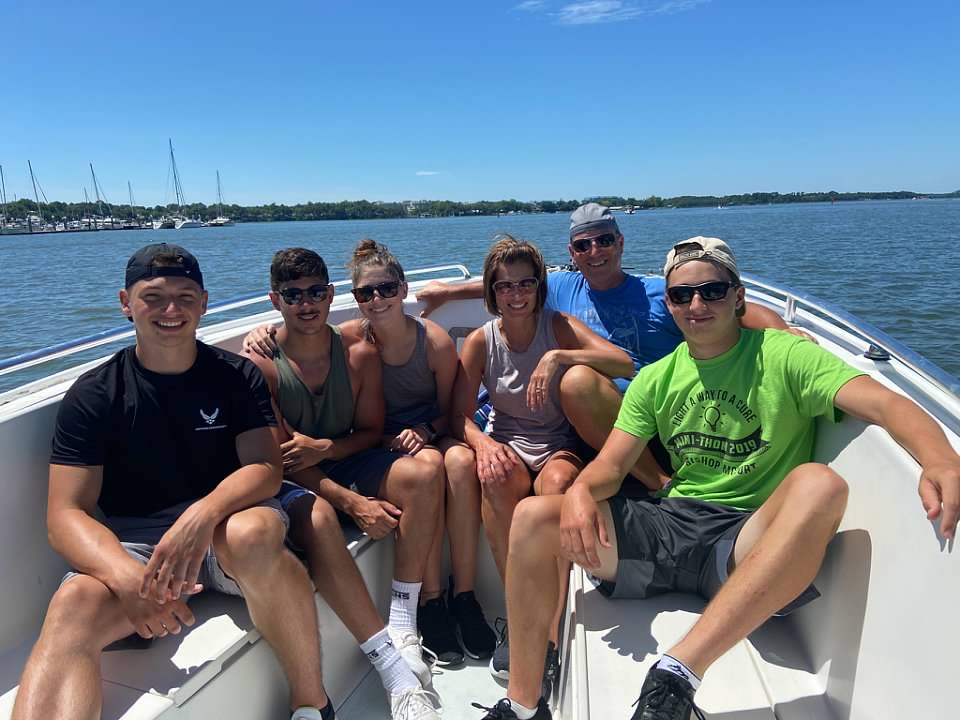 Photo: Enjoying a family vacation
Angela and Bill have a bucket traveling list and they plan to spend some of their summer exploring Idaho, Wyoming, Montana and Utah. Angela is also a spirited person who loves to exercise and who counts amongst her hobbies kayaking, hiking, biking and sports clays marksmanship. She aspires to someday learn to play the violin.   
Dr. Seidel's contributions to business education have been recognized in 2021 by her being chosen as the recipient of the Accounting Faculty of the Year Award.  This national award is given by The Association of Accountants and Financial Professionals in Business. The winner "demonstrates excellence in teaching, accounting and a commitment to providing opportunities for students to grow in their knowledge of accounting; has high expectations for student performance; and encourages students to set and achieve educational and professional goals including accounting certifications." 
In addition to these national accolades, Angela is regarded and respected by her students and faculty colleagues on campus as evidenced by her being named a finalist for both the SFU Distinguished Faculty Award and the prestigious SFU Swatsworth Award in 2021.  Of Angela, Dr. Randy Frye, Dean of the Shields School of Business, asserts: "Dr. Angela Seidel displays exemplary teaching skills regardless of the instructional delivery system, whether it is traditional or online. She brings knowledge, experience, organization, clarity, and passion to every lesson she teaches.  In sum, she is a master teacher."  
An accomplished professional who is admired by her students, Angela Seidel is exactly the type of professor and person that we all hope to encounter along our academic journey.  Her overt sense of kindness, her passion for her craft and the optimistic spirit with which she conducts her business offer us all a passport into an environment where people are valued for who they are and encouraged to be big dreamers about what life might hold for their future.