Dolly Parton's Imagination Library
Marie Young | 09/20/2021
Dolly Parton's Imagination Library Comes to Cambia County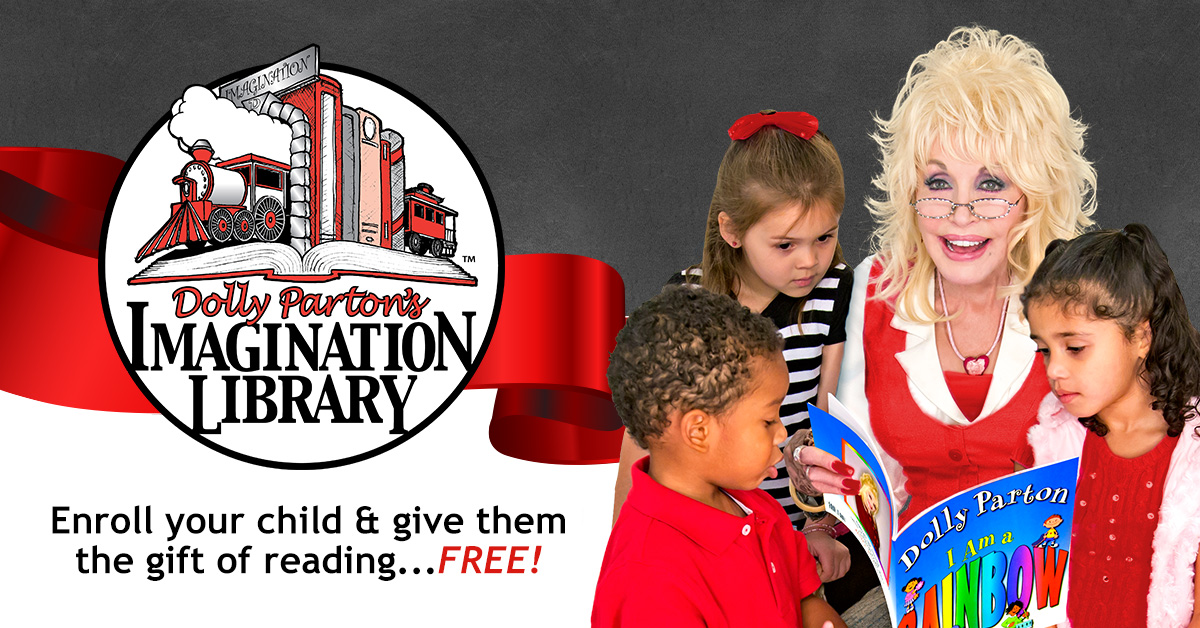 Dolly Parton's Imagination Library, the flagship program of The Dollywood Foundation, is now available in Cambria County. Every family residing in Cambria County with children from birth until age 5 may register for this monthly book-gifting program to receive up to 60 free age-appropriate books!
Families may sign up for the program on Dolly's site: imaginationlibrary.com!
After hearing Dolly speak about the benefits of the program at a national legislative conference, State Representative Frank Burns (Dist. 72, Cambria County), secured a grant to offer the program in Cambria County with Saint Francis University serving as the local partnering organization. The program is being implemented by SFU's Dorothy Day Outreach Center and the Graduate Education Department as part of their mission to support families and promote children's literacy.
Exposure to reading during the early years is crucial to a child's brain development and is proven to improve their literacy skills. "Research has shown that students who had participated in Imagination Library demonstrated stronger reading skills and performed better on kindergarten readiness measures as opposed to those who had not," said Melissa Peppetti, Director of the University's Graduate Education program. "Having a solid foundation in early literacy skills is critical to children's future reading performance."
The University partnered with Representative Burns and the Dollywood Foundation to sponsor a kick-off event for the Dolly Parton Imagination Library of Cambria County in September 2021 and by November more than 1300 local children had enrolled in the Imagination Library. Given that there are more than 6,000 eligible children in Cambria County, this outstanding program needs financial support from the community to grow and become sustainable.
How to Donate
For a donation of only $26, residents can provide one book per month to a child for a year, while $127 will cover that same child for 5 years in the program. Every dollar raised supports placing a book in a child's hands since the University takes no administrative fees for managing the program.
There are several ways to donate to the Dolly Parton Imagination Library in Cambria County and help ensure that every child experiences the joy and opportunity that reading provides:
1. Send your gift by mail to: Saint Francis University – Office of Advancement P.O. Box 600, Loretto, PA  15940.
2. Make your gift online by going to www.francis.edu/DollyParton.
3. Call the University's Office of Advancement at 814-472-3021 and make your gift over the telephone by credit card.
About Dolly Parton's Imagination Library
Since launching in 1995, Dolly Parton's Imagination Library has become the preeminent early childhood book gifting program in the world. The flagship program of The Dollywood Foundation has gifted well over 150 million free books in Australia, Canada, The Republic of Ireland, the United Kingdom, and the United States. The Imagination Library mails more than 1.8 million high-quality, age-appropriate books each month to registered children from birth to age five. Dolly envisioned creating a lifelong love of reading, inspiring them to dream. The impact of the program has been widely researched and results suggest positive increases in key early childhood literacy metrics. Penguin Random House is the exclusive publisher for Dolly Parton's Imagination Library. For more information, please visit imaginationlibrary.com.