Bell Ringing Ceremony
University Communications & Marketing | 03/31/2023
Bells are an important symbol of both the University and its rich Catholic, Franciscan foundation. On March 28, 2023, faculty and staff gathered to officially "ring-in" the latest campus bell: one that will be placed within the Immaculate Conception Chapel Bell Tower when renovations are complete this August.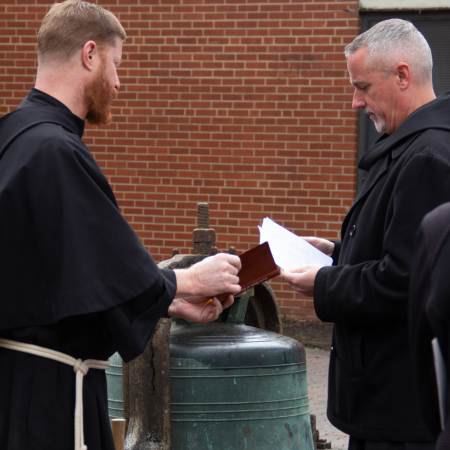 This antique church bell was purchased by former University President Father Christian Oravec, T.O.R., and donated in his memory by his fellow Franciscan Friars. The bell is now on its way to be refurbished. Once it takes its place of honor in the chapel bell tower, it will be an iconic site on the campus mall along with the Old Main Bell Tower that houses the original bell salvaged from the historic fire that swept through campus in 1942. 
Learn more about the Immaculate Conception Chapel here.
---
Learn more about the story of the Old Main Bell in the video below!