Ashley Rovder: Engineering Edible Algae in Bolivia
04/23/2018
Ashley Rovder, an Environmental Engineering major, took part in a unique full-immersion study abroad experience in Bolivia. The experience was made possible through a collaboration between Saint Francis University and the University of Dayton's Engineers in Technical Humanitarian Opportunities in Service Learning (ETHOS) project. Below, Ashley discusses her experience abroad.
What service project did you work on while in Bolivia?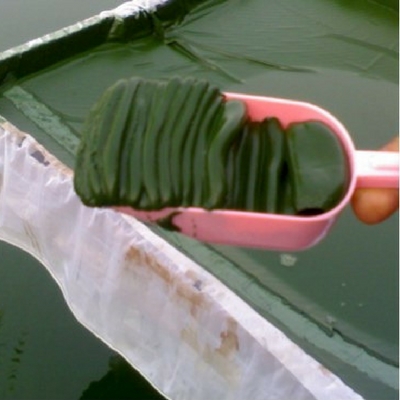 I volunteered for SODIS (short for Solar Water Disinfection), a nonprofit organization in Cochabamba, Bolivia, that focuses on providing clean water for the community by distributing water filters, for two and a half months. My task was to continue a newer project that involved cultivating Spirulina, a type of algae that doubles as a nutritional supplement, and introducing it to the local markets. I worked on expanding the research in an extensive study to see if Bolivia's climate and resources were appropriate for producing the sensitive algae locally. In addition to my research, I applied for and received a grant for US$500 to buy the necessary materials for the project.
How did living with a host family add to your experience?
I lived with a host family for the entire summer. We spoke Spanish at home and ate typical Bolivian dishes together; it was truly an immersive experience. Lunch was my favorite meal.  We spent hours talking to one another at the table, away from work and school. When I was sick from the food or the altitude, my host mother took care of me as if I was her own daughter. Once, I forgot sunscreen and blisters dotted my face, and the second my host mom saw it she cut up some tomatoes and told me to lie down as she placed the slices on my face! Even with the distance, I was never homesick—they treated me like family, and I will be forever grateful.
What was your favorite part?
The people I met: my host family, the managers of our local tienda, and especially my fellow volunteers at Sustainable Bolivia. Those volunteers came from all over the world—Italy, the Netherlands, London, France, and Australia, to name a few. Everyone had their own story and their own perspectives, and I loved to hear them. We had the craziest adventures together, and I'm getting nostalgic remembering them. Life in a developing country came with its own set of challenges, but these experiences made for good bonding moments. I made some lifelong friends in Bolivia.
How would you like to make a difference in the world after graduation?
I want to work as an environmental engineer around the world, especially in developing countries. Too many communities only have limited access to clean water and sanitation, though the technology is available. For some, a summer in Bolivia might have satisfied the travel bug, but I only became more curious towards other countries and their respective cultures. Of course, working on a project abroad can be incredibly difficult, despite the good intentions, with the language and cultural barrier. I am prepared and willing to face these challenges, because it is something I believe in. 
What advice do you have for other students?
I highly encourage every student at Saint Francis University to consider a study abroad program. The best way to learn is through experience, and there is no shortage of possibilities when you find yourself in another country. They say that you cannot grow until you leave your comfort zone, and I try to live by this advice. It's worked so far.
Ashley is spending the current spring semester studying abroad, but this time as part of the Semester in France program. Once she returns from France, Ashley will begin a summer internship at the Naval Nuclear Laboratory with Bechtel Marine Propulsion Corporation (BMPC) in Charleston, South Carolina.