Applications are open for High School Summer Academies
University Communications & Marketing | 03/14/2023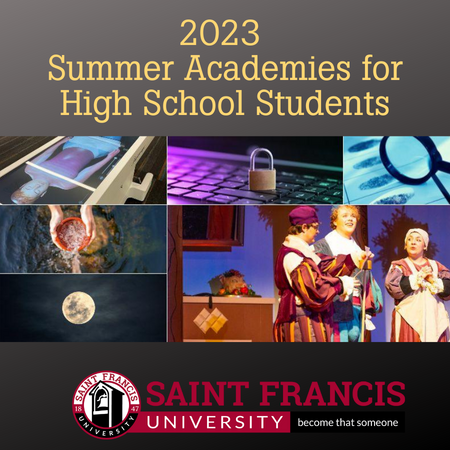 Saint Francis University is currently accepting applications from high school students interested in attending the 2023 Summer Academies. SFU Summer Academies are one-week, residential, immersive programs for high school students who are currently in grades 10 and 11 (and are at least 15 years old) and are interested in pursuing a career in science, technology, engineering, arts, or mathematics. 
Thanks to generous funding, most academies are offered at the discounted rate of $550; the Environmental Science and Engineering Academy is $150. This includes all instruction materials, plus room and board on our beautiful campus. Participants will be eligible for a $1,000/year scholarship (up to four years) to SFU if enrolling as a full time SFU student within 28 months of high school graduation, and receive one college credit.
We are offering the following academies:
Chemistry Exploration Academy (June 25-30, 2023)
Improvising and Devising Theatre (June 25-30, 2023)
Pre-Med Academy  (June 25-30, 2023)
Computer Science and Cybersecurity Boot Camp (July 9-14, 2023)
Design of a Lunar Base (July 9-14,2023)
Environmental Science and Engineering Academy:  Water Reclamation (July 9-14, 2023)
For more information on registering and pricing, please visit https://www.francis.edu/summer-academies.