Dr. Shannon Scanlan
Profile Image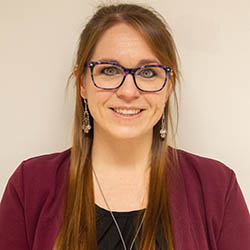 Position: Clinical Assistant Professor/Asst. Dir. of Clinical Ed.
Department: Physical Therapy
Office: Stokes Athletic Center
814-472-3941
About Dr. Shannon Scanlan
Education
Biography
Dr. Scanlan graduated from Saint Francis University in 2011 and has been working clinically in outpatient orthopedic setting with specific focus in orthopedic issues related to the geriatric population, pre and postoperative orthopedic management, balance training, and concussion/vestibular management. She obtained her Board Certification in Orthopedic Physical Therapy in 2019. She is passionate about serving as a leader in the professional association and in engagement of leaders early on in their careers. Outside of physical therapy she enjoys bicycling, baking, reading, and participating in the sport of curling.
Courses Taught
PT 402L Movement Science Lab
PT 403L Movement Science Lab
PT 522L Therapeutic Agents Lab
PT 530 Professional Issues – Documentation
PT 660 Clinical Education Experience 1
PT 760 Clinical Education Experience 2
PT 761 Clinical Education Experience 3
PT 762 Clinical Education Experience 4
PT 570 Professional Development 1
PT 571 Professional Development 2
PT 670 Professional Development 3
PT 671 Professional Development 4
PT 722 Complex Patients
PT 722L Complex Patients Lab