Dr. Arthur Remillard
Profile Image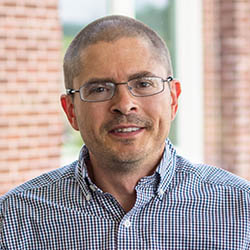 Position: Professor of Religious Studies and Department Chair
Department: Franciscan Studies, Theology, and Applied Ethics
Office: Scotus 225B
814-472-3339
About Dr. Arthur Remillard
Education
Ph.D., Religion - Florida State University (2006)
M.A., Religion - Florida State University (2002)
B.A., Philosophy - Saint Francis University (2000)
Biography
Dr. Remillard teaches the university's introductory course on the life and legacy of Saint Francis of Assisi called Franciscan Goals for Today. He also teaches courses on religion and sports, interfaith literacy, health care ethics, post-apocalyptic literature, and American religious history. In addition to his teaching responsibilities, he is the director of the Wolf-Kuhn Ethics Institute and the associate director of the Honors Program. 
His research interests include religion and sports, religion in the American South, American sacred space, U.S. Catholic History, and civil religion. His first book, Southern Civil Religions, investigates the competing and complicated value systems of the American South during the post-Reconstruction era (c 1877-1920). He is co-editor with Rebecca Alpert of Temple of Gods, Games, and Globalization and is presently writing a religious history of sports in the United States.
Dr. Remillard has also written essays for popular outlets including the Washington Post, Christian Century, and Sojourners.  His article, "Steelers Nation and the Seriously Religious Side of Football" remains one of his most read essays.
When he's not teaching or writing, Dr. Remillard enjoys spending time with his family and distance running. He also maintains a blog at his website, https://www.arthurremillard.com/.
Courses Taught
RLST 105: Franciscan Goals for Today
HNRS 101: Introducing Honors
HNRS 288: Interfaith Leadership
RLST 301: Religion and Sports
RLST 302: Compassionate Caregiving
RLST 306: Religions of the World
RLST 309: Religion in America
RLST 311: Religious Ethics
PHIL 312: Health Care Ethics
RLST 395: Christianity
CORE 407: Radiation, Robots, and Viruses
RLST 410: Christian Service