Introduction
Explore Music in the Fine Arts at Saint Francis University
The music program at Saint Francis University has paths for both beginner and seasoned musicians. Individual lessons are available in guitar, piano and voice.
Students also have the option to join various musical groups on campus.
Offered: On-Campus
Find your inspiration through our co-curricular activities!
The SFU Learning Experience
Choose your path within our Music Programs
Music & Wellness Minor: Students are offered the chance to explore the connection between music, mindfulness, and well-being.
Designed for any student, regardless of prior formal musical training.
Provides opportunities to discover ways to lead evidence-based music and wellness techniques with others.
---
Fine Arts Minor (Music Emphasis): Those looking for an in-depth music experience may pursue a Fine Arts minor.
Courses such as Music Fundamentals, Creative Movement & World Dance, Chorus, or Band are available.
Students have the option to explore building a self-designed program that complements their major.
This minor is open to all majors.
---
General Education: The Fine Arts is a vibrant part of the university's core curriculum and students of all majors can choose visual arts courses to meet these requirements.
Showcase your skills with our Marching & Pep Bands!
Join the loudest, proudest SFU spirit group.
Be a part of the group that 'brings the noise' to Red Flash sports!

University Bands
Our University Bands give student musicians a chance to showcase their skills and provide an excitement to fans of our sporting events.
Saint Francis University Chorus
New, amateur and professional singers are all welcome.
The SFU Chorus will sing one concert per semester and are also regularly invited to perform for various special ceremonies on campus.
No auditions required
Performances with music ranging from Bach to contemporary
Advanced vocalists have opportunities to perform solos or small-ensemble numbers from time to time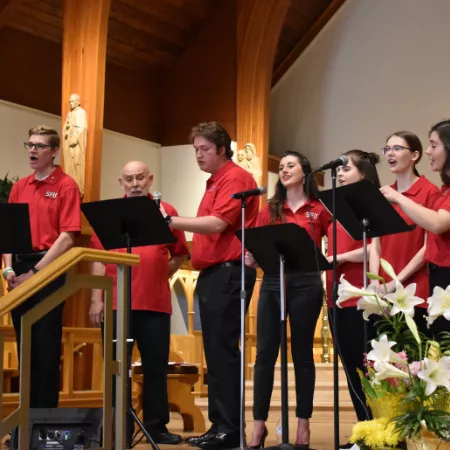 Chorus counts as 1-credit toward the 3-credits needed for your general education fine arts requirement.
You are also able to sign up to take it for zero credit if you have a full class load.
---
World Drumming Ensemble
No prerequisites or auditions — all you need is a willingness to learn.
The World Drumming Ensemble is a performance group made up of students, faculty, staff and members of the local community. This group offers opportunities for each member to learn, express, perform and, most of all, enjoy playing music.
Includes traditional drumming music from all over the globe
Provides interactive, multi-cultural benefit concerts
Involves faculty, staff and local community members

Ready to learn more about pairing a fine arts minor with your desired major?
Fine Arts Faculty
Developing the artistic spirit within all
Our Fine Arts faculty are established in their fields with multiple teaching awards, artistic and academic accolades, and even multi-platinum selling records. Yet, their biggest accomplishment is to help students discover a hidden passion for the arts.
Director of Center for Fine Arts: Ms. Jessica Campbell, jcampbell@francis.edu, 814.472.2827