SAINT FRANCIS UNIVERSITY
University Leadership
Leadership at Saint Francis University
Saint Francis University is sponsored by the Franciscans of the Third Order Regular and governed by a Board of Trustees comprised of both laypeople and Franciscans.
University President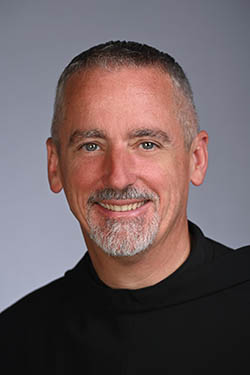 Fr. Malachi Van Tassell T.O.R., Ph.D
Assumed the office of President at Saint Francis University on May 12, 2014, with his official inauguration taking place on October 4, 2014.
In the summer of 2018, the university undertook a major institutional restructuring. The ultimate goal of the re-structuring was to keep a Saint Francis University education affordable and accessible. Building on the solid foundation of Catholic and Franciscan identity, the university affirmed its vital academic programs in health sciences and business. In addition, the university made significant investments in STEAM programs, including engineering and the arts, and affirmed its commitment to intercollegiate athletics competition at the NCAA Division One level.
In 2019, the university launched Francis Worldwide School of Continuing Studies, a school dedicated to offering career-focused, flexible programs for students looking to continue their education. In his tenure, Saint Francis University has created several new academic programs. The School of Continuing Studies recently launched its first research-based doctorate program delivered in a hybrid format for working professionals across various disciplines. A commitment to a relevant, market-driven academic portfolio is a hallmark of Father's leadership.
Successful capital projects include the Shields School of Business, School of Health Sciences and Education experiential learning commons, and several athletics-related projects. In the summer of 2022, construction will commence for the Connors Family Fine Arts Center, future home of the Resinski Black Box Theater and a newly renovated building for the Occupational Therapy program. In addition, significant progress continues on the capital campaign for the School of Health Sciences and Education at Sullivan Hall and the Immaculate Conception Chapel.
Father is a member of the NCAA Division One Presidential Forum, member and past Chair of the Northeast Conference Council of Presidents, and a member and past Chair of the Association of Franciscan Colleges and Universities. Previously, Father Malachi served as Minister Provincial of the Sacred Heart Province and Chairman of the Board of Franciscan University, where he led a successful presidential search.
Prior to the Presidency, he spent twelve years at the university as an assistant professor of accounting (full-time and adjunct). He previously served as the treasurer and vicar provincial of the Franciscan Friars, Sacred Heart Province.
Fr. Malachi professed vows as a Franciscan in 1999 and was ordained to the priesthood in 2004. He has a Ph.D. in higher education leadership from Capella University, a master's degree in taxation from Arizona State University, and an undergraduate degree in accounting and Spanish from Franciscan University. A certified public accountant, he worked for Coopers & Lybrand in Phoenix, Arizona, and Arthur Andersen in Albuquerque, New Mexico, as a tax accountant before becoming a Franciscan.
Education
B.A., Franciscan University
M. Tax., Arizona State University
M. Div., Washington Theological Union
Ph.D., Capella University Certified Public Accountant (Arizona)
Board of Trustees
The most prominent steward of this institution is the Saint Francis University Board of Trustees who are entrusted with overseeing the mission, vision, and advancement of the University. The Board of Trustees was established in 1967, replacing the former Board of Control, which had been comprised solely of Franciscan friars.
Chairman of the Board
Very Rev. Joseph Lehman, T.O.R., Ph.D., Loretto, PA
President
Very Rev. Malachi Van Tassell, T.O.R., Ph.D., Loretto, PA
Members
Dr. James Burke, Class of '88, Altoona, PA, President of Allegheny Brain & Spine Surgeons
John "Jack" Eckenrode, Class of '74, Madison, CT, Global Chief of Security, State Street Bank (ret.) and Agent in Charge of Philadelphia FBI (ret.)
Rev. Dommie Foster, T.O.R., Steubenville, OH, Franciscan University of Steubenville
Dr. Debra Friedrich, Bradenton, FL, Nurse Practitioner
Rev. Daniel Klimek, T.O.R., Steubenville, OH, Franciscan University of Steubenville
Scott Miller Lammie, Pittsburgh, PA, UPMC Health Plan (ret.)
Paul S. McGrath, Jr., Class of '79, Pittsburgh, PA, Founder and Senior Managing Director, McGrath McCall, P.C.
Brittni Smallwood Moore, Class of 2008, Upstate NY, VP of Marketing, CenterState CEO
Dr. Larry Nulton, Johnstown, PA, Founder of Nulton Diagnostic and Treatment Center, Peerstar LLC, and Nulton Aviation Services
The Hon. Judith Ference Olson, Class of '79, Pittsburgh, PA, Superior Court of Pennsylvania
Frank Pasqualone, Newtown, PA, COO Theravance Biopharma, Inc.
Rev. Gregory Plow, T.O.R., Washington, D.C., Saint Louis Friary
Teresa Kaminski Polley, Class of '82, Norwalk, CT, President and CEO Financial Accounting Foundation
Jean Payne Rogers, Class of '82, Glen Burnie, MD, Retired, Social Worker, Geriatrics
Paul Sansone, Class of '88, Atlanta, GA, Partner, TechCXO
Dr. Sarah Schroeder, Loretto, PA, Physician, PA Vein & Laser Institute
Rev. Jonathan St. Andre, T.O.R., Steubenville, OH, Franciscan University of Steubenville
Peter Stevenson, Class of '82, Jupiter, FL, CEO Latisys
Stephen Subasic, Class of '90, Davidson, NC, Executive Coach & HR Consultant, Bedwell Talent Advisory
John Sullivan, Class of '67, Newtown, PA, Retired President, ABB North America Power Products and Systems Segment
Dr. James Takacs, Class of '82, Ebensburg, PA, Owner, Ebensburg Animal Hospital
Joy Thoma, Class of '80, Purchase, NY, Senior VP for HR International Markets, Mastercard International
Bradley Walent , Class of '96, Grandview Heights, OH, Lawyer, Kayne Law Group
Rev. Patrick Whittle, T.O.R., Washington, D.C., Saint Louis Friary
Rev. Vincent Yeager, T.O.R., Steubenville, OH, Franciscan University of Steubenville
President's Cabinet
President
Very Rev. Malachi Van Tassell, T.O.R., Ph.D., CPA, Loretto, PA, President, Saint Francis University
President's Cabinet Members
Amy M. Bradley, President and CEO, Cambria Regional Chamber, Johnstown, Pennsylvania
Sean Donoghue '79, Pittsburgh Area Sales Manager, Cleveland Brothers Equipment Co., Murrysville, Pennsylvania
Francine Endler, Ed.D., Executive Director, Central Intermediate Unit 10, West Decatur, Pennsylvania
Sherry D. Forney '93, Chief Financial Officer/Owner, Forney White & Wagner Health Insurance Agency, Altoona, Pennsylvania
Jonathan C. Gleason, Area Vice President, Gallagher Risk Management Services, Inc., Johnstown, Pennsylvania
John P. Goodrich, Esq. '83, President, Goodrich & Associates, P.C., Gibsonia, Pennsylvania
Patrick J. Guinee, Esq. '91, Senior VP, General Counsel & Corporate Secretary, L. B. Foster Company, Pittsburgh, Pennsylvania
M. David Halpern, Esq., President & Wealth Manager, Equity Concepts North, LLC. Mediator, Halpern Mediation/Arbitration, Duncansville, Pennsylvania
Leah S. Kessler '14, Senior Vaccines Specialist at GSK, Bausch & Lomb, Stamford, Connecticut
Martin J. Marasco '68, President and CEO (retired), Altoona-Blair County Development Corporation, Altoona, Pennsylvania
William W. Marshall, M.Ed., Superintendent, Penn Cambria School District, Cresson, Pennsylvania
The Hon. Debra M. H. McLaughlin '90, Judge, West Virginia 23rd Judicial Circuit, Berkeley Springs, West Virginia

Jerry Moschgat, R.Ph., Owner, Mainline Pharmacy, Portage, Pennsylvania

Larry J. Nulton, Ph.D., President, Nulton Diagnostic & Treatment Center, Vice President Operations, Nulton Aviation Services, Inc., Johnstown, Pennsylvania

Sabino J. Ranaudo '72, Chartered Financial Consultant, Wienken Wealth Management, Lemont, Pennsylvania
Dawn M. Repko, M.D. '94, Physician, Mainline Medical Associates, Cresson, Pennsylvania
Anthony Sanford, MPA '04, Assistant Director, Digital Inclusion at City of New York, New York, New York
Sarah Schroeder, M.D., M.P.H., Physician, Pennsylvania Vein and Laser Institute, Loretto, Pennsylvania
Michael J. Stief, III, Esq. '87, Principal, Jackson Lewis P.C., Pittsburgh, Pennsylvania
Linda Thomson, President, Johnstown Area Regional Industries, Inc., Johnstown, Pennsylvania
Willard A. Wilkinson, IV, President & Owner, Wilkinson Bus Lines, Inc., Cresson, Pennsylvania
Philip M. Woo, Jr., D.M.D., Owner, Philip M. Woo Dentistry, Ebensburg, Pennsylvania
Daniel J. Wukich, Executive Vice President, Quest Healthcare Development, Inc., Jeannette, Pennsylvania